Hydronic balancing of HVAC heating and cooling systems is essential for many reasons. It is necessary in order to achieve proper indoor comfort and for the system to run as efficiently as possible. If the hydronic balance is not properly in place, end-user complaints, extra costs and reduced lifetime value of the system can be expected.
Danfoss offers a hydronic balancing solution for every situation:
Pressure-Independent Balancing and Control Valves combine hydronic balancing and temperature control functionalities in one product. They are simply set to the design flow and used in both heating and cooling systems with variable flow conditions.
Automatic balancing valves eliminate pressure fluctuations occurring in variable flow systems. With additional pre-setting radiator valves that limit the maximum flow through e.g. radiators, the system can be hydronically balanced. Another automatic balancing solution is provided by the Pressure-Independent thermostatic radiator valves which combine the control of differential pressure and flow limitation in one valve.
Thermal balancing valves establish a proper balance by using the temperature entering the circulation pipes of Domestic Hot Water system risers. This provides a very efficient system.
Manual balancing valves can be used in systems with a constant flow, such as systems with 3-way control valves. They need to be commissioned to establish the design flow.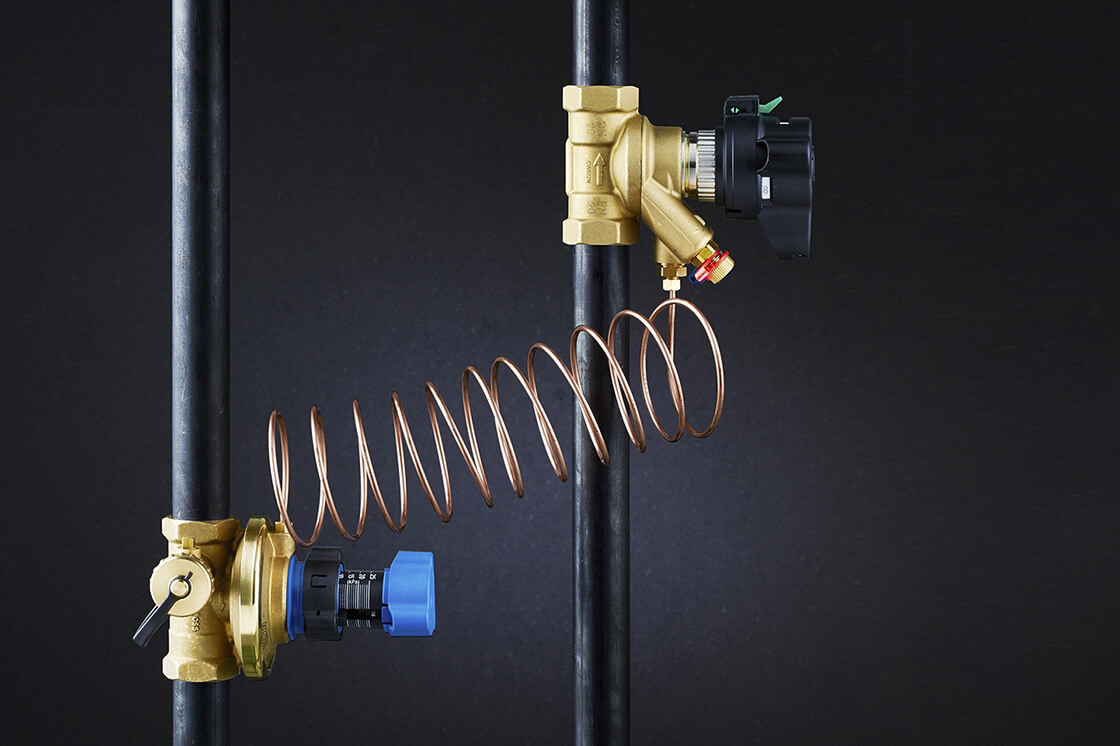 Danfoss automatic balancing valves
Hydronic balance by setting the required differential pressure in risers and design flow at the radiators without any tools
How we can help you
Improved energy efficiency and indoor comfort
Fewer complaints about uneven heat distribution
Fewer complaints about system noise
Savings on pump dimensions and energy consumption
Relatively short payback times
ASV Automatic balancing valves

ASV automatic balancing valves provide a dynamic balancing solution for two-pipe heating or cooling applications. The riser-mounted valves eliminate pressure fluctuations occurring in variable flow systems at partial load conditions. For a proper hydronic balance the valves should be combined with pre-setting valves.

AB-QM

AB-QM Pressure Independent Balancing and Control Valves (PIBCV) provide both a control functionality and dynamic balancing solution for HVAC heating and cooling systems. PIBCV are designed for various types of terminal units and provide high indoor comfort and energy efficiency in public and commercial buildings.
High-end climate solutions in Waldorf Astoria by Hilton, Amsterdam, the Netherlands

Building: Hotel Application: Hydronic balancing and control for radiator heating and fan coil cooling Challenge: Establish top level comfort and minimum energy consumption for heating and cooling Solution: Fan-coil units for cooling; 8 heating risers and radiators equipped with Danfoss products.

Energy comfort in Prime Tower, Zurich, Switzerland

The Prime Tower in Zurich is a building of many records. With its 126 meters it is the tallest building in Switzerland with 36 floors and 40,000 square meters accommodating mostly offices. And with its more than 6,000 AB-QM valves it is also one of the biggest heating and cooling installations ever designed and installed by Danfoss.

Balancing valves in Sky Tower, Wroclaw, Poland

The tallest building of the EU now resides in Wroclaw in Poland. As a beautiful landmark to modern architecture, high user comfort and sustainable practice, the 212 meter high Sky Tower forms the pleasant setting for thousands of people living and working in the building.

Savings on energy costs in Sunway resort, Kuala Lumpur, Malaysia

Building: Hotel Application: Hydronic balancing and control of water-based cooling system Challenge: Proof effectiveness of PIBCV valves Solution: Comparison test with Hydronic analyzer between traditional and PIBCV balancing and control options
Legionella prevention, the smart way

For many years Danfoss has played an important role to establish safe Domestic Hot Water systems in hospitals, hotels, multi-family apartments and other buildings. Now our MTCV thermal balancing valves and new CCR2+ electronic controller for automatic disinfection have been significantly improved to your benefit.