Controller for cold rooms, for single-phase and three-phase systems
Optyma™ Control is designed for safety, protection, control and ease of installation in cold rooms. Particularly suitable to work with the Danfoss condensing units, it is also compatible with other condensing units on the market.
The controller features a direct control of defrosting elements, evaporator fans, room light with outputs directly connectable to the various units, an attractive design, large display, and simple and flexible programming. IP65 protection rating.
Features and benefits
Simple wiring and live outputs securing system reliability
Flexible programming for optimum versatility
Differential magnetothermic circuit breaker which guarantees safety by cutting the general power supply
Alarm signalling: sensor errors, temperature and man-in-cold room alarms, compressor protection
RS485 Modbus for data communication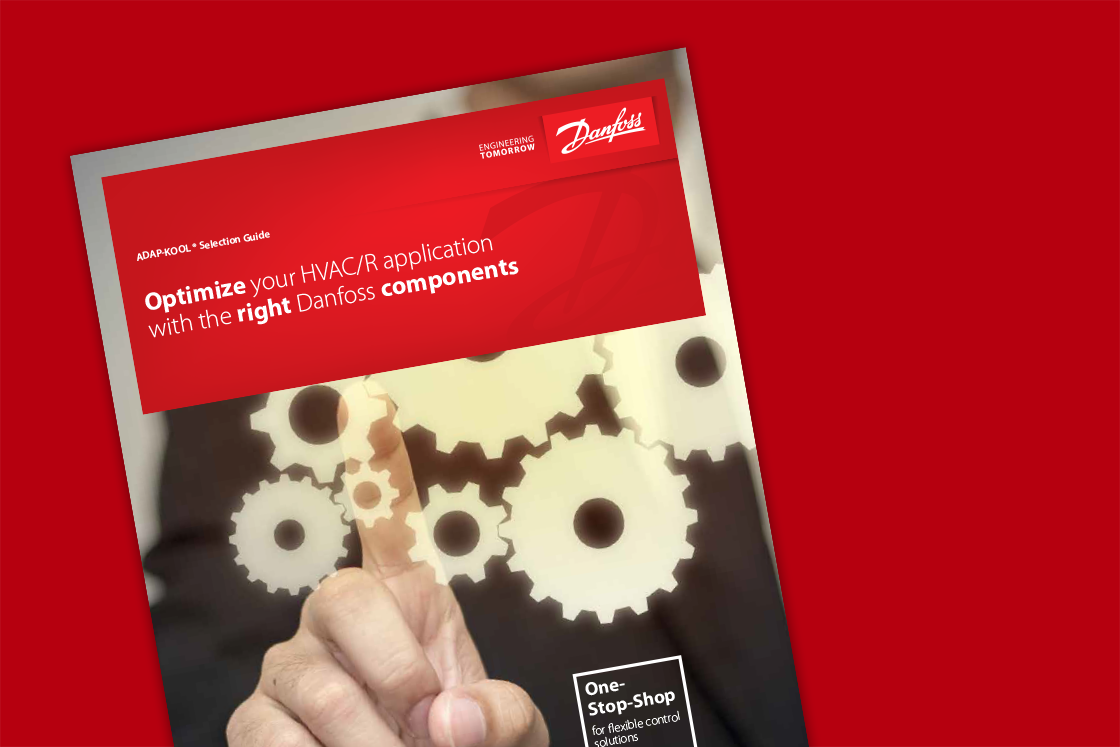 ADAP-KOOL® selection guide
Optimize your HVAC/R application with the right Danfoss components.
Basic room control with Optyma™ controller AK-RC 101/103
PCs
Description
Code number
1
Optyma controller (incl. 2 pcs. EKS 221 temperature sensors)
AK-RC 101, single phase
080Z3200
AK-RC 103, Three phase – (3 kW) 4.5-6.3A
080Z3201
AK-RC 103, Three phase – (3 kW) 7-10A
080Z3202
AK-RC 103, Three phase – (5 kW) 11-16A
080Z3206
AK-RC 103, Three phase – (5 kW) 14-20A
080Z3207
2
Temperature sensor, AKS 11,(5.5 m cable, -50 to 100°C)
084N0005
1
Condensing Unit, Optyma Plus
Quick Selection Catalogue Chapter 19
1
Thermostatic Expansion Valve, TU
Quick Selection Catalogue Chapter 1
1
Solenoid Valve, EVR
Quick Selection Catalogue Chapter 3
Documents

| Type | Name | Language | Valid for | Updated | Download | File type |
| --- | --- | --- | --- | --- | --- | --- |
| Catalog | Automatic Controls, Electronic Controllers, Compressors and Condensing Units(AU NZ) | English | Multiple | 06 Oct, 2020 | 15.0 MB | .pdf |
| Catalog | Quick Selection Catalogue - Automatic Controls, Electronic Controllers, Compressors and Condensing Units | Italian | Multiple | | 70.1 MB | .pdf |
| Catalog | Quick Selection Catalogue - Automatic Controls, Electronic Controllers, Compressors and Condensing Units | Swedish | Multiple | | 69.0 MB | .pdf |
| Catalog | Quick Selection Catalogue - Automatic Controls, Electronic Controllers, Compressors and Condensing Units | Dutch, Flemish | Multiple | | 71.2 MB | .pdf |
| Catalog | Quick Selection Catalogue - Automatic Controls, Electronic Controllers, Compressors and Condensing Units | Turkish | Multiple | | 69.4 MB | .pdf |
| Catalog | Quick Selection Catalogue - Automatic Controls, Electronic Controllers, Compressors and Condensing Units | Polish | Multiple | | 69.6 MB | .pdf |
| Catalog | Quick Selection Catalogue - Automatic Controls, Electronic Controllers, Compressors and Condensing Units | Danish | Multiple | | 71.4 MB | .pdf |
| Catalog | Quick Selection Catalogue - Automatic Controls, Electronic Controllers, Compressors and Condensing Units | French | Multiple | | 69.4 MB | .pdf |
| Catalog | Quick Selection Catalogue - Automatic Controls, Electronic Controllers, Compressors and Condensing Units | Spanish, Castilian | Multiple | | 71.1 MB | .pdf |
| Catalog | Quick Selection Catalogue - Automatic Controls, Electronic Controllers, Compressors and Condensing Units | Ukrainian | Ukraine | 15 Dec, 2018 | 71.5 MB | .pdf |
| Catalog | Quick Selection Catalogue - Automatic Controls, Electronic Controllers, Compressors and Condensing Units | Korean | South Korea | 31 Dec, 2016 | 41.7 MB | .pdf |
| Catalog | Quick Selection Catalogue - Automatic Controls, Electronic Controllers, Compressors and Condensing Units | Russian | Russia | 10 Jan, 2016 | 80.0 MB | .pdf |
| Catalog | Quick Selection Catalogue - Automatic Controls, Electronic Controllers, Compressors and Condensing Units | Russian | Ukraine | 10 Jan, 2016 | 80.0 MB | .pdf |
| Catalog | Quick Selection Catalogue - Automatic Controls, Electronic Controllers, Compressors and Condensing Units | German | Germany | 06 Nov, 2018 | 94.8 MB | .pdf |
| Catalog | Quick Selection Catalogue - Automatic Controls, Electronic Controllers, Compressors and Condensing Units | English | Multiple | 08 Feb, 2019 | 95.1 MB | .pdf |
| Catalog | Quick Selection Catalogue - Automatic Controls, Electronic Controllers, Compressors and Condensing Units (ASEAN) | English | Multiple | 05 Jan, 2016 | 61.0 MB | .pdf |
| Catalog | Quick Selection Catalogue - Automatic Controls, Electronic Controllers, Compressors and Condensing Units (EU_A: DA, FR, ES, IT, UK, PL) | English | Multiple | 07 Nov, 2018 | 69.7 MB | .pdf |
| Catalog | Quick Selection Catalogue - Automatic Controls, Electronic Controllers, Compressors and Condensing Units (EU_C, Germany) | English | Germany | 06 Nov, 2018 | 83.8 MB | .pdf |
| Catalog | Quick Selection Catalogue - Automatic Controls, Electronic Controllers, Compressors and Condensing Units (India) | English | India | 11 Jan, 2016 | 69.8 MB | .pdf |
| Catalog | Quick Selection Catalogue - Automatic Controls, Electronic Controllers, Compressors and Condensing Units (United Kingdom) | English | United Kingdom | 30 Jan, 2019 | 93.0 MB | .pdf |