Connected food retail solutions from case to cloud
Together with forward-thinking retailers around the world Danfoss has taken sustainable food retail solutions to the next level through constant development of sustainable technologies and service concepts.
Danfoss Food Retail solutions offer high efficient refrigeration systems optimized for CO₂ refrigeration and other natural refrigerants. Danfoss components are designed to provide the lowest total cost of ownership, while at the same time reducing the carbon footprint of your supermarket refrigeration system.
Danfoss solutions not only ensure the perfect conditions for food in temperature controlled environments, they also help achieve near-zero downtime on store applications in order to improve food safety and reduce food loss.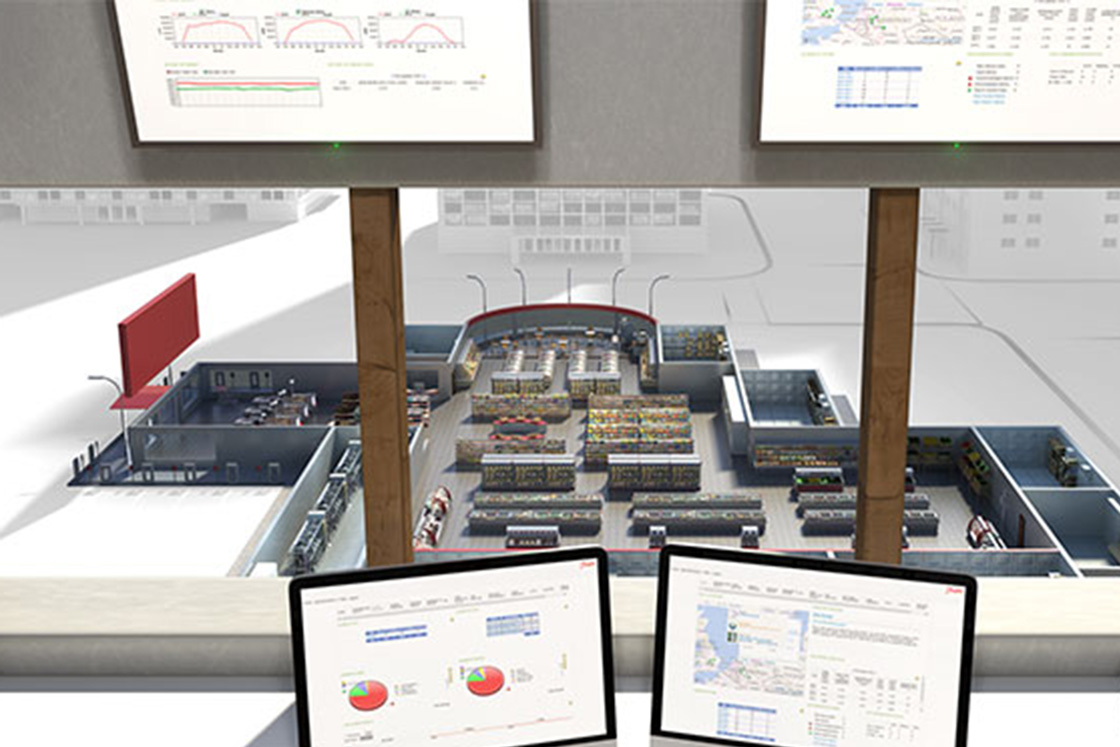 Danfoss Enterprise Services
Did you ever wonder why you need 24/7 monitoring of your stores? There are many good reasons, the first being good food quality and high food safety.
Danfoss ADAP-KOOL solutions have been developed based on more than 30 years of close cooperation with the global community of food retailers through and more than 80 years in the HVAC industry. Danfoss continuously develops its portfolio of components, controllers and advanced algorithms with the long-term ambition to create net-zero stores or even stores that give more energy than they take.
As a market leader with more than 50,000 food retail installations worldwide, Danfoss leads the development of integrated food retail refrigeration control solutions. Our experienced food retail specialists are ready to help you finding the right solution for your supermarket.
Features and benefits
Maximized energy efficiency
Natural refrigerant solutions
Connected solutions from case to cloud
Monitoring and management services

Step inside of Danfoss smart store and discover the latest technologies
Every day, we are dedicated to make your supermarket just a little smarter
CTR electric expansion valves, transcritical CO₂

CTR 3-way heat reclaim valve is designed to allow full proportional control of the surplus heat from compressor pack into the heat exchanger of transcritical heat reclaim solutions, securing availability of heat and hot water. The CTR valve prevents pressure peaks eliminating costly system down-time and the risk of insufficient heat supply for store heating and hot water, regardless of installation size.

CCMT electric regulating valves, transcritical CO₂

The CCMT is an electric operated valve designed specifically for operation in CO2 systems. The valve is capable of functioning either as an expansion valve, as a pressure regulator for the gas cooler or as a gas bypass valve with back-pressure regulation in trans-critical or subcritical applications.
The Danfoss Multi Ejector range for CO2 refrigeration: design, applications and benefits

Danfoss offers a complete portfolio of gas and liquid ejectors that provide significant benefits in CO2 refrigeration applications. Here we take a closer look at these offerings: the Multi Ejector Low Pressure (LP), the Multi Ejector High Pressure (HP), and the Liquid Ejector (LE). All three ejector products are only available as a complete Multi Ejector Solution™ where the ejector is bundled with the AK-PC 782A pack controller to provide the robust system controls necessary for efficient and reliable operation.

Selecting the right evaporator injection algorithm makes a world of difference

Danfoss has pioneered two control algorithms that help you achieve this balance. The Minimum Stable Superheat (MSS) algorithm has been an important part of the Danfoss ADAP-KOOL® offering for years and is still the ideal choice for adaptive evaporator control for dry expansion. Now Danfoss introduces the next generation: Adaptive Liquid Control (ALC).
Coolselector®2 v.3.0.0 – detailed log(p)-h diagrams for all available refrigerants

Coolselector®2 (v3.0.0), now includes detailed log(p)-h diagrams for all available refrigerants as well as the ability to vary capacity by varying mass flow or circulation rates plotting a performance curve for a selection in the wet return line.

Just add know-how: Danfoss training addresses climate change

The technology solutions of tomorrow require knowledge and understanding today. Danfoss offers extensive, user-centric content that builds know-how for our customers and partners on multiple platforms. through training, education, and knowledge-sharing.

New Danfoss Gas Sensor offers high safety and improved user convenience

Faster response times. Wider measuring range. Propane detection. Easy system integration. Quick and easy sensor head replacement. These are just some of the benefits with the new DGS gas sensor series from Danfoss which enables users to take gas detection to the next level in food retail application.
Coming soon...
Coming soon...