Low-GWP refrigeration using carbon dioxide
CO₂ is fast becoming the preferred refrigerant in Food Retail applications and Danfoss is leading the way towards the adoption of CO₂. With the implementation of refrigerant regulations like the Kigali amendment to the Montreal Protocol (Global) and F-gas regulative (Europe), the quest for alternative solutions is accelerating even further and CO₂ is now recognized as the most viable and efficient solution among natural refrigerants in Food Retail applications.
Danfoss has pioneered CO₂ technologies for both trans-critical and sub-critical systems for more than ten years and has gained valuable experience from thousands of installations all over the world. The many installations have proved that CO₂ can be applied in supermarkets enabling both environmentally friendly and energy saving systems in all types of stores.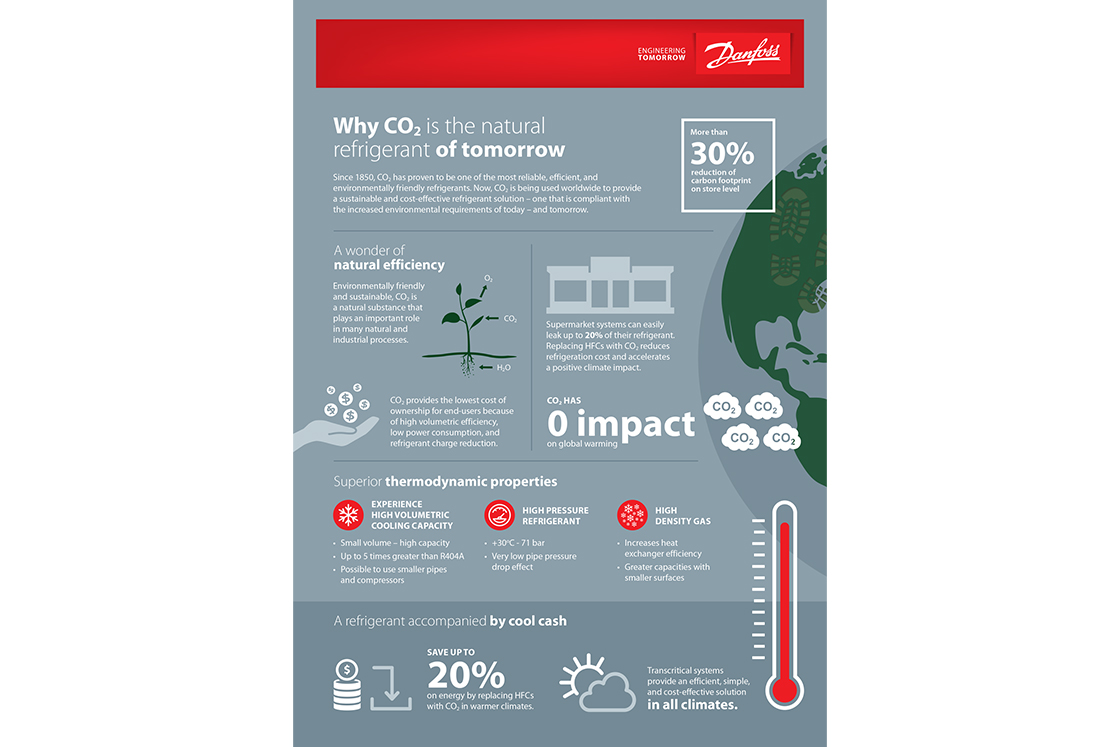 Why choose CO₂ as refrigerant?
Today, CO2 has proved itself as a highly reliable and cost effective refrigerant in all climates. Take a look at the CO2 infographic to learn more about all the benefits.
Features and benefits
One solution across all climates
Lowest possible Global Warming Potential (GWP)
Smart solutions for high system efficiency
Proven with more than 10,000 trans-critical CO2 systems worldwide
Industry leading application support and guidance to choose the best solution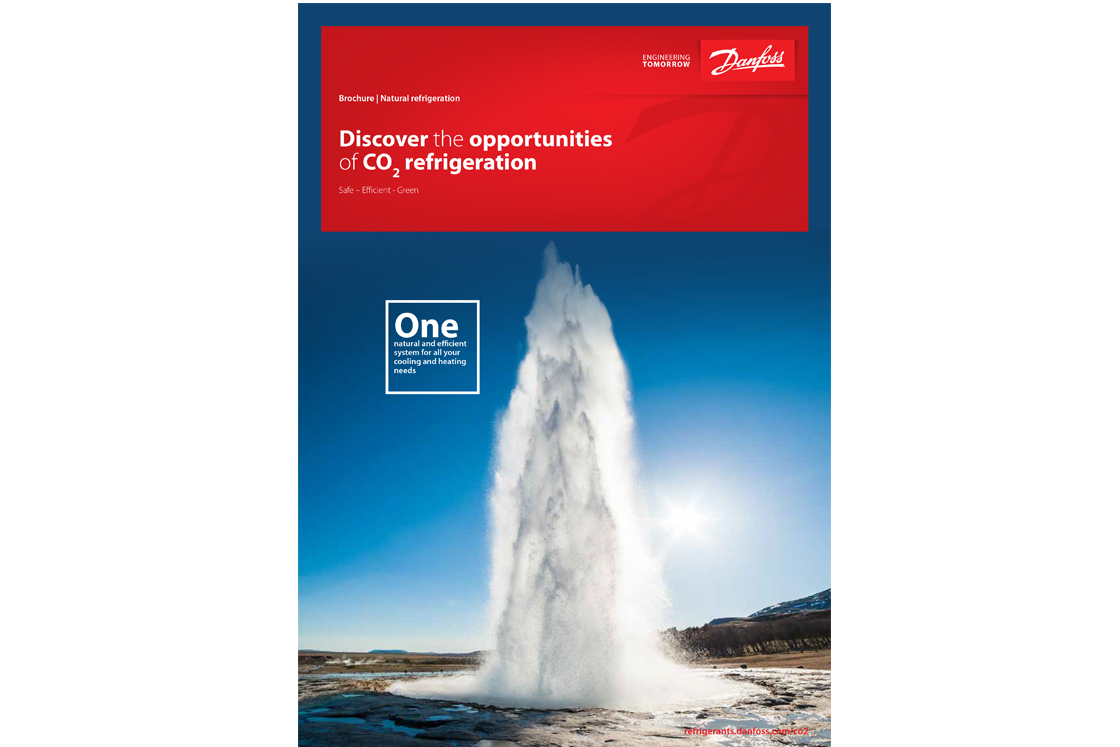 Discover the opportunities of CO₂ refrigeration
Danfoss leads the development of solutions and components for CO₂ refrigeration and offers a wide range of products specifically designed for CO₂ transcritical systems.
Documents

| Type | Name | Language | Valid for | Updated | Download | File type |
| --- | --- | --- | --- | --- | --- | --- |
| Brochure | Save energy and protect the environment with CO2 solutions - Special version for Food Retail | English | Multiple | 25 Mar, 2021 | 17.8 MB | .pdf |
| Brochure | Save energy and protect the environment with CO2 solutions - Special version for Food Retail | French | Multiple | 03 Jul, 2018 | 3.4 MB | .pdf |
The truth is Cool(selector®2)
Coolselector®2 features unbiased calculations for the selection of refrigeration and air conditioning components based on the user's requirements or based on standard operating conditions.
Air Conditioning & Refrigeration Pressure Transmitters

Refrigeration pressure transmitters are used for commercial air-conditioning and for commercial and industrial refrigeration applications. They are made in stainless steel to be compatible with fluorinated and natural refrigerants and laser welding with no soft seals ensure hermetic tightness for decades.
Browse more products for CO₂ in food retail
Future-Ready Refrigeration Solutions | Danfoss

Read to know how Danfoss provided future-ready refrigeration solutions to help Ananda Foods improve efficiency, enhance productivity, and delivering quality produce to its global clients through its efficient refrigeration systems for the food industry.

KrioFrost Creates Russia's Largest Transcritical CO2 Hypermarket System Using Danfoss Solutions

Globus had an ambitious target: to open the new 25,000 square meter hypermarket using transcritical CO2 for its refrigeration and heating. Danfoss helped KrioFrost—a Moscow-based refrigeration equipment producer and installer—to equip Globus' huge new store in the Moscow suburb of Salaryevo with the company's first transcritical CO2 booster refrigeration system.

Italy's largest hypermarket opts for CO₂ refrigeration

The use of transcritical CO₂ refrigeration in warm climates has been a hot topic for years. In Milan, the brand new 10,000 m² Iper market is a pioneer in CO₂ refrigeration using ejector technology to enhance efficiency in temperatures up to 38 °C.

A case study on ejector efficiency based on four test sites

The F-gas regulation in Europe and similar legislation in other parts of the world push for low-GWP solutions in food retail refrigeration. CO₂ is proving to be one of the most efficient low-GWP refrigerants thanks to the unique properties of the gas combined with technological discoveries that pave the way for optimum utilization of these properties.

CO₂ energy efficiency in supermarkets

Interest in carbon dioxide (CO₂) as a refrigerant in food retail applications has never been more intense than it is today and as such, there has been a lot of discussion with regards to the energy efficiency of these systems. The energy discussion is focused on two factors: climate change performance and financial justification.
Three Danfoss technologies named winners of 2020 AHR Expo Innovation Awards

The annual awards competition honors the most inventive and original products, systems, and technologies showcased at the AHR Expo. This year, Danfoss will receive awards in the program's Cooling, Green Building, and Refrigeration categories.