Increase the attractiveness of your multi-family building
Modern heating technology gives property owners and managers numerous ways to improve energy efficiency in their buildings. Whether planning a new build, renovation or refurbishment.
Danfoss aims to bring the full benefits of efficient heating systems to everyone involved in apartment block living. This means achieving a better return on investment, lower overall costs, greater comfort and safety, and reduced environmental impact.
Multiple application design options are available for all sorts of projects, from renovations to new builds.
User needs, functional requirements, budget and investment returns must all be taken into consideration when selecting the right solution.
How we can help you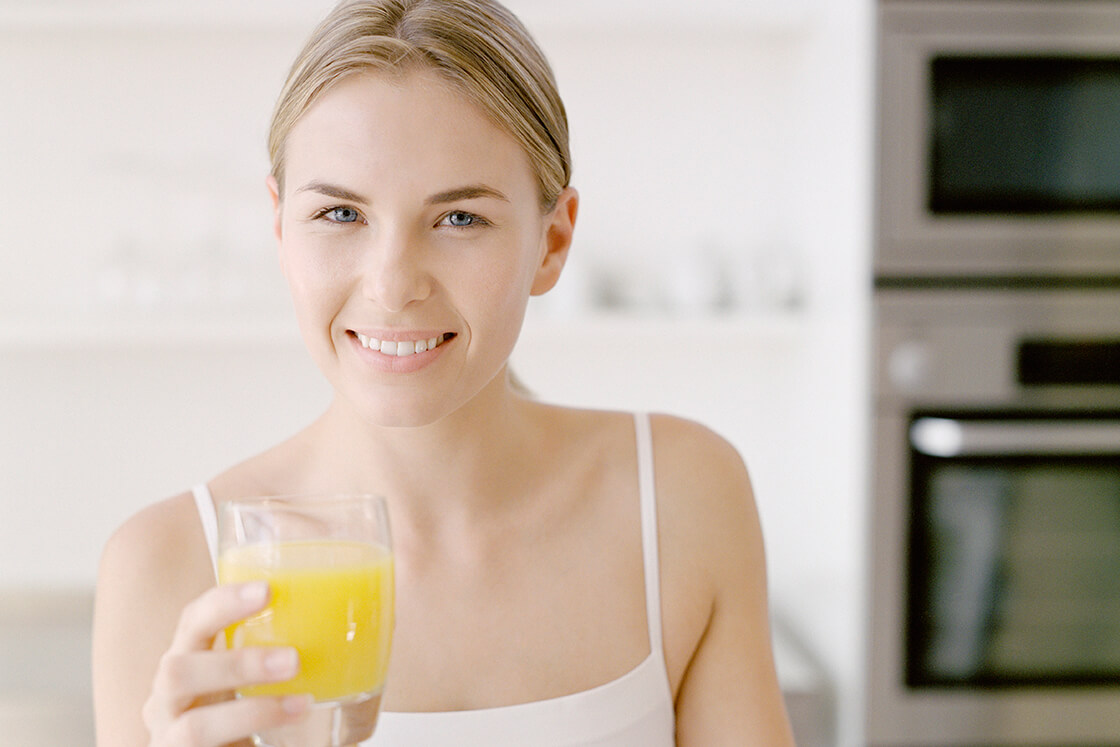 For residents
Affordable rent and utilities with no surprises
Hygenic domestic hot water whenever I need it
Individual temperature zones - anytime, everywhere
Modern building services - that I don't have to worry about
No noises from the heating system and all the radiators give off heat
Modern heating technology that gives the environment a break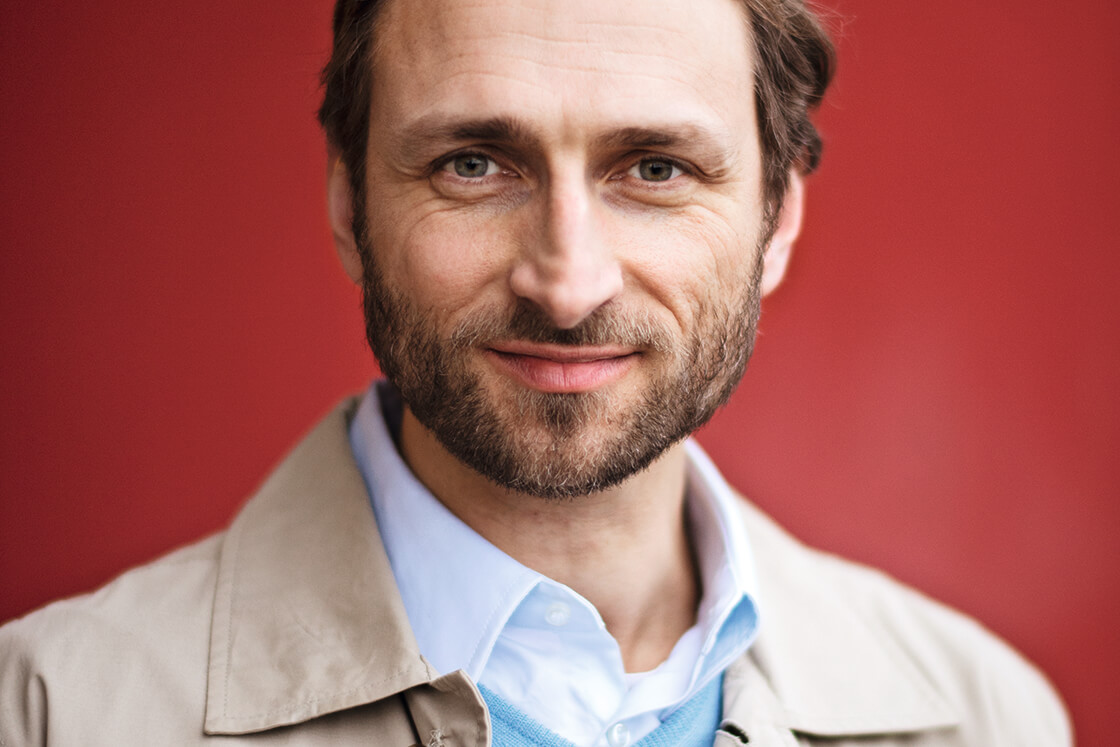 For owners
Stable costs during planning and implementation of renovation and new-build projects
Lowest possible investment with rapid payback
Retains its value over the long.term: easy to rent, easy to sell
No need for legionella testing
Satisfied tenants: no complaints due to noise or under-supply to individual radiators
Reliable heating technology - easy to operate and easy to bill

EvoFlat: Take control of energy costs
The Danfoss flat station concept "EvoFlat" comprises an installation, for which flat stations that are supplied from a central energy source are built into each flat. These units normally incorporate a compact plate heat exchanger, which delivers instantaneous hot water on demand and a differential pressure control valve to control the heating flow to the tenants' radiators.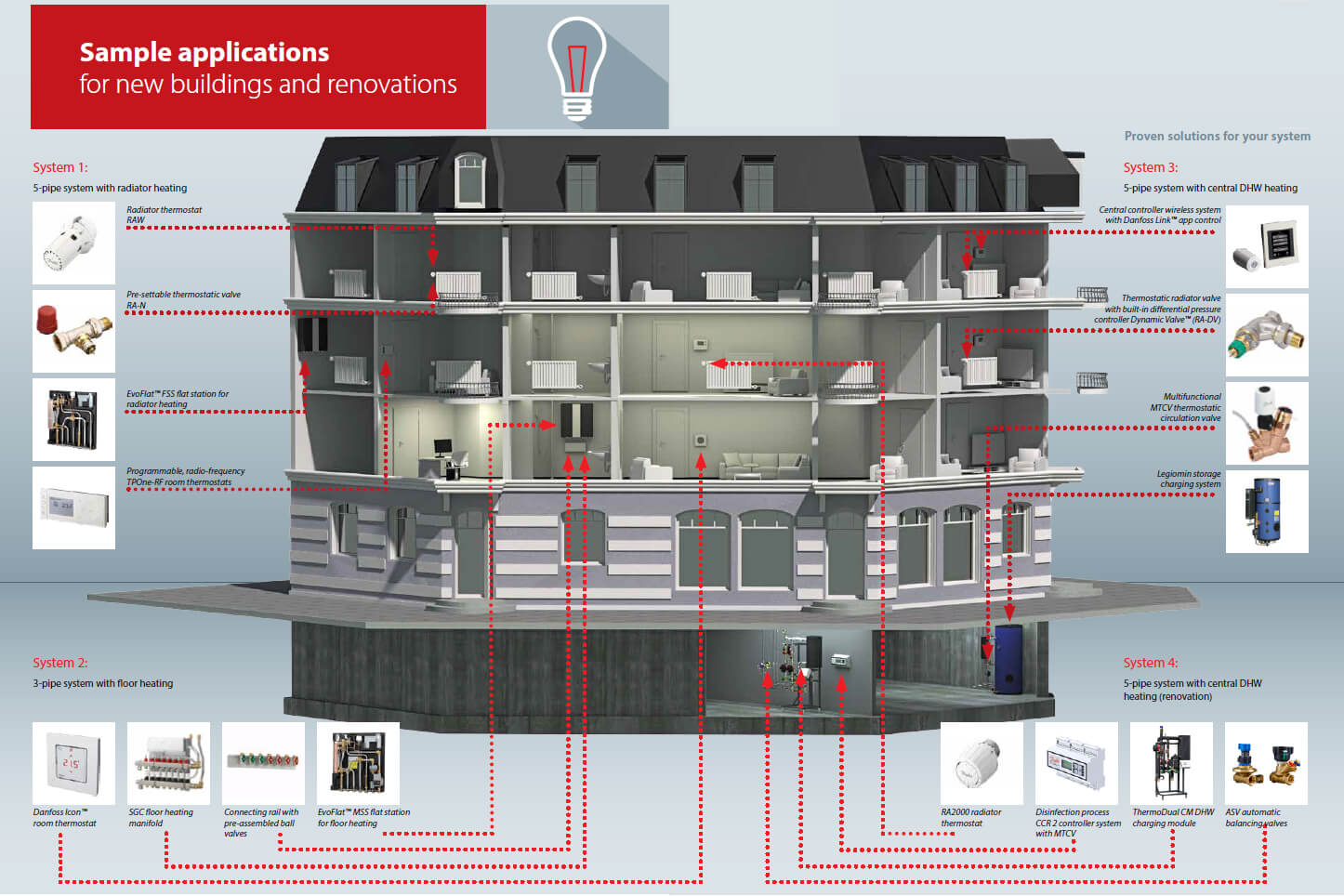 Brochure "Increase the attractiveness of your multi-family building"
Learn more about Danfoss applications for multi-family buildings
Hydronic balancing and control

Danfoss Hydronic balance and control solutions ensure an optimized distribution of heating and cooling water in HVAC systems. The recommended solution depends on the system; constant flow or variable flow systems, the application; heating and/or cooling and heat emitters; radiators, terminal units or others.

Domestic hot water

Danfoss Domestic Hot Water systems provide everything for the production, storage, hydronic balancing, temperature control and temperature logging for drinking water in non-residential and multi-family house buildings. The systems established are high performing, provide comfort and hygiene and ensure maximum possible protection against legionella.

Underfloor heating - hydronic

Danfoss is the best partner to establish your hydronic (water-based) floor heating system. The broad range of underfloor heating products containing panels, pipes, manifolds, mixing-shunts and room temperature controls offers a high-quality solution for every new-build and renovation project.

Underfloor heating - electric

Danfoss solution is the best option for electrical heating because it works for all types of floors, for all rooms and in many building types. Danfoss electrical heating for interior underfloor heating ensures comfort, minimal energy consumption, flexibility, and durability.

Danfoss intelligent solutions with long-lasting effect are the most efficient investments in the long run for any home.
Renovation of an apartment building with flat stations, Hamburg, Germany

Until 2014, the apartments in this multi-family building located in the Hamburg suburb of Bergedorf were heated using electrical water heaters and supplied with domestic hot water using electrical instantaneous water heaters. Now, after the renovation, a block heating station in the basement of the building provides heating distributed via flat stations installed in the stairwell and used for decentralized domestic hot water. Tenants were able to stay in their apartments throughout the renovation process.

Flat stations in apartment building in Hamburg, Germany

Visitors to Hamburg's Henriette-Herz-Ring who let their gaze drift upward will discover two shipping containers on the roof of the apartment building. They are the visible result of an innovative planning initiative to replace inefficient gas boilers with Danfoss flat stations. The highlight of this renovation: residents did not have to vacate their apartments.

ASV automatic balancing valves in buildings in 4 streets, Jonkoping, Sweden

During the past few years a huge demand for sustainable living has emerged. The pressure on creating environmental friendly or green buildings is higher than ever. Also for existing buildings the need for not leaving a big blueprint on the globe is becoming increasingly important. In Jönköping, Sweden, the community living in the Västerkåkar neighborhood is going forward. In 2013 substantial changes to the communal heating system in the buildings in four streets showed that a green example can be set, in just a couple of steps.

Apartment building renovation, Rotterdam, The Netherlands

In the Dutch city of Rotterdam, an office building from the 60's was completely stripped to its core and re-built. The project involved creating new offices and adding a further nine floors of luxury apartments on top. The developer wanted a highly sustainable climate system with both heating and comfort cooling.