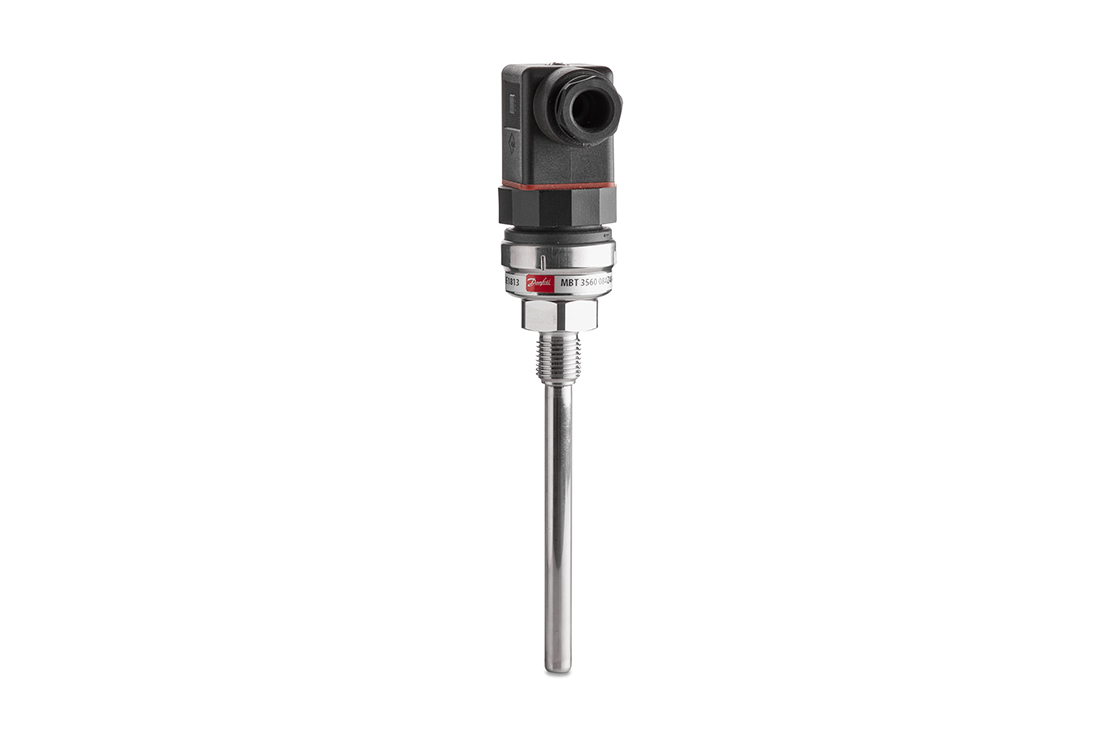 Compact temperature sensors with a built-in transmitter
The MBT 3560 temperature transmitter converts an input signal from a temperature-dependent resistor into a standardized Volt or mA output signal. The electronic transmitter allows for the use of different sensor types such as RTD, NTC, or PTC and it provides the opportunity for a customized output signal within a predefined temperature range. This feature allows the customer to define a specific temperature range that has significance to the process that they wish to control.
MBT 3560 is designed for use in harsh industrial environments where sturdy, durable, and accurate equipment is essential for the operation.
The transmitter is available with a wide range of process and electrical connections and can be delivered with a 33 mm extension column which enables the transmitter to measure temperatures up to 200 °C without damaging the built-in electronics. The temperature transmitter can be applied in various heating and cooling application where accurate measurement of the temperature is paramount to the process control (E.g. Engine cooling systems, oil temperature monitoring, HVAC&R systems, Air compressors, tec.)
Features and benefits
Designed for use in harsh industrial environments where reliable, robust and accurate equipment is required
All metal enclosure parts made of stainless steel (AISI 316)
Output signals: 4 – 20 mA or Ratiometric 10 – 90%
A wide selection of process and electrical connections
Temperature range -50 – 200 °C
Sensor pockets available for applications where emptying the system is not an option
Based on Pt 1000 technology
Product Ordering Key
Non-standard build-up combinations may be selected. However, minimum order quantities may apply.
Please contact your local Danfoss Office for further information.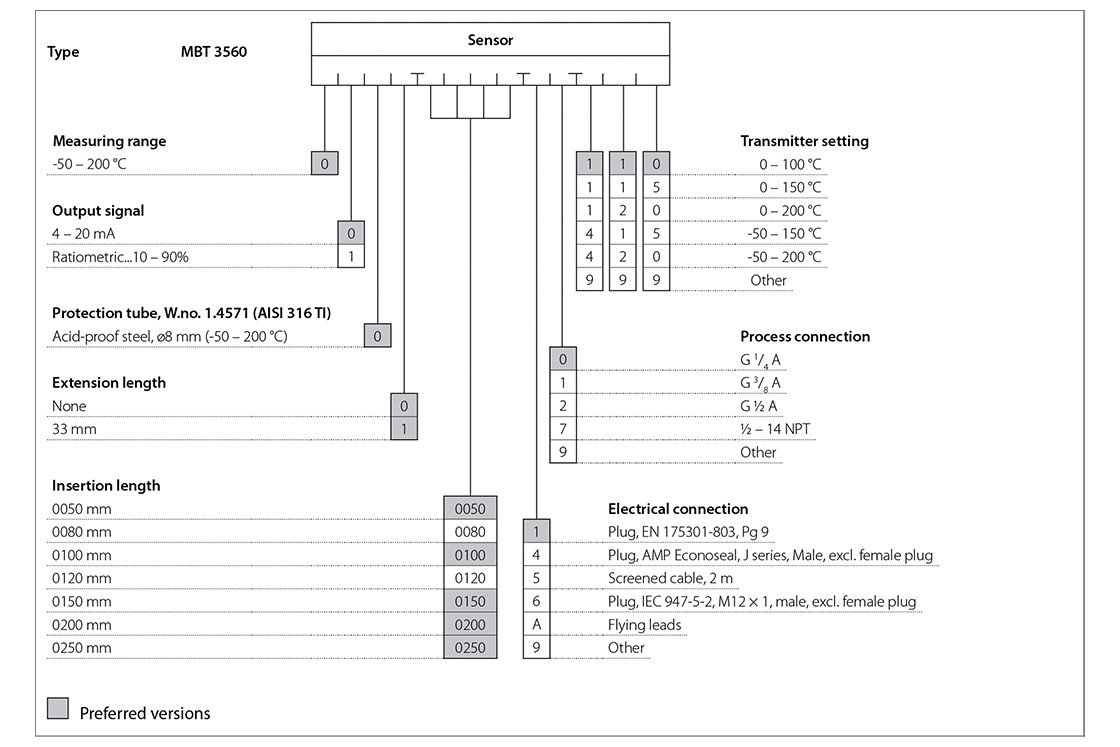 Documents

| Type | Name | Language | Valid for | Updated | Download | File type |
| --- | --- | --- | --- | --- | --- | --- |
| Data sheet | Temperature sensor with integrated transmitter for industrial applications MBT 3560 | German | Multiple | 29 May, 2022 | 1.7 MB | .pdf |
| Data sheet | Temperature sensor with integrated transmitter for industrial applications MBT 3560 | Polish | Multiple | 29 May, 2022 | 1.7 MB | .pdf |
| Data sheet | Temperature sensor with integrated transmitter for industrial applications MBT 3560 | Russian | Multiple | 29 May, 2022 | 2.2 MB | .pdf |
| Data sheet | Temperature sensor with integrated transmitter for industrial applications MBT 3560 | Chinese (CN) | Multiple | 04 Aug, 2022 | 1.8 MB | .pdf |
| Data sheet | Temperature sensor, type MBT 3560 | English | Multiple | 26 Feb, 2021 | 1.5 MB | .pdf |