To really benefit from hydronic floor heating benefits, it is important to use room temperature controls.
With Danfoss IconTM we offer an advanced control system containing different room thermostats, master controllers, expansion modules and accessories. There are 3 system options:
Wireless
24 volt
230 volt
The 24 volt and wireless system share the same Master Controller. An optional Radio Module turns it into a wireless system. Both wireless and wired (24 volt bus communication) can be used in the same system. The Expansion Module increases the technical features and functionalities, especially for cooling applications. The App module allows system operation via the Danfoss IconTM App.
The room thermostats look like a light switch and blend in with any interior. The in-wall models even fit into compatible switch frames from manufacturers such as Busch-Jaeger, Gira, Berker and Merten, to allow a perfect design match between the thermostat, light switches and electrical sockets.
Features and benefits
Room thermostats that blend in with any interior: The room thermostats are designed to blend in with any interior and look like most common switch frames. When not in use, the display turns off and becomes virtually invisible.
Build into a switch frame: For the perfect match between room thermostat, light switch and power sockets, the frame can be exchanged for a popular frame from one of the switch frame manufacturers.
Automatic balancing: The hydronic balance of the system is important for achieving maximum energy efficiency. The Automatic balancing prevents pre-setting on valves or manifolds.
Advanced functionalities: The master controllers have a modular concept, allowing expansion of the technical features and system operation. Some of these are; Demand based supply temperature control, several pre-defined cooling applications and corresponding extended commissioning tests to ensure the system works correctly.
Wired or wireless operation, also in the same system: Due to the optional Radio Module, a 24 volt Master Controller can also be used for wireless operation. It is possible to combine 24 volt wired bus communication room thermostats and wireless room thermostats in the same system.
Remote operation via Danfoss IconTM App: With the optional App module in place, the system can be operated with the Danfoss Icon app. Times and temperatures can be adjusted or scheduled from any Apple or Android mobile device.
Danfoss Icon™ - room thermostat for floor heating
See how well the thermostat blends in with any interior, find out more about the available models and more.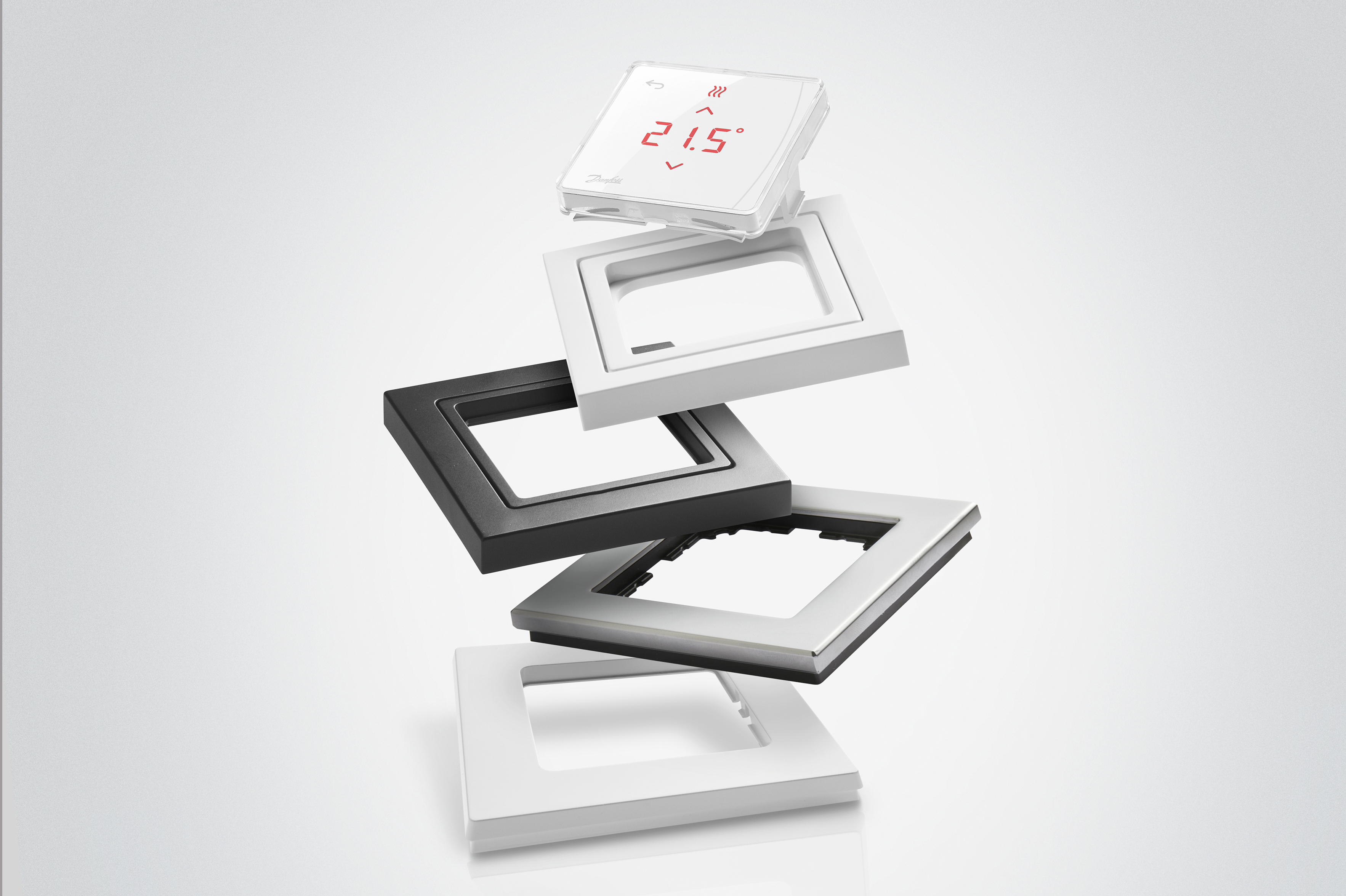 Learn more about Danfoss Icon
Find out more about Danfoss IconTM at the dedicated website – icon.danfoss.com
Documents

| Type | Name | Language | Valid for | Updated | Download | File type |
| --- | --- | --- | --- | --- | --- | --- |
| Brochure | Danfoss Icon - Advanced control system for floorheating and -cooling, Wireless - 24V - 230V | English | Multiple | 18 Jun, 2019 | 4.4 MB | .pdf |
| Brochure | Danfoss Icon - Advanced control system for floorheating and -cooling, Wireless - 24V - 230V | French | France | 21 Jan, 2021 | 2.3 MB | .pdf |
| Brochure | Danfoss Icon - Made to match your switch frames | German | Multiple | 05 Sep, 2019 | 1.1 MB | .pdf |
| Brochure | Danfoss Icon Wireless - 24V - 230V | Polish | Poland | 15 Jul, 2019 | 3.5 MB | .pdf |
Advanced floor heating comfort control made to blend in with any interior

At the beginning of 2017 we introduced Danfoss Icon™, a series of trendsetting 230 volt room thermostats for water based underfloor heating and other applications with actuators. Now we're happy to announce the product range has been significantly expanded. Danfoss Icon™ provides you with a solution for all your floor heating and floor cooling control requirements.