The industry is rising to the challenges presented by rapid, ongoing urbanization, developing smart solutions that create more efficient, sustainable living and working environments.
The megatrend towards urbanization — compounded by diminishing natural resources and increasing concern over climate change — presents significant challenges. With the United Nations projecting that an additional 2.5 billion people will live in the world's cities by 2050, and 90 percent of that increase focused in Asia and Africa, delivering the technical and physical infrastructure needed to meet the needs of rising urban populations is a vital issue.
As the President of Danfoss Asia Pacific Soren Kvorning explains, unique challenges are faced in Southeast Asia. "Here, due to the climate, we spend almost all our time inside — whether shopping, at school or working, we do nearly everything indoors. This means in cities like Colombo, Singapore and Bangkok, around 40 percent of the total energy consumption is devoted to operating buildings," Mr. Kvorning says.
Buildings are responsible for a third of all greenhouse gas emissions. Danfoss is dedicated to playing a central role in reducing that figure. It's not simply a matter of installing more efficient systems in new structures, but also striving to retrofit older buildings with the latest technology.    
Newly constructed 'Smart Buildings' utilize technology to increase efficiency, however many existing structures such as shopping malls, schools, hospitals and airports need to be optimized to save energy, halt rising costs, and make operations more sustainability-focused. Pleasant environmental conditions must also be maintained that enhance quality of life and productivity for those using the buildings. These goals can be met far more easily and cost-effectively than many building managers might believe, with strategic upgrades to certain areas that make sense from both financial and environmental standpoints.
Mr. Kvorning says, "Hotels, shopping malls and airports are among the highest users of energy, but they have a tendency to over-cool, leaving people uncomfortably cold. There is a big opportunity to optimize the energy consumption in these buildings." Smart temperature control technologies can help solve some of these inefficiencies by connecting condensers, coolers and variable-speed air conditioning (AC) fans to building management programs. These connected, intelligent systems can realize efficiency goals — saving money and resources, and greatly reducing environmental impact — by ensuring that individual rooms or areas can be cooled or heated as required and the air quality optimized to meet the number of people in the immediate vicinity. 
Overcoming these challenges requires optimizing the heating or cooling systems in existing buildings, saving costs and simultaneously improving living conditions — foremost in the minds of building energy managers as they strive to get more for less. That concept is also a core philosophy of Danfoss, a company actively engaged in delivering sustainable solutions to the food, energy, indoor climate and infrastructure industries.
Danfoss innovates indoor climate control and energy-saving technologies that derive more for less to both new and existing buildings through a wide portfolio of innovations. One example is that of frictionless magnetic drive chillers and variable-speed AC fans, which can decrease energy costs in large buildings by 25 percent and 20 percent respectively. In addition to the energy saving, there is significant improvement in noise reduction and more controllable ambient temperatures — which in offices, delivers a comfortable working climate that increases productivity.
Key to these energy savings is integrating systems and making building management more intelligent through data analytics. A prerequisite to that is connectivity — in the era of the Internet of Things or Industry 4.0, this is essential. Consequently, Danfoss is investing heavily in their development of smart building technology and connected systems. Mr. Kvorning says, "With connectivity we have a much greater capacity for monitoring and controlling a single individual technology from a distance." Connected systems provide the integration and the source of data required to monitor and manage environmental climate systems autonomously as each must work in harmony to produce the desired results. Indeed automation, connectivity and the sharing of data between systems and even between buildings mark a step towards smart districts and a smart city.
One example is Danfoss smart HVAC balancing and control solutions, which optimise heating and chilled water distribution throughout a building. Innovative, digital actuators are directly connected to the Building Management System (BMS), providing it with a wealth of technical data, enabling Internet of Things (IoT) smart building solutions, including predictive maintenance and energy optimisation.
By developing innovative technology to address the challenges of mass urbanization and by delivering energy efficient buildings, Danfoss provides an enhanced quality of life for the people who live and work in these structures. It's an important step in the evolution towards a green, sustainable future — and improved quality of life for all.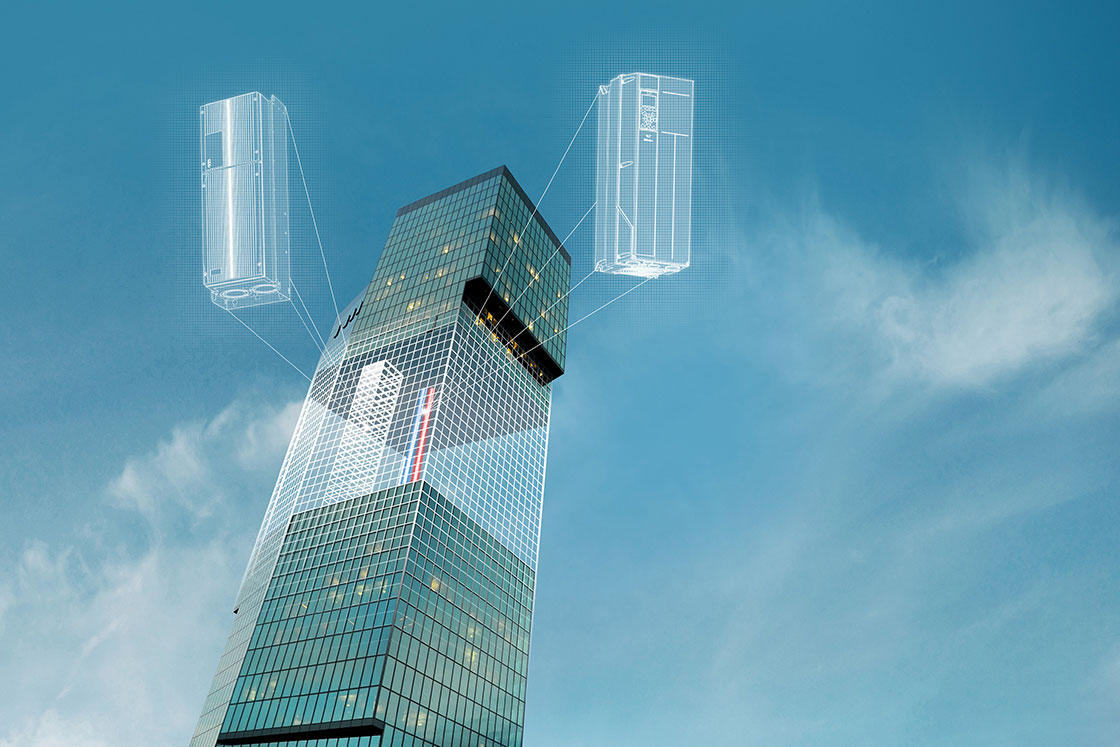 Engineering the world of Tomorrow
Danfoss engineers advanced technologies that enable us to build a better, smarter and more efficient tomorrow.  In the world's growing cities, we enable the supply of fresh food and optimal comfort in our homes and offices, while meeting the need for energy-efficient infrastructure, connected systems and integrated renewable energy. Our solutions are used in areas such as refrigeration, air conditioning, heating, motor control and mobile machinery. Our innovative engineering dates back to 1933 and today Danfoss holds market-leading positions, employing 27,000 and serving customers in more than 100 countries. We are privately held by the founding family.