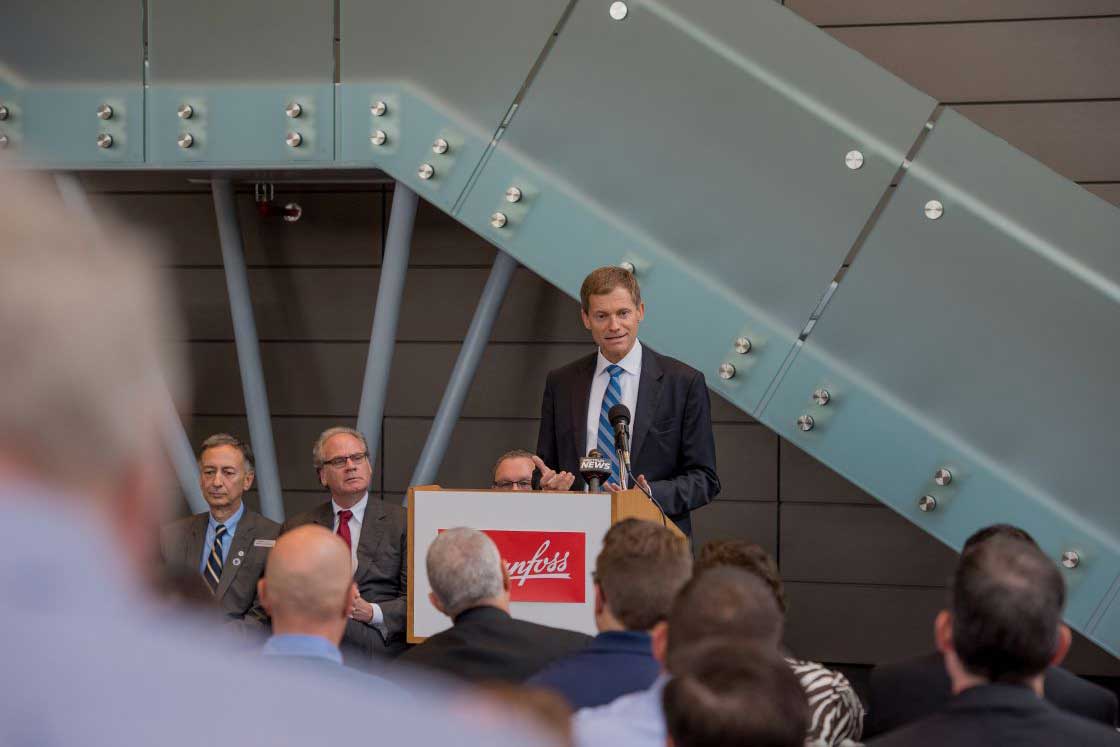 Company's Executive Team visits facility to welcome first employees, prepare for full operation in 2018.
Utica, NY - Danfoss Silicon Power today welcomed the first employees to its Utica, New York facility — marking progress toward full operation of its silicon-carbide (SiC) power module production.
In March 2017, the company announced that it would establish production of SiC power modules in Utica. 
Danfoss Power Electronics packaging facility at QUAD-C will advance New York's leadership in next-generation semiconductor research, development, and commercial fabrication to meet the global demand for smaller, faster, and more efficient devices. This will expand the scope of the Nano Utica initiative from computer chip commercialization into power electronics applications for industrial products such as wind turbines, utility-scale solar inverters, data centers and electric cars. GE's advancements in silicon carbide (SiC) technology play an important enabling role.
"It is a true pleasure to be here today, to see this facility being ramped up and be part of the on-boarding of the new colleagues in the Danfoss family. This is certainly a very important step for Danfoss, and we see a huge potential in the production here in Utica," said Kim Fausing, Danfoss CEO. 
At today's visit, Kim Fausing and several other Danfoss executives were joined by Chairman of the Danfoss Board Jørgen Mads Clausen, CFO Jesper Christensen, Segment President Vesa Laisi, and Danfoss Silicon Power General Manager Claus A. Petersen, and John Galyen, President of Danfoss, North America. 
The company recently took over the Quad-C facility at the State University of New York (SUNY)'s Utica campus as part of a transatlantic collaboration with General Electric through New York Power Electronics Manufacturing Consortium (NY-PEMC). The private-public consortium and other similar programs were established in 2014 by the state of New York with a total investment of more than $20 billion USD for the creation of high-tech jobs. 
Danfoss previously appointed a general manager for the new Danfoss Utica site, Mike Hennessey, who began to ramp up the business soon after the March announcement. 
"We're making great progress, including starting up construction and ordering equipment and hiring our first employees. This is just the beginning of our exciting business journey that will expand the scope of the Nano Utica initiative from computer chip commercialization into power electronic applications for industrial products in many clean energy applications," commented Hennessey. 
Danfoss Silicon Power is planning for full operation of the facility by mid-2018, and expects to create hundreds of jobs in the coming years. The cooperation with GE is also well under way and, over the past several months, GE and Danfoss cooperated on development of new products that will bring long-term advantage to the Quad-C operation.
Part of the Danfoss Group, which has more than 25,000 employees globally, Danfoss Silicon Power is a leading manufacturer of power modules used in a wide range of applications for the industrial, renewable energy and automotive sectors. They have provided power modules for more than 25 million cars around the world. 
"With this newest facility in Utica, Danfoss Silicon Power is gaining a unique position as the only independent SiC module manufacturer in the US. We have seen significant interest in our company since the announcement about this initiative in March and believe this strategic move will have important impact on our future growth in the US," says Claus A. Petersen, general manager and vice president of Danfoss Silicon Power.
Background:
The Danfoss Silicon Power facility at QUAD-C is expected to advance New York's leadership in next-generation semiconductor research, development, and commercial fabrication. SiC power modules can reduce power consumption in electric cars by 10 percent and the energy consumption in data centers by 5 percent, just as they can lower the weight of an airplane by more than 1,100 lbs.  In the future, such power modules are also expected to be applied in other sectors like shipping, offshore and hospitals. 
The Utica facility is one of 18 sites Danfoss has in North America, where it employs 3,100 people. 
For more information:
Lisa Tryson
+1 410 513 1142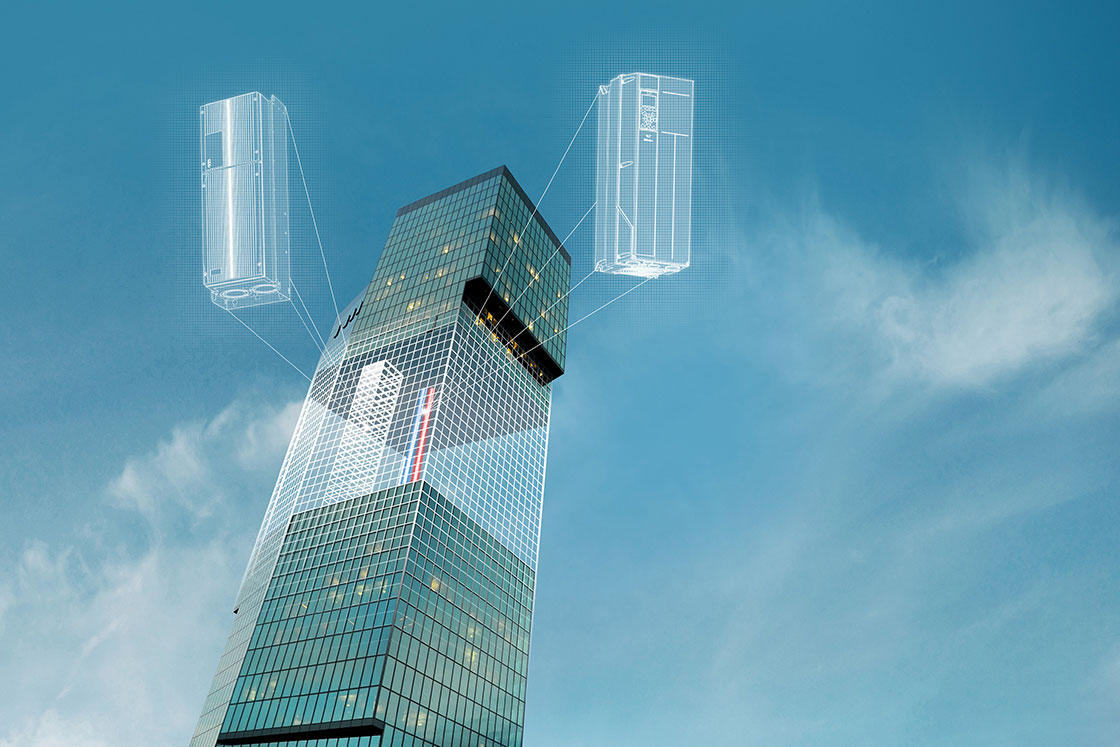 Engineering the world of Tomorrow
Danfoss engineers advanced technologies that enable us to build a better, smarter and more efficient tomorrow. In the world's growing cities, we ensure the supply of fresh food and optimal comfort in our homes and offices, while meeting the need for energy efficient infrastructure, connected systems and integrated renewable energy.
Our solutions are used in areas such as refrigeration, air conditioning, heating, motor control and mobile machinery.
Our innovative engineering dates back to 1933 and today Danfoss holds market-leading positions, employing more than 26,000 and serving customers in more than 100 countries. We are privately held by the founding family.