A Digital Hydronic HVAC System- Ensuring patient's comfort and temperature adaptability in your hospitals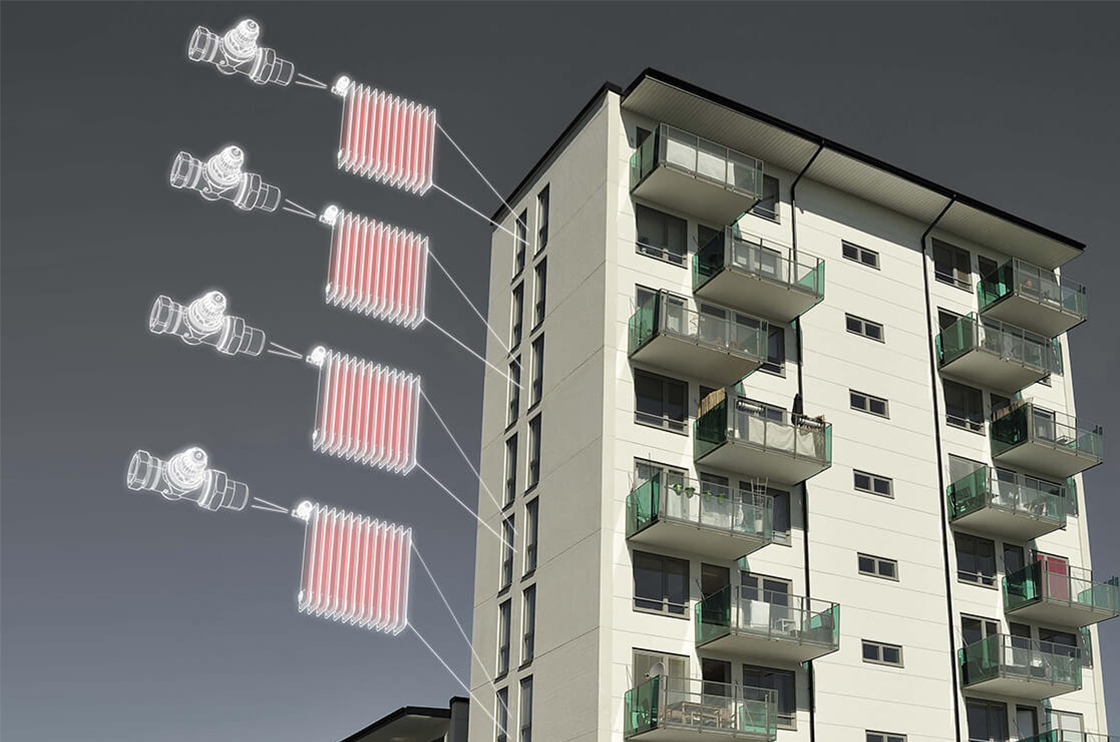 It's challenging to design an HVAC system for a hospital. Not only must the equipment run 24 hours a day, seven days a week, but it must also maintain accurate temperature and humidity control in hospitals to keep critically ill patients comfortable and sensitive medical equipment functioning properly. While traditional hospital HVAC systems typically consist of chillers and boilers, new types of equipment, such as Hydronic HVAC system, which is becoming more generally recognized in the health care sector due to its superiority in performance and energy efficiency.
Hydronic HVAC System- How it works?
The heated water from boiler or the cooled water from chiller is pumped throughout the building to air handling units, terminal units, Fan Coil Units (FCU), chilled ceilings, chilled beams, radiant panels and four-pipe changeover systems, where it allows the HVAC system to set varied temperatures across the critical rooms as required.
Variable temperature requirements assuring patient comfort
Based on different zones, the following temperature ranges are recommended for healthcare facilities:
1. Cool temperature Ranges (68 °F to 73 °F/20 °C to 23 °C): Required in operation theatres, endoscopy suites, & workrooms.
2. Warmer temperatures (75° F /24° C): Required in areas demanding greater degrees of patient comfort like patient wards and delivery rooms.
3. Standard temperature range of (70 °F to 75 °F /21 °C to 24 °C): Preferred in all other healthcare zones.
Danfoss has a wide range of advanced HVAC technological solutions to fulfil the hospital's variable temperature requirements. Danfoss' digital actuator NovoCon, connects your Building Management Systems (BMS) and hydronic HVAC systems to enable superior hydronic system performance for your smart HVAC system, enabled and controlled by IoT.
When equipped with Danfoss actuator, NovoCon; the PICVs (Pressure Independent Control Valves) called 'AB-QM' increase the energy efficiency and improve the indoor climate. The AB-QM is mainly used for air handling units, climate ceilings, fan-coil units and ceiling & beam chillers, radiant panels, and multi-pipes changeover systems in HVAC heating and cooling systems.
Danfoss' smart actuators for efficient HVAC operation in your hospitals!
1. Best-in-class Temperature control
Considering the type of room or location, our advanced temperature control functions can be remotely accessed from BMS. The AB-QM controls the required flow of water with an integrated differential pressure controller and maintains hydronic balance and precision in temperature, ensuring thermal comfort.
Using this combined functionality, NovoCon actuators help to modulate the temperature requirements of the hospitals as per the patient and season-specific requirements, hence ensuring patient comfort in the hospitals.
2. Predictive analysis & preventive maintenance
Danfoss smart digital actuators for hospitals collect building performance data from BMS, which can accurately locate any issue or the place where the issue is most likely to occur and performs preventive maintenance through a completely automated process for controlling, monitoring, optimizing, and maintaining HVAC operations in your smart building. This targeted & predictive action helps in effectively solving the irregularities and carrying out preventive maintenance whenever it is suitable.
3. Establishes energy-efficient HVAC systems
Danfoss' NovoCon actuators are specially modulated for use with pressure independent AB-QM valves. This combination creates a dynamic hydronic balance, which is an essential requirement for energy-efficient hospital temperature monitoring systems.
NovoCon Energy has a set of two temperature sensors connected to the supply and return pipes, e.g. a Terminal Unit. By measuring these temperatures, AB-QM delivers precise flow at the right time, leading to minimizing pumping energy required for heat transfer, thus 25% energy savings achieved compared to conventional valves.
4. Seamless switching between heating and cooling (using ChangeOver6)
Danfoss' ChangeOver6 (6-way ball valve) when used in combination with the NovoCon actuator provides an automatic switching solution for temperature and humidity control in hospitals. By employing our technological solutions, you would not require separate controls for your heating and cooling operations. Furthermore, Danfoss' intelligent and compact actuators can be used for your climate ceilings and induction units also.
5. Time savings during installation, commissioning, refurbishing and day-to-day operations
Our NovoCon actuators are equipped with plug-and-play connectors that assist in hassle-free and swift installations. The BMS connections support remote control functions and dynamic commissioning of the system ultimately saving time and costs throughout the life cycle of Hospital HVAC infrastructure.
Danfoss' wide-ranging actuator portfolio enables a flexible HVAC design layout in hospital infrastructure, paving way for easy commissioning and refurbishing, without physically adjusting to the BMS components.
Danfoss' NovoCon communicates and exchanges technical HVAC data. Since this is done remotely, via bus communication, NovoCon can help identify the installation and operation errors quickly, effectively and resolve them in real-time. Thus improving day-to-day operations and reducing maintenance cost.
In Conclusion
Danfoss' actuators and AB-QM offer improved overload protection, ensuring a trouble-free operation of the HVAC hydronic systems in hospitals. With our best-in-class technical assistance, you can achieve the highest possible efficiency in temperature control systems for hospitals.
With technological advancement & the latest software releases, there would be more opportunities to make your hospital more comfortable for patients and enhance the cost-effective and energy efficiency parameters of the HVAC systems.