Addressing value chain emissions
Our decarbonization activities span across the full value chain.  As a leading provider of energy-efficiency solutions, Danfoss is an essential partner in the green transition and decrease of value stream emissions. 
In 2022, we progressed in our decarbonization journey by integrating our science-based targets across the organization, identifying decarbonization levers, and initiating pilot projects focused on reducing use-phase emissions.  
 
Building robust emission data foundations 
As part of our continued efforts to decarbonize our products and value chain, we are building the foundations for an effective data architecture. In 2022, we engaged with customers to identify their data needs and how we could support their sustainability journey. We initiated several projects to further develop the consistency and transparency of sustainability data across functions, strengthening our internal processes and controls. 
 
To deliver accurate and up-to-date information about our products' use-phase emissions and the corresponding avoided emissions, we collect information from our upstream and downstream business partners, such as the final end-user, country of destination, type of application, and carbon footprint. In 2023, we will continue to integrate our ESG data processes into our business infrastructure paving the way for third-party verified ESG reporting. 
 
Reduction of products' use-phase emissions 
Approximately 98% of the emissions accounted for in our science-based target baseline occur from the energy consumed during customers' use of the products we manufacture. While the carbon intensity of the used energy decreases over time, we work to find ways to reduce the carbon footprint of our products, identifying levers to make them more energy efficient and optimize their use of energy. This calls for new solutions, ranging from business model innovation to product and market portfolio mix strategies. We also focus on establishing strong partnerships with customers to drive use-phase emissions down. 
Our compressors, heating solutions and drives products account for most of our emissions under the "Use of Sold Products" category of Science-Based Targets. Since 2021, we have built foundations to identify decarbonization levers throughout our portfolio and the scale of emission reduction needed to meet our targets.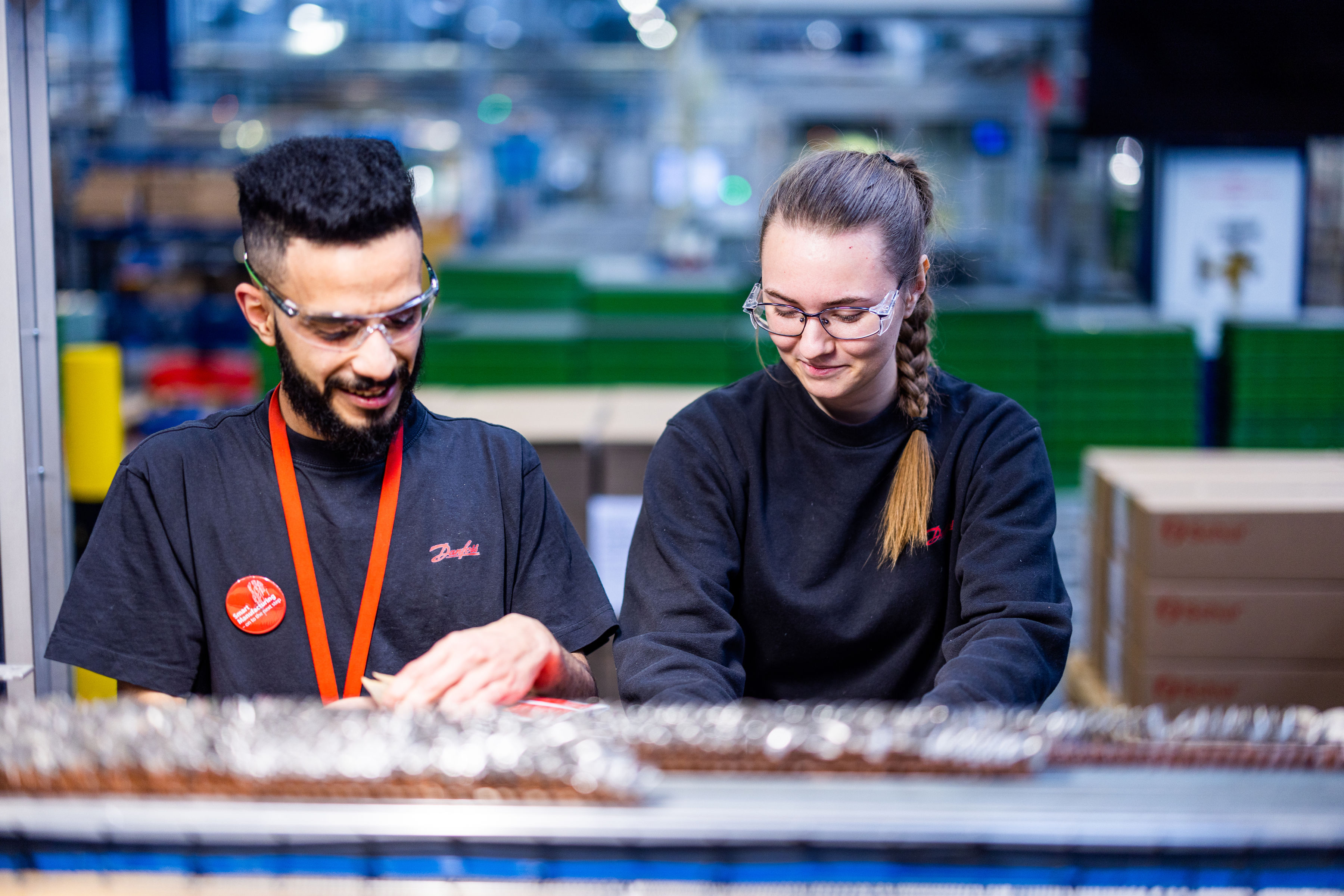 Decarbonization levers and technology roadmap 
We are continuously assessing multiple innovation opportunities aimed at decarbonizing our product portfolio. With the emergence of smart grid systems, it has become possible to optimize the use of energy when the carbon content of the energy mix is at its lowest. We are also looking at integrated business models and partnerships aimed at decarbonizing energy sources along our value chain, so the delivery of our solutions could result in the production and use of renewable energy. 
 
Research and development  
Our product decarbonization strategy revolves around existing products as well as products in development. Given our products' life cycle and the time from design to market entry, we identify short-term decarbonization levers while incorporating our climate targets into our long-term product development pipeline. As such we aim to integrate use-phase emissions as a key performance indicator in our product development toolbox. This will enable the development of a product pipeline consistent with our ambitious climate targets. 
 
Supplier collaboration 
Our suppliers are important partners in helping Danfoss reduce emissions and make our products more sustainable. In 2022, we reached a significant milestone by establishing a procurement sustainability roadmap and a strong governance structure. The roadmap sets a clear path towards 2024 and outlines the key activities within procurement such as data transparency, increased knowledge and know-how, and key enablers to achieve our goals. We continue to engage with our top-emissions supply chain partners, identifying concrete opportunities for CO2 emissions savings. In addition, we continue to build data infrastructure to gain further visibility on emissions coming from the purchase of goods and services and assessing supplier decarbonization opportunities across segments. 
Our emissions baseline
We focused on mapping the carbon footprint of our value chain as a part of our baseline estimation process. This was followed by the process of setting science-based targets and submitting them for validation by the SBTi end of 2021.
We use the Greenhouse Gas Protocol as a methodology for our calculations and a detailed emission screening shows that the major contributor to our value chain emissions are the customers' use of our products.
The category "Use of Sold Products" makes up 98% of our total scope 1, 2 and 3 emissions baseline. Remaining emissions are primarily within the categories "Purchased goods and services" We have identified levers and mitigation activities for the reduction of GHG emissions in our value chain.

Decarbonizing Danfoss
Energy efficiency is instrumental in helping us reach our goal to become carbon-neutral in our global operations by 2030.
The Science Based Targets initiative (SBTi)
The SBTi supports companies in setting emission-reduction targets required to keep temperature increase below 2°C compared to pre-industrial temperatures.
The SBTi is a collaboration between the Carbon Disclosure Project (CDP), the United Nations Global Compact (UNGC), World Resources Institute (WRI), and the World Wide Fund for Nature (WWF).
The initiative's overall aim is for businesses and corporations worldwide to use science-based targets as a fundamental component in their approach to sustainability.
Read more about the Science-based target initiative