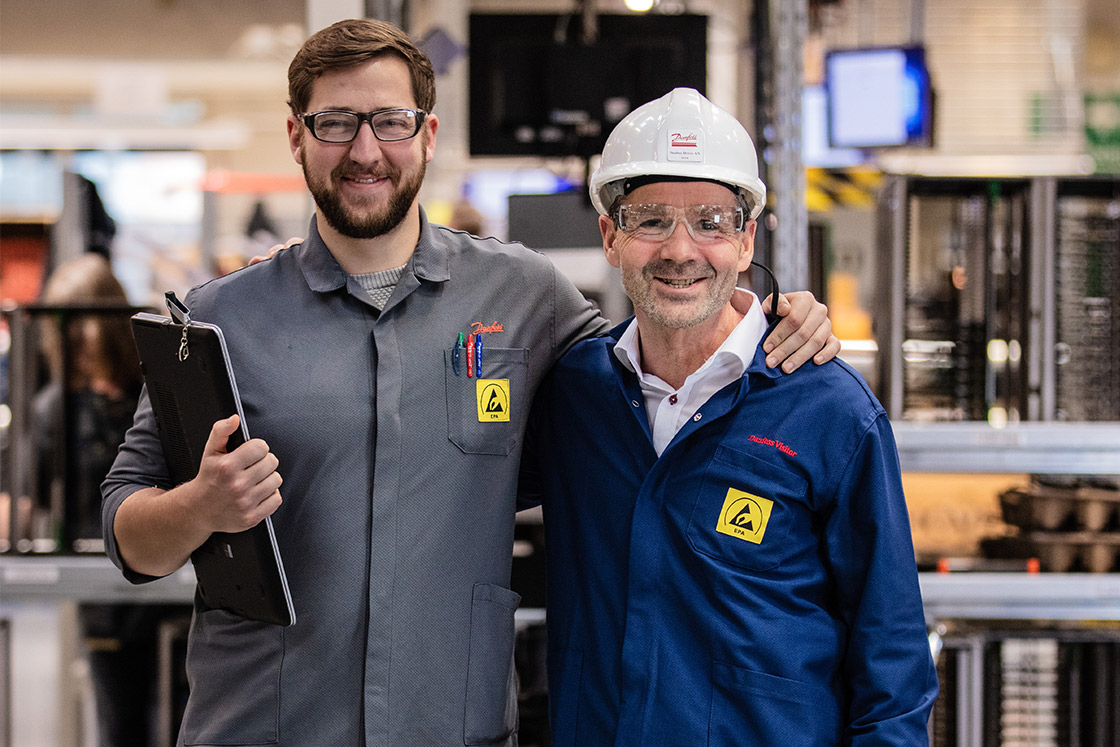 Safety first!
Danfoss' global "Safety First!" program is our systematic approach to a safe workplace. The program enhances the focus on safety for all Danfoss employees, visitors, and all other people working within or for Danfoss.
Programs for general safety awareness, safety leadership, powered industrial vehicles, are being implemented in all segments. Previous programs focusing on hand & finger injuries, trips & slips, and machine safety are maintained.
Our health and safety efforts are performed within the framework of recognized management standards. Two-thirds of our manufacturing locations are certified to OHSAS 18001 or ISO 45001.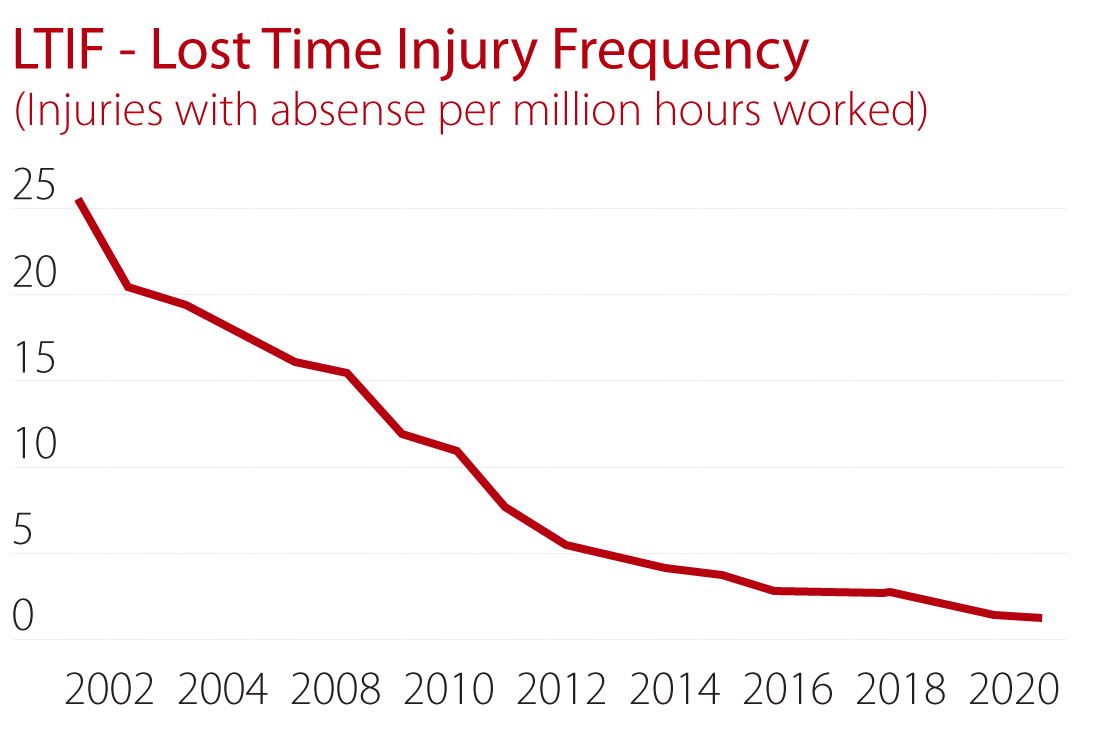 Reducing the Lost Time Injury Frequency
We are proud to continuously improve our efforts to ensure safe and health in the workplace. In 2020, we reduced the LTIF (Lost Time Injury Frequency) for the 18th consecutive year.
Since 2003, we have reduced the LTIF by 90% to 2 incidents per million hours worked where the injured person is absent for more than one full day. In 2020, we had 85 Lost Time Injuries compared to 97 the previous year. The Lost Day Rate (LDR) – being the number of days of absence per million hours worked – ended at 32 which also is the same as the previous year.
We also look at the Total Recordable Injury Frequency (TRIF) being Lost Time Injuries and Medical Treatment Injuries combined. During 2020, the TRIF has dropped by 34% to 3.0 compared to 4.4 in 2019.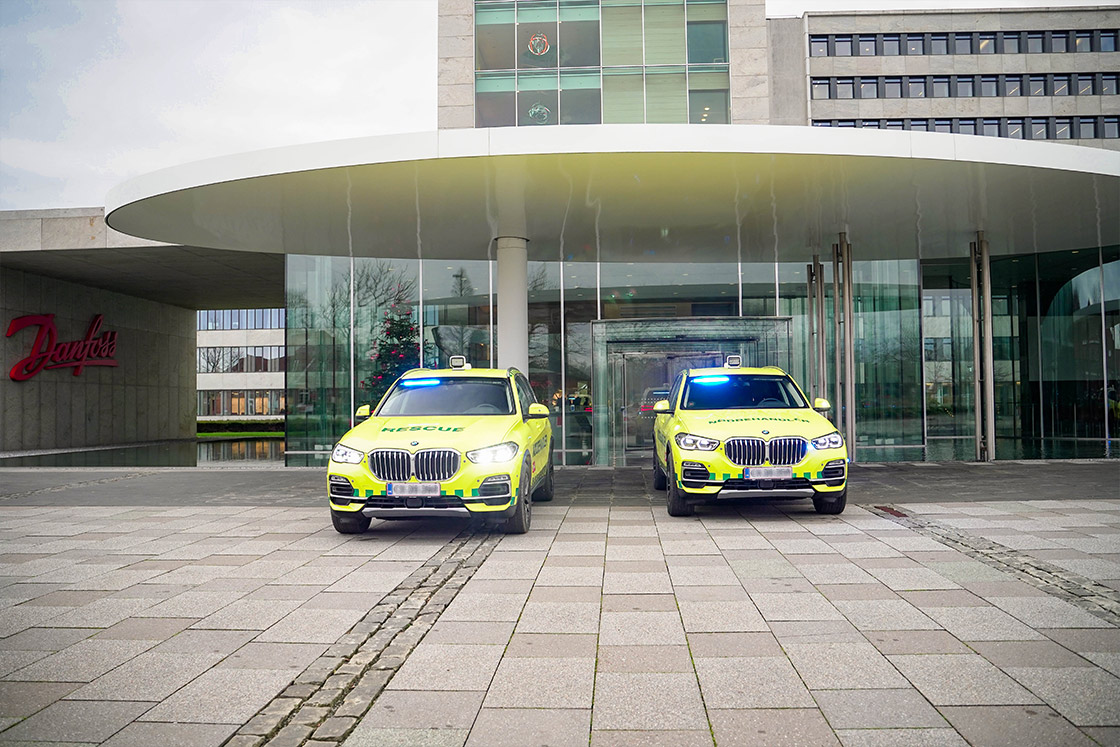 We ensure wellbeing at work for our employees
Thriving employees are a prerequisite for a healthy and efficient company. We support our leaders and employees with a wide range of tools enabling them to balance  work-related requirements and personal resources. 
We want to have a culture of openness, attention, and trust where everyone – employees and managers alike – make a joint effort to prevent stress in their daily work.
Danfoss employees are co-responsible for creating an atmosphere of wellbeing and our leaders are responsible for ensuring that employees experience a reasonable balance between personal resources and work-related requirements. 
Our global Medical Health Center advises our employees on travel medicine, vaccination programs and general health issues. The Medical Health staff – consisting of a company doctor, nurses, and consultants – support our operations and supervise the security and emergency response teams at our locations.
Sustainability report 2020
Read more about how we take care of our employees, and how it is a top priority for
Danfoss to continuously improve the health and safety of our colleagues all over the world.