The ECL Comfort electronic heating controller is matched with a full range of ECL Application Keys. Each Application Key is programmed with specific parameters for a particular district heating or cooling application.
The ingenious ECL Application Key makes it easier than ever to install and set up your heating system application in the ECL controller – all without any need for advanced programming.
The data programmed in every ECL Application Key incorporates dedicated and applied expertise from worldwide experience with various applications. This is your best guarantee for optimum system performance.
The many different application keys for the electronic controllers ECL Comfort 210 and 310 makes it easy and fast to control your heating system and obtain energy savings due to higher efficiency. The "A2xx" application keys can be used both with the ECL 210 and 310 controller. The "A3xx" application keys can only be used with the ECL 310 controller.
Features and benefits
Many different application keys
Programmed data incorporates applied expertise from worldwide experience
Easier installation and set-up of the heating system application in the ECL controller
A368 has new subtypes. What is new?
A368 appl.-key was originally made with A368.1, A368.2, A368.3 and A368.4.
As per January 2014 the A368 appl.-key contains two extra subtypes, A368.5 and A368.6.
Main items in A368.5:
F1 is a flow meter to measure the refill water volume. The pulses from the flow meter are applied to the ECA 32 module's pulse input.
S11 is temp. monitoring of heating, secondary return.
S13 is temp. monitoring of DHW circulation, return.
Main items in A368.6:
S2 is temp. monitoring of heating, secondary return.
S8 is temp. monitoring of DHW circulation, return.
One DHW circulation pump (P1).
Mounting Guide has been updated.
Installation Guide in English has been updated.
A247 has a new subtype. What is new?
A247 was originally made with A247.1, A247.2, A347.1 and A347.2.
As per January 2014 the A247 appl.-key contains an extra subtype, A247.3.
Main differences, compared to A247.1:
No alarm
S7 is DHW-charging temp. Sensor
S4 is DHW-heating temp. Sensor
P2 is DHW primary circuit circulation pump
P4 is DHW-charging pump.
Mounting Guide has been updated.
Installation Guide has not been updated yet.
Heat Selector
Danfoss Heat Selector is the best-in-class online selection tool that optimises planning process for heating application experts.
Software tools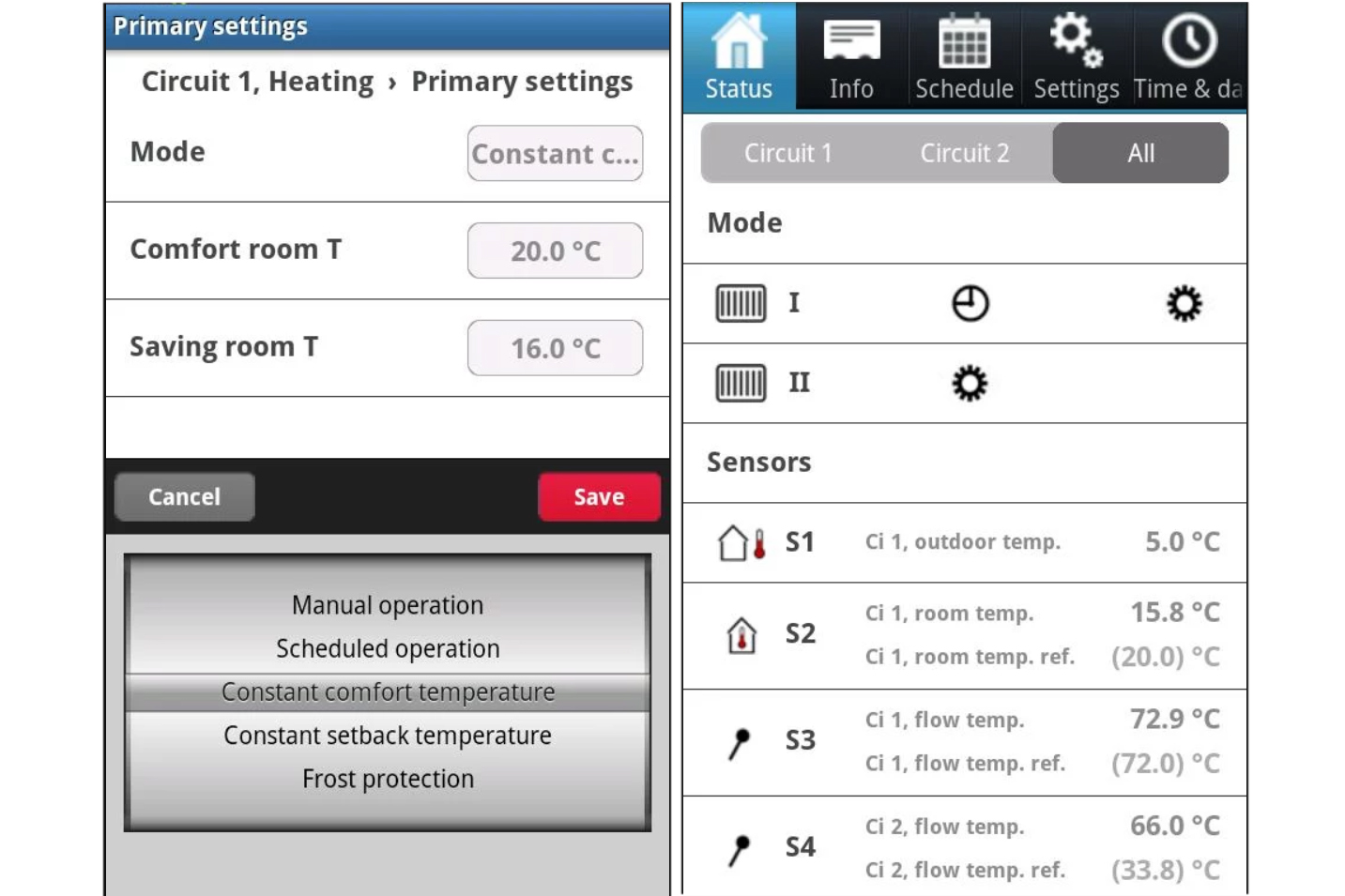 ECL App
The ECL app for iPhone allows you to optimise and monitor your heating system if the system contains a Danfoss ECL Comfort 310 controller.
District heating application guide
We share experience, application expertise and make recommendations on optimum performing DH applications and key applied control components
Intelligent optimisation of district energy in new residential apartments

Two new build apartments in Docklands, London and Newbury Racecourse, Berkshire have been equipped with intelligent Danfoss solutions, bringing increased control and stability as well as greater than 20% peak energy reduction.

Solar heating plant reduces CO2 emissions by 15,700 tonnes annually

The world's largest solar heating plant in Silkeborg, Denmark harnesses energy to heat the homes and workplaces of 40,000 citizens. It supplies 18-20% of the annual heat consumption in the city of Silkeborg, Denmark, which has an ambitious target of CO2 neutrality in heat production by the year 2030.

District energy as the heating and cooling solution in Teknopark Istanbul, Turkey

Building: Office
Application: Production of heating, cooling and domestic hot water
Challenge: Design and construct customized district energy solutions for all buildings on the park
Solution: Danfoss  designed and constructed 3 pre-assembled DSE substations containing control valves for the heating, cooling and domestic hot water, heat meters, self-acting controllers and electronic controllers connected to a central Building Management System. 

Heating facility reconstruction in Kopaonik mountain resort, Serbia

Building: Hotel
Application: Hydronic balance, control and monitoring of a heating system
Challenge: Improve the energy efficiency of old heating system
Solution: Danfoss installed motorized control valves, hydronic balancing valves and electronic controllers with monitoring software

Renovation of a district heating network, Tuzla, Bosnia and Herzegovina

Since 2011, the local District Heating Company ("Centralno grijanje" d.d. Tuzla) has carried out a major renovation of the city's comprehensive district heating network, providing reliability of supplies, improved comfort as well as energy and cost savings. Based on thorough analysis and a long-term strategic approach, the 30 year old system is gradually transformed into a modern and smart energy system.