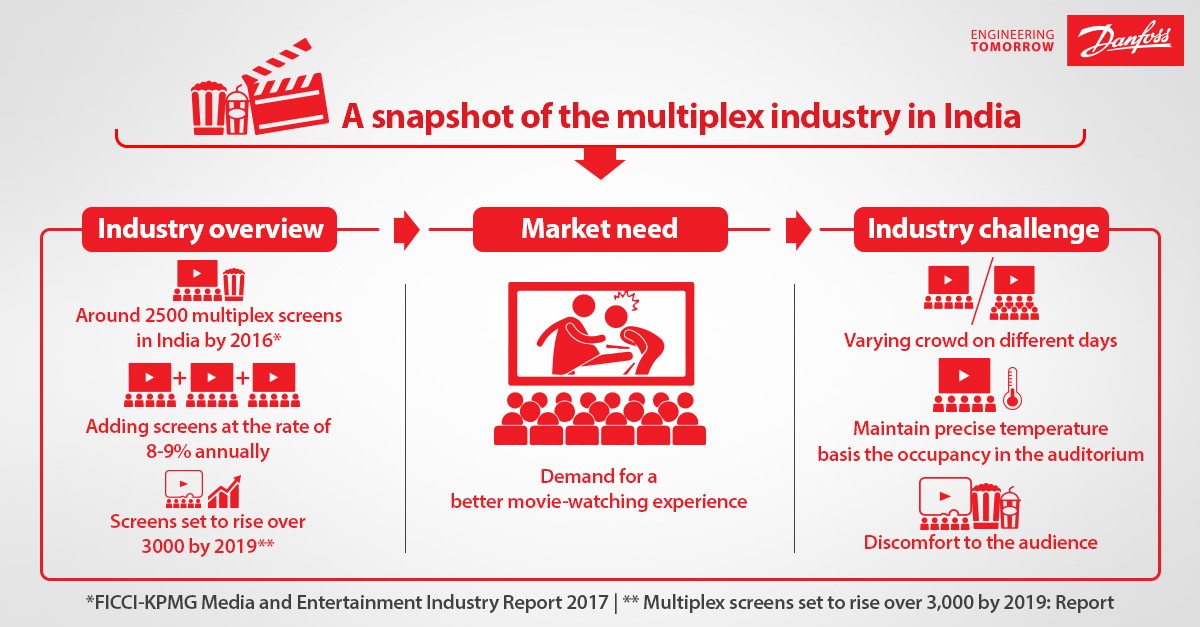 Indians are amongst the most passionate consumers of movies. It's no surprise that over 14 million people watch movies across India daily. The kind and quality of movies produced in India over the years have changed; so, has the movie watching experience. Earlier, cinema halls used to be standalone venues for watching movies. Now they have evolved into entertainment zones. The rustic wooden benches and basic audio amenities have been replaced with state-of-the-art seating infrastructure and superior audio and movie projection technologies. With every passing day, the expectations of the moviegoers are rising exponentially, and the service providers are stepping up their ante to meet these expectations.
With over 600 screens, PVR is the frontrunner amongst the multiplex chains in India. Poised to deliver a world-class ambience and movie watching experience, PVR Cinemas have been pioneers in setting the benchmarks for the industry. With utmost focus on a comfortable customer experience both inside and outside its auditoriums, PVR offers the latest in audio and video technologies at its premises with world-class ambience.
However, in their pursuit to meet customer expectations, PVR did overcome certain challenges.  [NV1] 
At PVR, the number of people watching movies vary drastically across weekdays and weekends and across different seasons. For a superior customer experience, it is imperative for multiplexes to maintain precise temperatures basis the occupancy levels inside the auditorium. In the absence of an automated system to maintain thermal equilibrium across auditoriums, PVR used to resort to manual intervention depending upon issues raised by the guests from time to time. Hence, depending upon the number of people and the time of the week and the year, the guests at PVR used to face either extreme low or warm temperatures, making their movie watching experience unpleasant.

[NV1]However, in their pursuit to meet customer expectations, PVR did overcome certain challenges.
Additionally, and importantly, PVR faced rising operating costs, led by increasing energy consumption, and rising power bills. With no systems to keep a tab on the energy consumed by the major energy guzzler – the HVAC system, PVR found it difficult to curtail upon their energy costs. HVAC systems accounted for 60-70% of the total energy consumption. Optimizing energy consumption therefore became very critical for PVR to be profitable.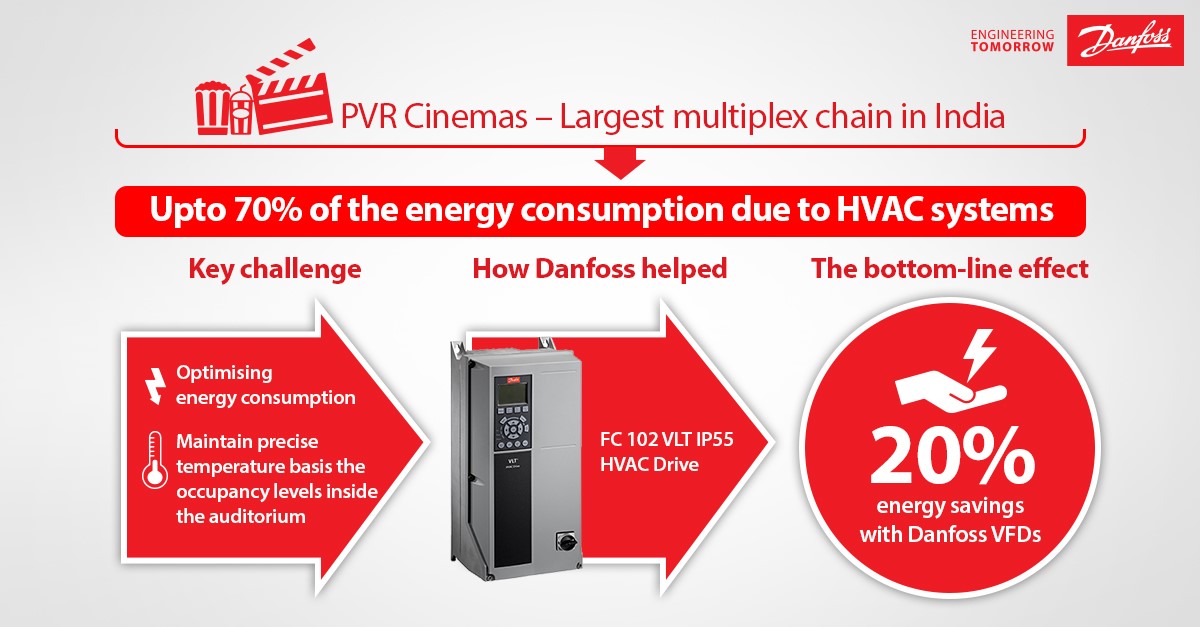 With customer's expectations for a comfortable atmosphere on one end, and rising energy costs on the other, it became imperative for PVR to explore solutions which could help them overcome both these challenges, without the need for manual intervention.
Pioneers in HVAC technologies globally, Danfoss was the ideal partner PVR looked upon to serve this purpose. Driven by a promise to engineer a better tomorrow, Danfoss Variable Frequency Drives (VFDs) were the perfect answer to PVR's challenges. Danfoss' plug-and-play and energy efficient FC-102 VFDs proved to be the best solution for HVAC systems across PVR's multiplexes in India, and have delivered unprecedented results for the service provider.
The FC-102 VFDs not just helped PVR with maintaining constant temperatures throughout the year across their auditoriums, but they also helped curb their energy consumption by 20%. PVR's HVAC systems involve no manual intervention today. This enabled PVR to ensure their guests have a great time watching movies, and have further reduced their operating costs substantially. While, PVR did entail initial investments,[NV1]  the payback period for PVR's investment for HVAC system upgrade was just 11 months.
Danfoss' VFDs thus provided a plug-and-play, maintenance-free HVAC system which is convenient and efficient, and delivers precise temperatures, helping PVR deliver a truly world-class movie-watching experience to its customers.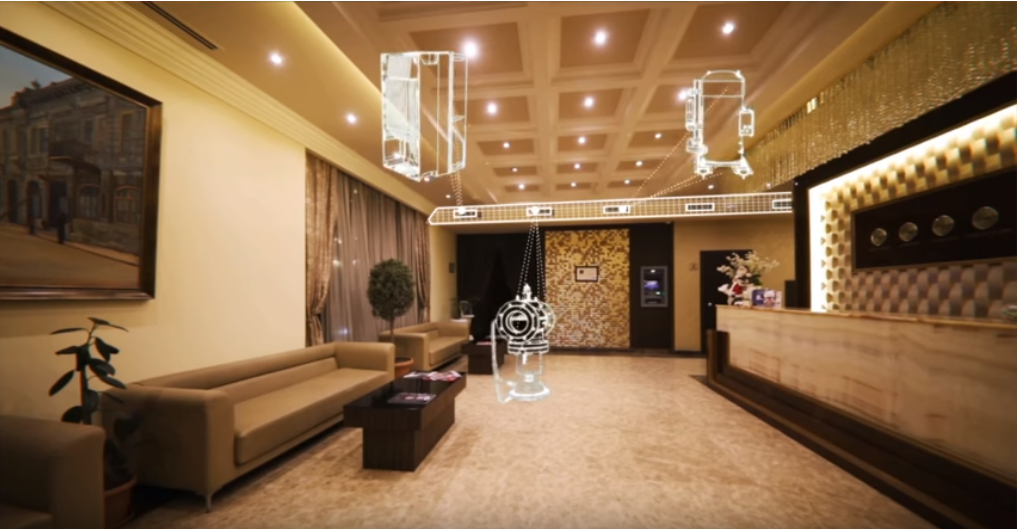 PVR Cinemas
Danfoss partnered with India's pioneer multiplex chain, PVR Cinemas, in achieving this task of delivering a world-class experience to its customers. Watch the video to know how PVR benefited with a sizable percentage of energy savings.