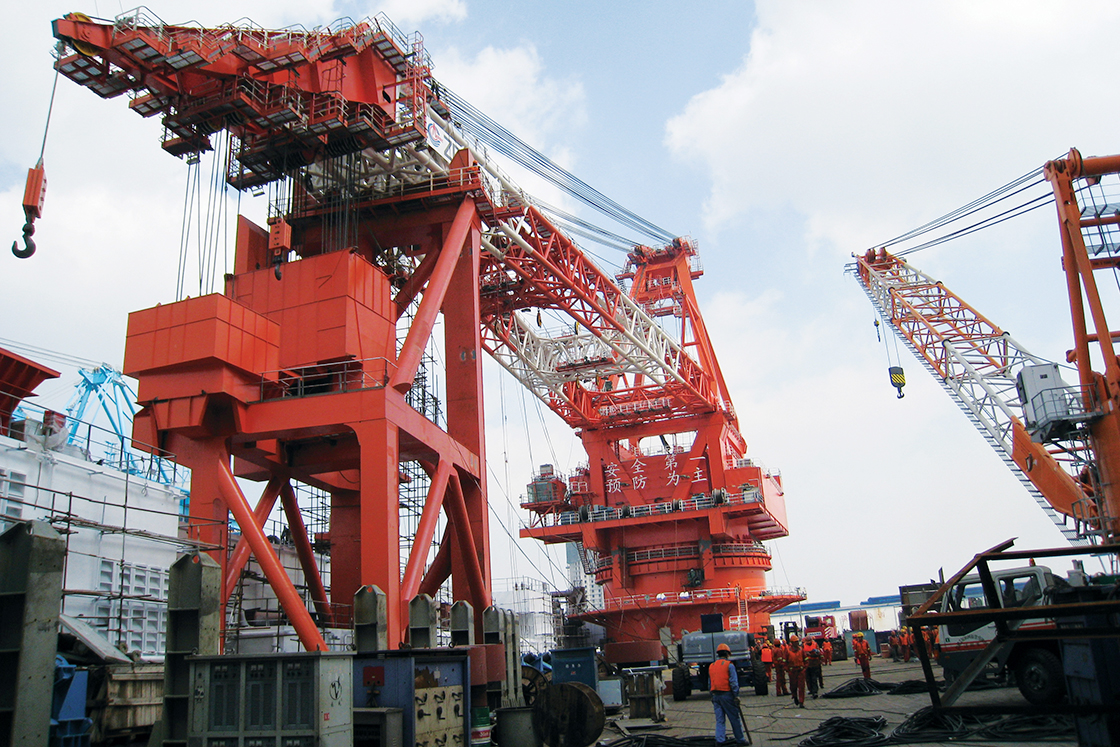 An innovative 3000-tonne derrick pipe-laying barge built by Shanghai Zhenhua Heavy Industry Co., Ltd.* uses the world's most advanced pipe-laying technology. The vessel's 3000-tonne, 360° slew crane is driven by VACON® AC drives.
Shanghai Zhenhua Heavy Industry Co., Ltd., formerly known as Shanghai Zhenhua Port Machinery (ZPMC), is market leader in the global port machinery industry with a 70% share of the container crane market. The company is still referred to by its old initials ZPMC.
ZPMC's 3000-tonne derrick pipe-laying vessel is a large barge used in offshore engineering and equipped with the world's most advanced pipe-laying technology. The vessel has a high utilization efficiency due to its hoisting and pipe-laying functions and is capable of laying two pipelines simultaneously.
The barge is equipped with a heavy-duty 360° slew crane, which can hoist a fixed weight of 3000 tonnes while stationery and 2000 tonnes while slewing full circle. The crane system is driven by high-performance VACON® AC drives. This vessel has a promising future in offshore oil exploitation and subsea pipe-laying projects.
Reliable suppliers and partners essential for success
This innovative barge helps fill the technology gaps in China's industry, so during its development ZPMC placed high priority on the design of the vessel and on choosing reliable suppliers and partners for the project. ZPMC had not used VACON® products before. After several discussions and technical inspections, ZPMC was impressed with the excellent performance and high reliability of Vacon's products, the open application software platform and the extensive experience in applying these in the shipbuilding and maritime industry. ZPMC also appreciated the professional approach and cooperative spirit of Vacon's personnel.
The total power of the motors running the 3000-tonne crane is 7.1 MW. The crane has two main hooks, two auxiliary hooks, two beams, six slewing gears, two rigging hooks, two cargo control winches and one hook control winch. The entire AC drive system consists of two 12-pulse common DC bus systems. The two systems are supplied through a quasi 24-pulse VACON® AC drive system. THDU for the entire system is less than 5 %, which meets the requirements of marine classification societies.
The system has 4 VACON® NX rectifiers and 17 VACON® NXP inverters to control all the actuators. A further two VACON® NX braking units are set to dissipate extra braking energy.
The VACON® NX products for common DC bus systems have a modular design and are very compact. They use a closed-loop vector control mode and have very accurate speed and torque control with a speed differential of less than 0.01 % and torque precision of less than 2 %. The system can also be controlled at full torque under any speed, including zero speed. Vacon and ZPMC together developed a special application based on the Vacon Marine application for the full-circle-swinging crane.
Bright prospects for Chinese heavy-duty offshore industry
The Chinese heavy-duty offshore industry currently faces unprecedented development opportunities. China's marine economy accounted for about 9.4% of the national economy as a whole in 2017. Its importance is expected to grow, which will bring more businesses to the industry . 
The success of this pipe-laying vessel project gave Vacon and ZPMC confidence to explore other cooperation opportunities extending to ZPMC's other products.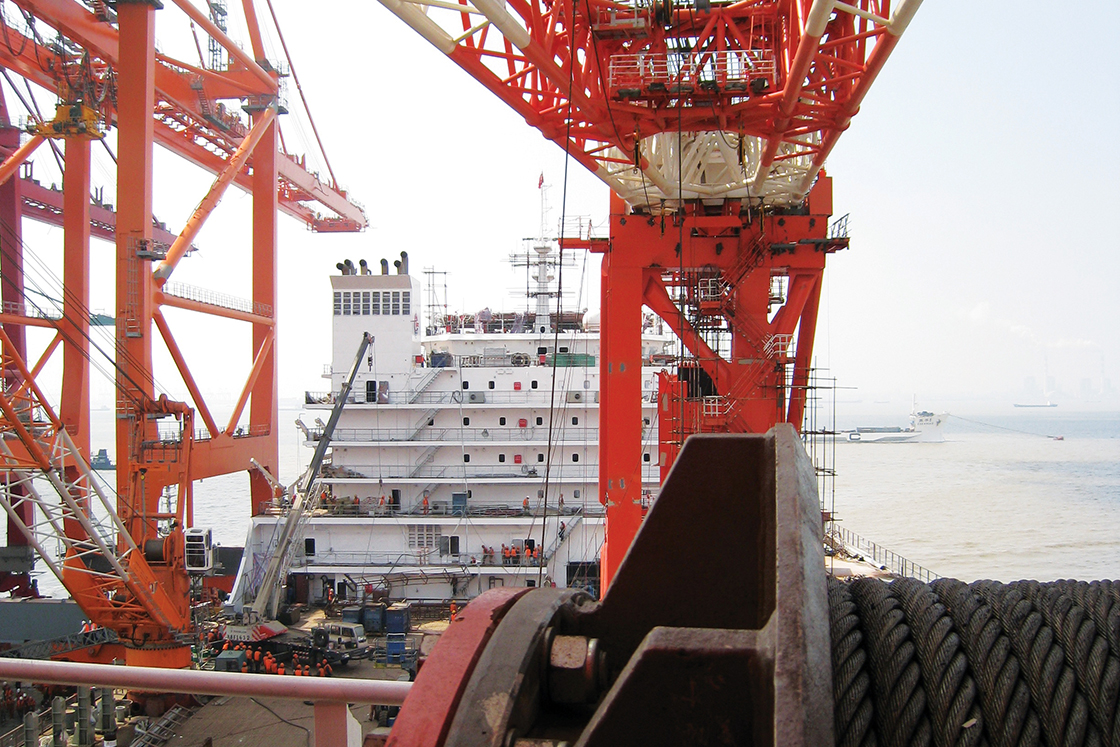 This large derrick pipe-laying barge uses the world's most advanced pipe-laying technology and can lay two pipes simultaneously. VACON® AC drives also control similar cranes on two other 3000-tonne derrick pipe-laying barges.
LOA: 170 m
Beam: 46 m
Breadth: 13.6
Anchoring winches can be used to move the vessel short distances, so it can be used for hoisting and subsea pipe-laying operations in sea areas with a water depth of 300 metres.
*Founded in 1992 and based in Shanghai, China, Shanghai Zhenhua Heavy Industry Co., Ltd., ZPMC, is today described as the largest heavy-duty equipment manufacturer in the world with three main product segments: large-size port container cranes, large-size steel structures and steel bridges, and off-shore products, such as huge floating cranes, pipe laying vessels and other engineering vessels, all types of platforms and DP systems.
Please note that Vacon joined the Danfoss Group in December 2014.
Get more information
Read more about Drives for industrial crane and hoist movement
Read more about Drives for marine winches and cranes
Read more about VACON® NXP Common DC Bus