Energy use has never been such a hot topic for commercial refrigeration as it is now. Kitchen refrigerators and freezer units drive a significant proportion of energy bills across the food service industry. Authorities and customers alike are focusing on efficiency standards and ratings to understand not just what a unit costs to buy, but what it costs to operate. For the refrigeration design engineer, that's a challenge. Because many efficiency improvements have already been made, they need to look again at the fundamentals, and consider new approaches.
At Danfoss, we believe it's time for commercial kitchen refrigeration manufacturers to adopt hot gas defrost techniques that are already saving so much energy in cold rooms and ice machines. The technology is proven, it's familiar, and many of today's professional refrigeration units already use the multifunction refrigeration controllers needed to make it work.
That means hot gas defrost is actually simpler and more cost effective than many of the alternatives currently being tested at some manufacturers. And with around 8 – 10% energy savings, the benefits are significant. In this article, we'll recap how hot gas defrost works and why it's so efficient – and suggest some approaches to implement it in a straightforward, low-maintenance way.
The energy efficiency challenge in commercial kitchen refrigeration
Around the world, leading manufacturers are competing to make commercial kitchen refrigeration units ever more energy efficient. There are two key reasons driving this development cycle.
The first reason is the need to comply with advancing legislation, which sets increasing efficiency standards in an effort to limit climate change. In the United States, for example, the Department of Energy has prescribed minimum energy conservation standards covering commercial refrigerator, freezer, and refrigerator-freezer units.
Meanwhile, in Europe, the EcoDesign directive (2015/1095) defines Minimum Energy Performance Standards for refrigeration and freezing equipment.
But, as well as setting minimum standards, the authorities have defined criteria to help buyers compare energy efficiency more easily. EcoDesign includes an energy labelling requirement, and the US Environmental Protection Agency's voluntary ENERGY STAR program enables manufacturers to set their most energy efficient products apart from the
field.
As a result – and with a commercial refrigeration unit's lifetime energy costs potentially exceeding its purchase price by a ratio of four to one – efficiency has become a key point of differentiation in the market. But as the standards continue to rise, and the competition keeps improving, many of the engineers developing the next generation of commercial kitchen refrigeration units are finding the most obvious energy efficiency gains have now been used. "Quick wins", like cabinet insulation improvements and drop-in component upgrades, are now harder to find.
This means engineers are turning to alternative approaches, and looking again at system design. In this context, we suggest now is the time to consider the idea of hot gas defrost in a commercial kitchen refrigeration context.
How hot gas defrost works – and why it's so efficient
If you're also involved in designing larger refrigeration applications, cold rooms or ice machines, you'll likely already be familiar with hot gas defrost techniques. You may not have considered it as a realistic option for commercial kitchen refrigeration units – but it's actually an elegant (and, importantly, energy efficient) solution.
Briefly, it works by using a demand controlled solenoid valve to divert the hot gas output from the compressor back into the evaporator coil – heating it from within. Take a glance at the diagram, and you'll see how simple the idea can be.
Calculations and ongoing lab tests suggest this approach will reduce overall energy consumption by around 8 – 10% on a typical professional kitchen refrigerator. That's potentially an improvement of one or more EcoDesign ratings, from a single internal change.
There are two main reasons why hot gas defrost is so efficient. First, it uses heat that was already being generated by the compressor. Unlike conventional electric defrost approaches, no additional heating element is needed – saving a significant energy draw.
Second, hot gas heats the evaporator coil from within, thawing the insulating frost from the inside out. This means much less energy is expended heating the coil's surroundings than when you apply that heat from an external electrical element.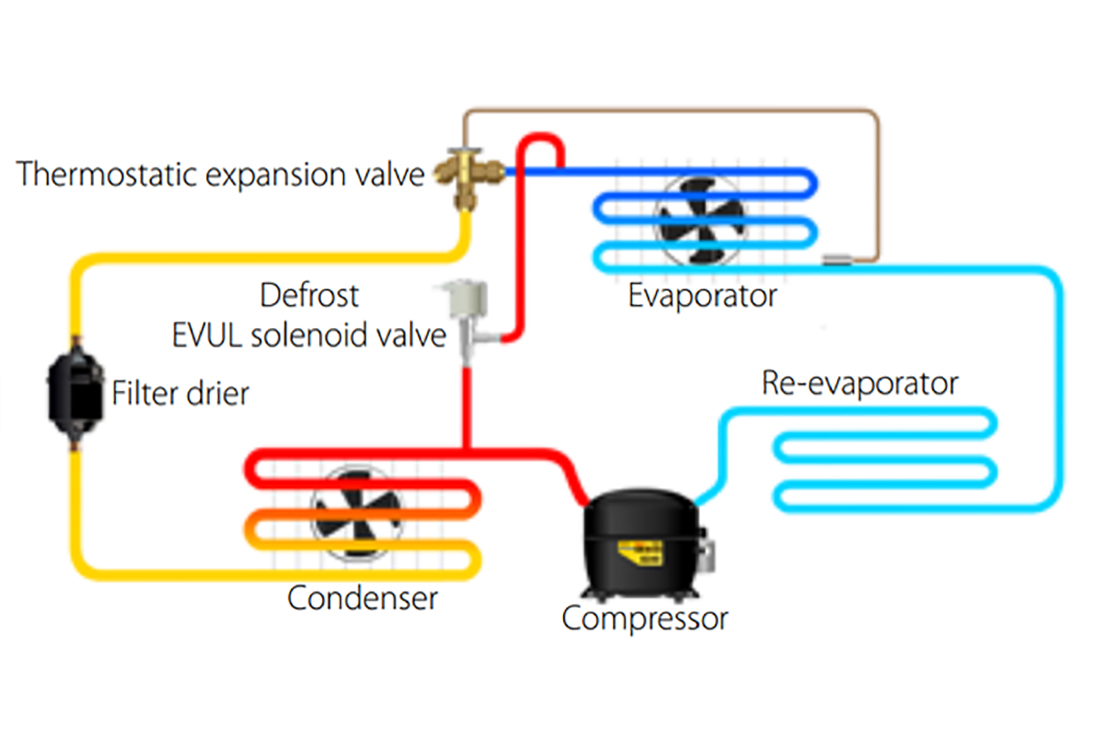 Re-evaluating hot gas defrost for commercial kitchen refrigeration
Traditionally, hot gas defrost techniques were considered too complicated and expensive for relatively low-tech applications like commercial kitchen refrigerator and freezer units. But things are changing.
Refrigeration manufacturers have already been improving the energy efficiency of commercial units for several years – and as standards continue to rise, it's easier to specify and source proven, quality parts – and for service engineers to carry out the relevant maintenance work. There's no need to reinvent the wheel.
Meanwhile, changes in other aspects of commercial refrigeration unit design make the technique easier and more cost-effective to implement than it once was.
In particular, the increasing use of efficient, multi-function refrigeration controllers in commercial kitchen units means a growing number of systems already have the control mechanism to operate the hot gas solenoid valve. It may simply be a matter of one more connection, and some settings adjustments.
This significantly reduces the workload and additional equipment costs when incorporating a hot gas defrost line into your system design. And with around 8 – 10% overall energy savings potential, it's certainly worth testing the approach among the next steps in your energy efficiency journey.
The parts you'll need – and how to choose them
At its most basic design level, hot gas defrosting requires two main parts: the solenoid valve, and the electronic refrigeration controller to open it. At Danfoss, the items that are most suitable are our ERC 112 controller, and EVUL solenoid valves.
It's very possible that you have already incorporated a new-generation refrigeration controller in your designs to save energy. Even before considering their hot gas defrost capabilities, Danfoss ERC controllers are designed to save up to 33% in energy consumption due to their energy savings features. And alongside defrosting, the right controller use additional sophisticated energy-saving routines to optimize compressor, light and fan use.
A self-contained controller simplifies your design, and saves time and costs in pre-production, prototyping, assembly and maintenance because each one is already fully tested and approved. Rather than making your system more complicated, adopting this approach could arguably make it more straightforward.
If you have already adopted an advanced, efficient electronic controller, the only technical addition you will need is the solenoid valve. Again, it's important to choose a part that helps you maximize energy efficiency, and keeps design, assembly and maintenance as simple as possible. We recommend Danfoss EVUL solenoid valves for the job, because they're compact and lightweight – fitting comfortably into most commercial kitchen refrigeration units. They have laser-welded bimetal connections, which allow fast soldering without a heat sink or cloth.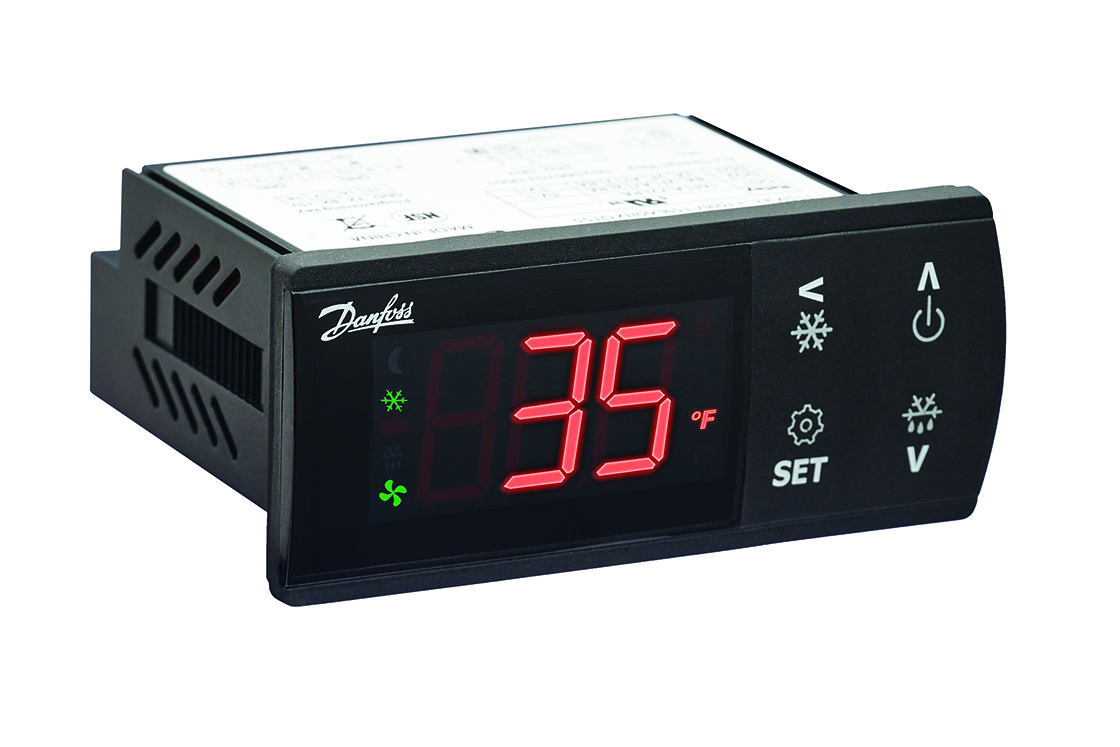 Danfoss EVUL solenoid valve
Like the ERC controller, the EVUL solenoid valve's design keeps energy consumption to an absolute minimum. It's sturdy, and highly resistant to vibration – with excellent leak integrity and encapsulated coils for a long, problem-free service life – so you can be confident you're building reliability into your system.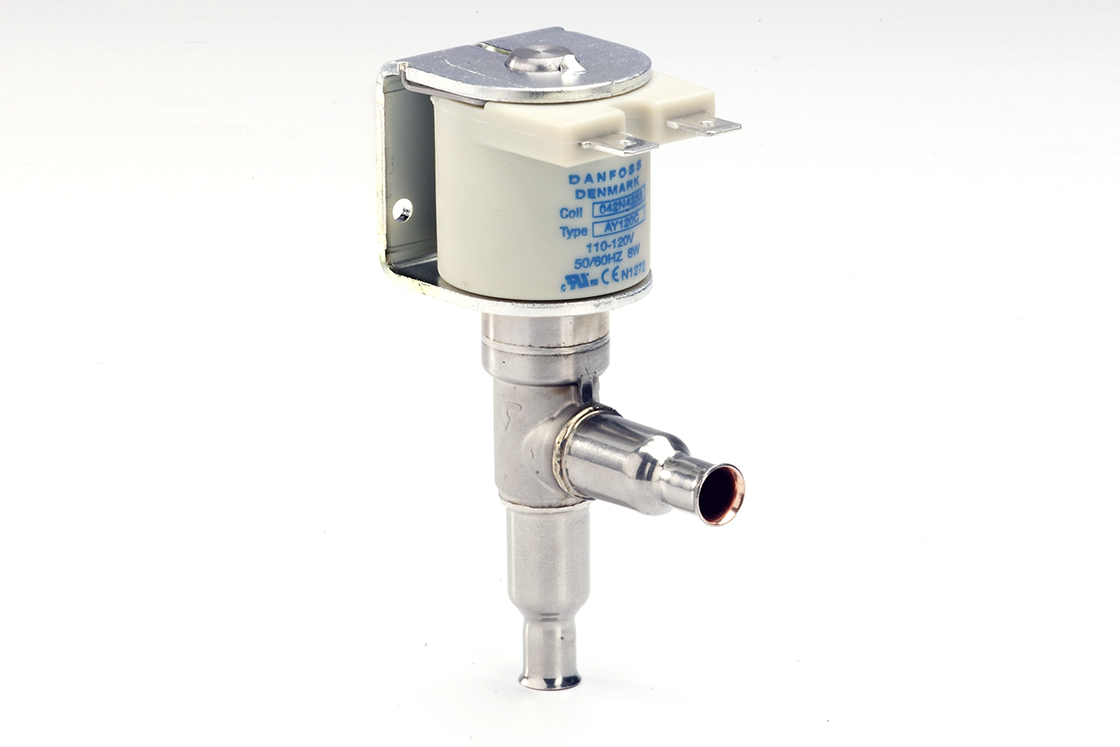 Energy efficiency and low-GWP refrigerants
Energy efficiency is not the only environmental challenge facing commercial kitchen refrigeration manufacturers. Refrigerants with high global warming potential (GWP) are being phased out in markets worldwide, and companies need to find the right moment to transition to low-GWP alternatives, without compromising affordability, safety or performance.
At Danfoss, we see it as our responsibility to support manufacturers by giving clear technical guidance and advice – and by designing technology that works with the widest range of low-GWP refrigerants, so you have the greatest possible choice.
For commercial kitchen refrigeration units, manufacturers are exploring natural hydrocarbon refrigerants. We have therefore concentrated on ensuring our technology is designed for safety with A3 category refrigerants.
Let's take the next step together
Refrigerators and freezers in the world's commercial kitchens urgently need to become more energy efficient. But they will always need to be simple and reliable – as well as cost-effective to design, manufacture and maintain.
For design engineers who would like to explore using hot gas defrost in a commercial kitchen unit, a matched setup like an ERC controller and EVUL solenoid valve provides a simplified, self-contained solution. It can give an immediate efficiency boost without adding undue complexity, maintenance or cost.
But controllers and solenoid valves aren't the only ways we can help you to make your unit more efficient. We have a full range of solutions, to reduce energy consumption at every stage:
Thermostatic expansion valves
Variable speed compressors
Efficient heat exchanger coils
Between them, we estimate our energy efficient parts can improve the efficiency of a commercial kitchen refrigeration unit by up to 80%. And, we'd like to invite you to help us test those estimates.
At Danfoss, we work with select manufacturers to model and calculate the system-wide impact of efficiency upgrades – and test those calculations in our worldwide network of Application Development Centers.
If you'd like to experiment with hot gas defrost for yourself, or, if you have further questions, please do not hesitate to contact Danfoss.
Learn more