On 1st of March, 2014, Danfoss, the global leading group specializing in climate and energy field announced that its "ICF valve station" solution supported the Grand Farm's benchmark project in China. It's another milestone in the cattle slaughtering house industry of China upon the guarantee of the cycle of project construction and the safety & flexibility of the refrigeration system.
Challenge the chill, ICF valve station is the pillar of the success
Originated from Heilongjiang province, Grand Farm, the prominent enterprise possessing China's well-known trademark has won the honour of "the most valuable brand" in China's meat industry for consecutive years. Grand Farm realized fast development following the 12th 5 year plan drafted by China government. The investment on building one big-scale livestock products processing plant in ZhaoDong municipal of Heilongjiang province is in ongoing expansion. 
The installation of refrigeration system on the roof of the processing plant and cold storage facilities came amid the time when Heilongjiang was in coldest winter which brought the severe challenge for the project at the surrounding temperature of around minus 20 degree.
Liu Yang, the sales engineer from Danfoss industrial refrigeration said:" I am so proud that our ICF solution could be successful applied in the new plant of Grand Farm. The installation of the refrigeration system coincided with Heilongjiang's most severe winter and we can easily imagine what a huge challenge behind. My former concern on such a short 25-day installation period was finally transformed to the triumph in the design & installation of the entire refrigeration system. What made me more exhilarated was that our ICF became the pillar to the success."
Compared with the traditional valve train, the compact design of Danfoss ICF valve station has greatly reduced the number of welding (taking one 6 modules ICF for example: it needs only 2 welding, just accounts for 1/6 of the traditional one). Welding without dismantling makes it easier to insulate the pipe temperature and enormously shorten the installation duration. On the other hand, the tremendous reduction of welding means that the increasing safety level in the refrigeration system enable users to lower the cost of non-destructive inspection. Playing an irreplaceable role in Grand Farm's new project, these advantages from ICF guaranteed the construction period and saved over 50% costs of valves installation and more than 30% of maintenance.
Your coolest partners in meat processing with accuracy, efficiency, safety and environment friendly features
To ensure the freshness and nutrition preservation of the meat, Grand Farm adopted strict temperature control and quality control standards through the processes like 'slaughtering', 'PH rate declining' and 'cutting'. It is not only a fundamental guarantee in production of safe meat products, but also an all-important factor in pursuing market share. As a consequence, the efficient and stable refrigeration system should be taken into account in the success of Grand Farm's new project.
Danfoss provided the customized solution for Grand Farm on automatic hot gas defrosting system with ICF. More than 50 pieces of Danfoss ICF valve stations not only guarantee the high efficiency & cost saving, but also realize the low pressure drop and downtime of the refrigeration system.
"The new processing plant in Zhaodong is crucial for Grand Farm in responding to the strategy 'rooting in Heilongjiang and spreading in three northeast provinces of China'. I believe this is just the good start of our prospective successful cooperation on a bilateral basis with Danfoss." Chen Xiliang, the project director and the vice president of Grand Farm commented. 
For slaughtering house industry, refrigeration runs through the entire process. Accurate and stable low temperature control is crucial in such key processes as preliminary processing, cutting and packaging, quick freezing, chilling and carcass PH rate declining and storage. With vast experience in this field, Danfoss provides many leading slaughtering house enterprises around the world with professional component and technical support. Danfoss is becoming the leading refrigeration enterprise in the global slaughtering house industry. Danfoss has a series of reliable, efficient and environmental-protection professional refrigeration solutions to provide customers with accurate temperature control and stable system operation.
With the booming development of meat and cold chain industry in China, over 4000 ICF valve station have been put in use now. Serving more and more partners with reliable products and advanced solutions, Danfoss is paying the great deal of joint efforts with partners to promote the healthy development of meat and cold chain industry in China.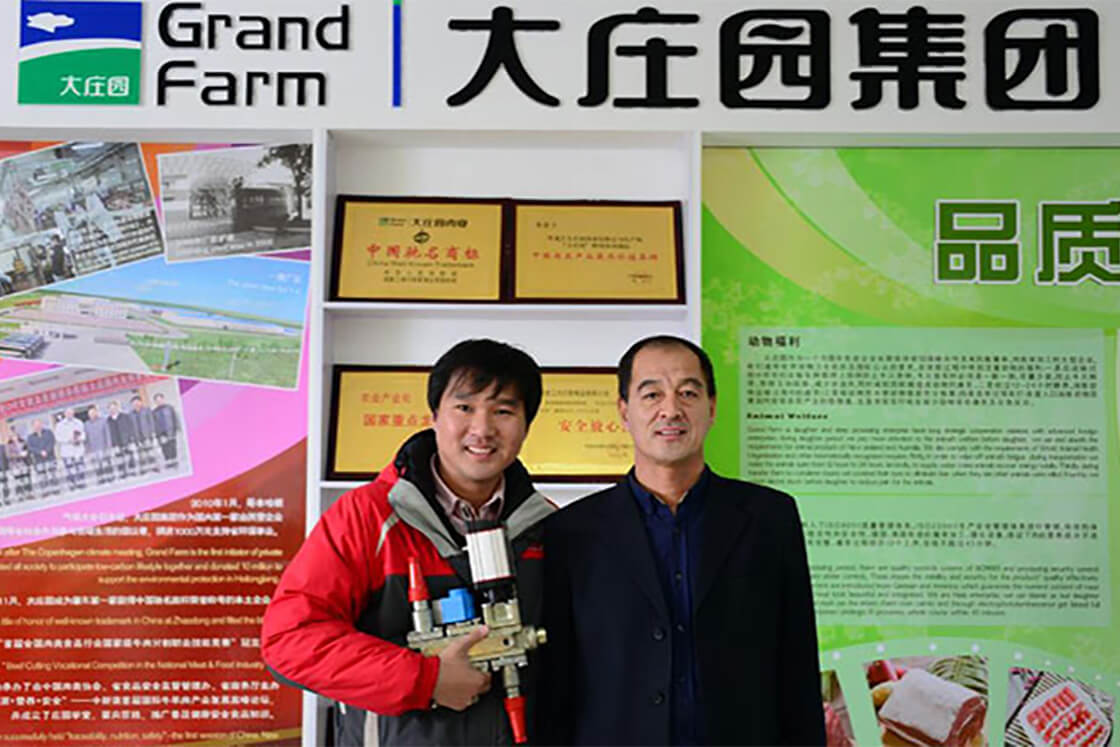 Heilongjiang Grand Farm Group started business in 1982. It is a large private enterprise owning several core business units. Grand Farm's activities include import/export trade, eco-agriculture, eco-farming, food production & processing, etc. Grand Farm has a registered capital of RMB590 million, total assets of RMB1.67 billion and an annual output of RMB2.89 billion. Grand Farm was the only beef and lamb processing enterprise awarded with "China Meat Industry Contribution Brand" issued by International Meat Secretariat (IMS) and China Meat Association (CMA).
Danfoss ICF Valve Station 
Advanced flexibility and timesaving efficiency are characteristics of the ICF Flexline™ valve station. The multi-ported control solution offers savings in several areas by replacing a string of valves with just one valve station. Consisting of a valve housing and a maximum of four or six function modules, the valve station that can be easily installed is a true plug and play solution. Moreover, it covers 90% of all applications in just four basic configurations and allows for more than 50 special configurations. The ICF valve station is designed for both low- and high-pressure refrigerants and can be used in liquid lines, compressor injection lines and hot gas lines.
• 2 housings for all functions
• 20% lower installation cost
• Fits 90% of all applications from only 4 basic configurations
• Smart regulation with the ICM motorized valve