New connected solution for efficient management of your district energy system
Danfoss Enspire® is built on strong bases of already established Danfoss solutions, with new and improved features for remote monitoring, control and optimization of your district heating. A reliable and stable software solution brings you a cost effective and energy efficient management. And it lays the foundations for connected future of your district energy system.​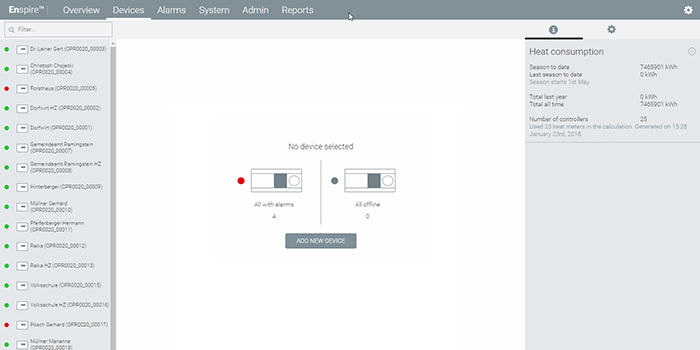 Devices overview
Transparent overview of all devices on one screen (online & offline devices, devices with & without alarms) and overall energy consumption.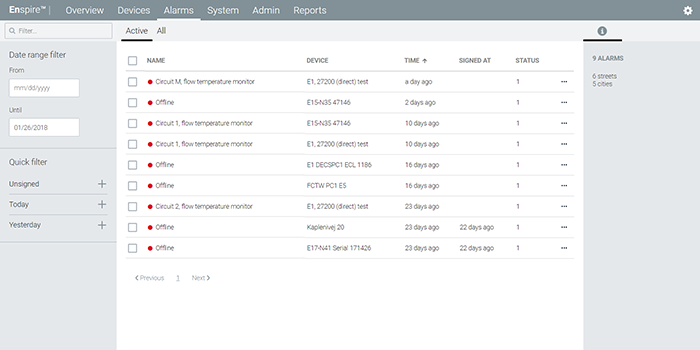 Alarm overview
Overview of alarms. Use filters to filter alarms by state (active, inactive, signed, unsigned), date or date range.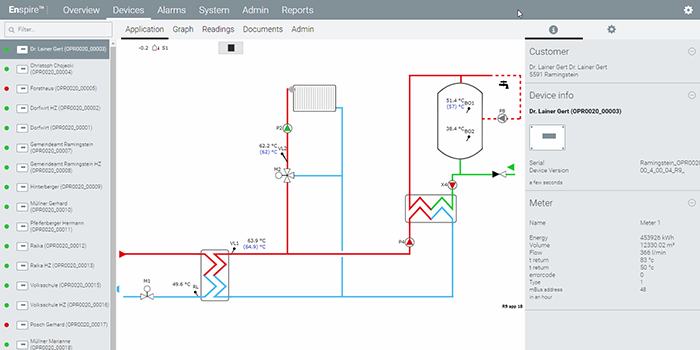 Flow diagram
Heating system flow diagram with Info & Settings dashboard allows easy interpretation of current status and change of all controller settings.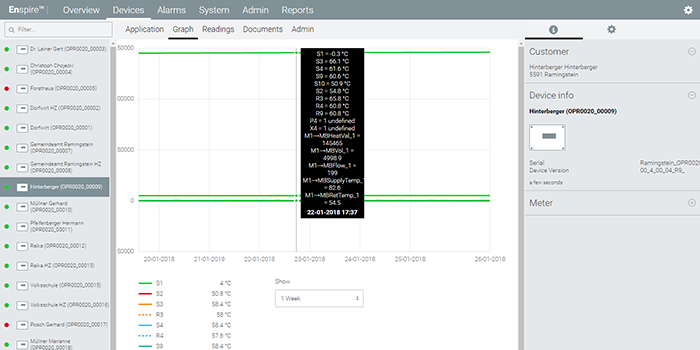 Graphs
All measurements can be shown graphically, to allow easy interpretation, analysis and comparison of data.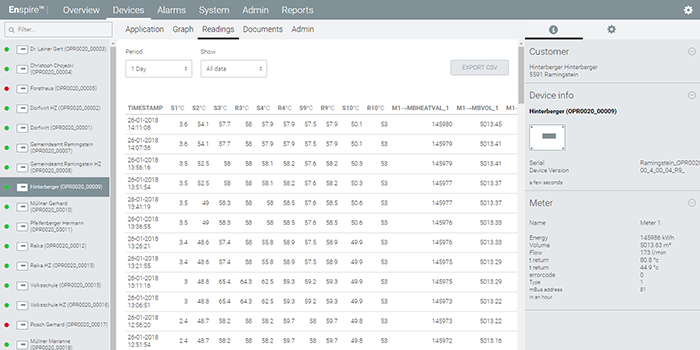 Readings
Use predefined report templates or create your own one-time or automated reports, with integrated report designing tool.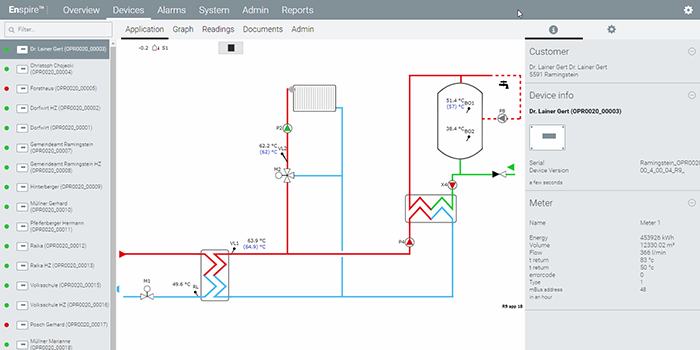 Flow diagram editor
Easy to use & intuitive flow diagram editor allows you to customize your flow diagram and settings dashboard, so that it perfectly fits your daily work-flow.
Features and benefits
Customized for district energy: Danfoss Enspire has been developed and tailored specifically for district energy systems, but at the same time you can customize it to the specific needs of your district heating utility.
Open, connected and transparent: Benefit from open communication and data interfaces. Beside a wide range of Danfoss products, you can easily integrate devices from other providers. Collected data can also be made available for other business (e.g. billing) and operational systems (optimizers, energy management etc.).
Team of experts at your service: Benefit from our know-how, access to online and onsite trainings, online video guides and support engineers. This will improve your performance.
Operate with more control and better efficiency: The software has been developed with a special attention on your daily tasks and our dedication to simplify them. Get a better overview of your system with improved alarming and reporting. And with easier commissioning, group settings, etc. you are now able to manage your daily business in a faster and more efficient way.
Always up-to-date: Your investment will never be outdated. We are dedicated to constantly improve and upgrade the solution and will provide you with the access to all the latest features and improvements.
Lower your investment cost: You can buy the software or subscribe to use it as a service. This will allow you to lower investment and IT equipment maintenance cost, consequently unlocking your resources to focus on your primary business.
Safe and secure: Your data will stay safe and secure as Danfoss Enspire® provides protection for all interfaces and stores data with the trusted security mechanisms.
Modern web based solution: You can access the system from anywhere using standard web browser on your desktop or mobile devices.