More value with the new ETS Colibri® valve
The new ETS Colibri® is a completely new type of electric expansion device. Perfectly designed to save time and money in advanced chillers and heat pumps, this all-new product will make your air conditioning system even more competitive.
ETS Colibri® is an electronic stepper motor valve. The valve has been designed for precise liquid injection into evaporators for air conditioning and refrigeration applications. The valve in-line design includes balanced cage and slider assembly operated by the direct driven motor technology. This ensures solenoid tight shut-off in both flow directions, thus providing smooth operation of the system. The valve incorporates a powerful bi-polar motor which precisely controls flow regulation. ETS Colibri® valves are compatible with electronic control solutions from Danfoss and other manufacturers.

New from the ground up
Engineers seeing the product for the first time in real life are normally amazed by its small size and light weight compared with traditional expansion devices. The ETS Colibri® valve is typically 80% lighter than current solutions in the market today. This is very significant for the environment.


Built-in flexibility
The new ETS Colibri® has so much to offer when you want full control without compromising on versatility. The product was designed from the outset with the user in mind. The integrated stepper motor enables superheat to be controlled far more precisely. The mechanical play in the valve is minimized, and the valve opening/closing times are very short compared with traditional valves. The integral sight glass means it is always easy to confirm functionality. And the unique design makes installation easier than ever.

Bi-metal solution for quick and easy brazing
Installing the ETS Colibri® is faster and more cost-effective thanks to the bi-metal design. You get all the advantages of the well-known copper-copper brazing. And at the same time, the stainless steel construction makes brazing quick and easy. For example, you don't need a wet cloth when brazing – one of the many reasons to choose the new ETS Colibri®.

Series of new products
The ETS Colibri® comes as a full range. Our models – ETS 12C, ETS 24C, ETS 25C, ETS 50C, and ETS 100C – cover capacities all the way from 25 kW (6 RT) to 400 kW (100 RT).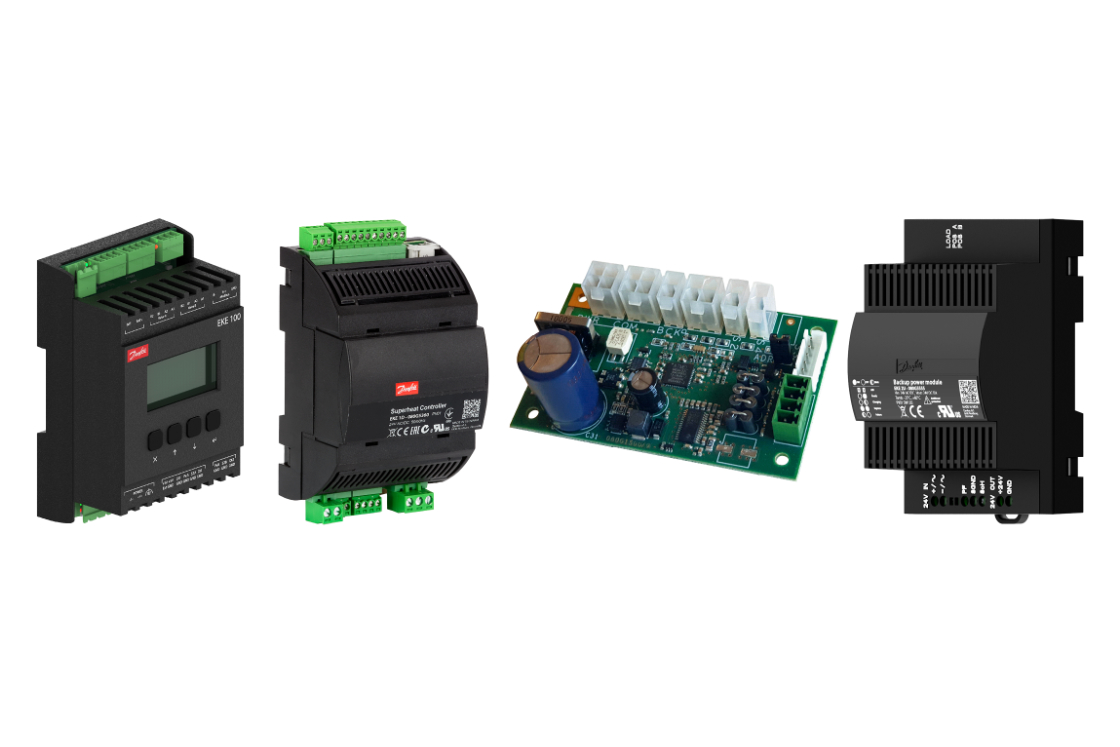 Reliable and effective superheat controllers
Our controllers will help you achieve high energy efficiency and reliable operation at all times.
Documents

| Type | Name | Language | Valid for | Updated | Download | File type |
| --- | --- | --- | --- | --- | --- | --- |
The truth is Cool(selector®2)
Coolselector®2 features unbiased calculations for the selection of refrigeration and air conditioning components based on the user's requirements or based on standard operating conditions.
The ETS Colibri® brings to the market the most innovative and uniquely designed electric expansion valve: compact, hermetic, in-line valve design, – and driven by stepper motor technology.
Watch Danfoss experts explaining how the ETS Colibri® evolved, and how its unique features differentiate it not only from traditional valves, but also from competing products (4 mins).
Explore the new ETS Colibri® valve
Watch the short 3D animation videos for an overview of the product and how it functions.
Installation of ETS Colibri®
It has never been easier to find the right electric expansion device for your heat pump or chiller. See for yourself how faster the installation is, and how much money you save with the new ETS Colibri® valve.
Its unique design means it is always easier to install an ETS Colibri® valve. The bi-metal connectors save you time and money on every installation. See for yourself in this training video (approx. 10 min).
Is ETS Colibri® compatible with oil-free compressors?
Yes, the ETS Colibri® can be used as an expansion valve in oil-free systems. We will be testing it for use as a gas control valve in oil-free systems.
What controller is recommended?
Danfoss offers the EKE 1 Series to drive and control the Colibri valve. Danfoss can also offer our MCX061V or MCX152V system controllers. We have seamlessly incorporated control of the Colibri valve into these platforms as well.
How does having 600 steps affect the control of the ETS Colibri®?
We consider that 600 steps offers excellent control. The valve's low hysteresis and linear characteristics ensure precise positioning and therefore accurate control. All our testing shows that 600 steps is more than enough for accurate system control.
Here you find details of your local Danfoss refrigeration and air conditioning sales office.
Contact us
Watch out for counterfeits to protect your image
Fake products give your business as well as our company a bad name. Therefore, we are doing everything we can to fight the counterfeits. Read more about how to make sure that the product you buy is genuine Danfoss quality.