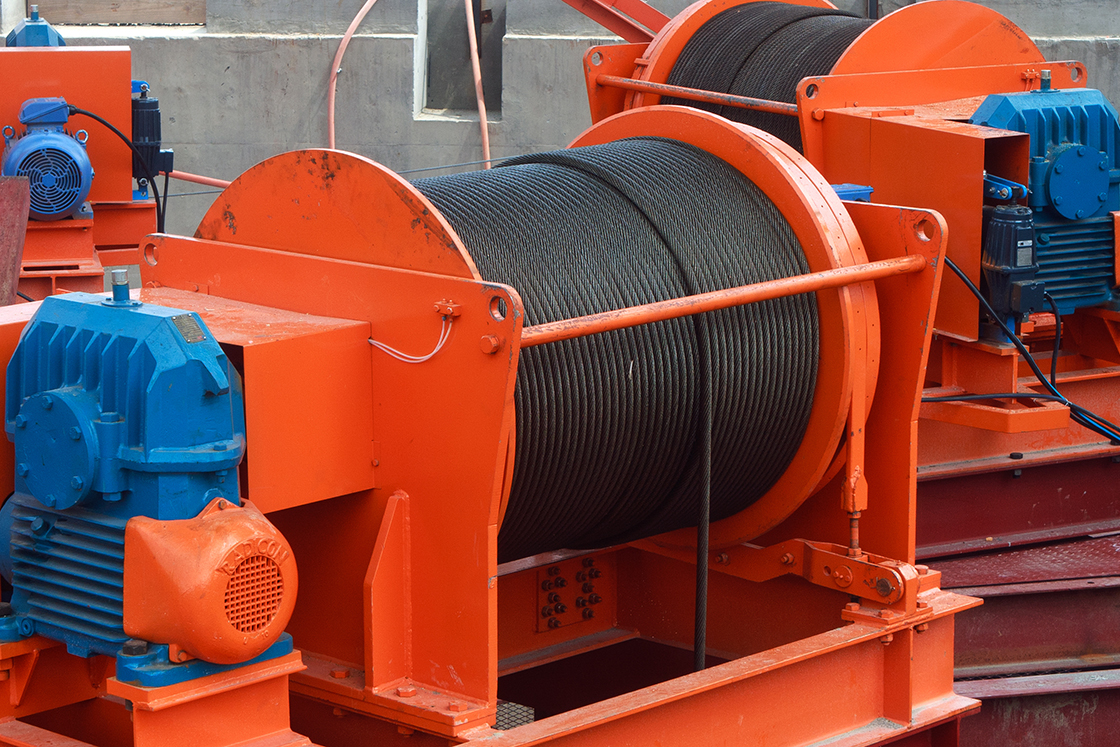 Safe, precise hoist and crane performance
In mining and mineral processing, cranes such as mining hoists, overhead travelling cranes and gantry cranes are essential equipment in production and maintenance tasks.
For mine hoists, the crane motion is entirely vertical. The critical factors are precise control at high torque and fast response of the mechanical brake for safety considerations. AC drives offer constant torque control and rapid response to meet these requirements.
For travelling cranes and gantry cranes the load is suspended from a gripping device by cables, and acts like a pendulum. These swaying loads are a safety hazard and place additional stress on the crane structure. The solution is to control the motion closely using an AC drive on the input to the electric motor.
Danfoss offers drives equipped with crane performance optimization features, to serve diverse crane applications.
Superior mine hoist reliability
Mine hoisting systems comprise five major components: hoists, conveyances, wire ropes, shafts, and head frames. Each of these components requires extensive design considerations.
Increasingly, electric motors are replacing diesel motors and eddy-current motors for operation of mine hoists. The electric motors can be controlled by AC drives which offer optimum safety and superior hoist performance. Earlier technologies used direct current hoist drives utilizing thyristors, also known as solid-state converters. However modern mine hoists operate on alternating current, and are variable-frequency controlled by AC drives, also known as VFDs or VSDs. AC drives from Danfoss reliably maintain precise and constant torque in standstill and running condition. They also ensure rapid response of the mechanical brake in safety-critical situations.
Rapid response for mine winding systems
The main components of a mine winding system are the drum with rope arrangement; pneumatic brake; gear box with thruster brake; winding motor and control desk.
Danfoss drives provide fast response and accurate performance in closed loop application which is critical in hoisting applications. Easy interfacing of drives to the PLC and control desk makes the process operation very smooth. The drives enhance mine hoist safety by high-speed response to faults.
In the drum hoist construction. the drum is located some distance away from the shaft. This distance is often referred to as the fleet angle. The rope is wrapped around the drum. In general, drum hoists are considered to be more flexible than other type of hoists.  The performance of both single drum hoists and double drum hoists is enhanced when controlled by AC drives.
Doing business
Danfoss Drives offers personal advice and application design from our drives experts to support OEMs, system integrators and industrial users. We also provide customized solutions for hardware and software that enable seamless integration and a range of features that optimize the total system.
Danfoss Drives is a leading supplier of AC drives for the cranes industry. More than 100,000 Danfoss drives are providing effortless speed control and optimized efficiency for the smallest chain hoists up to the largest mobile crane vessels with lifting capacities up to 10,000 tons.
Solutions for new developments and modernizations
When designing new cranes, Danfoss Drives is able to draw on years of experience related to applications and AC-drives technology to support the development. 
Cooperation in analyzing the operation of drives using test cranes, and optimization of the controls, performance and system as a whole, are important areas of our expertise. And our wide service offering covers scheduled maintenance requirements and optimization of modernization packages.
Danfoss Drives' engineering support and service teams are capable of assisting system integrators and crane manufacturers at all stages of projects from cabinet building to commissioning. Covering the full lifetime of the crane, our key services include technical support, start-up, maintenance, spare parts, upgrades and training.
Get more information
Read VACON® NXP Drive Anti-sway Fact Sheet
Read more about Drives for industrial crane and hoist movement