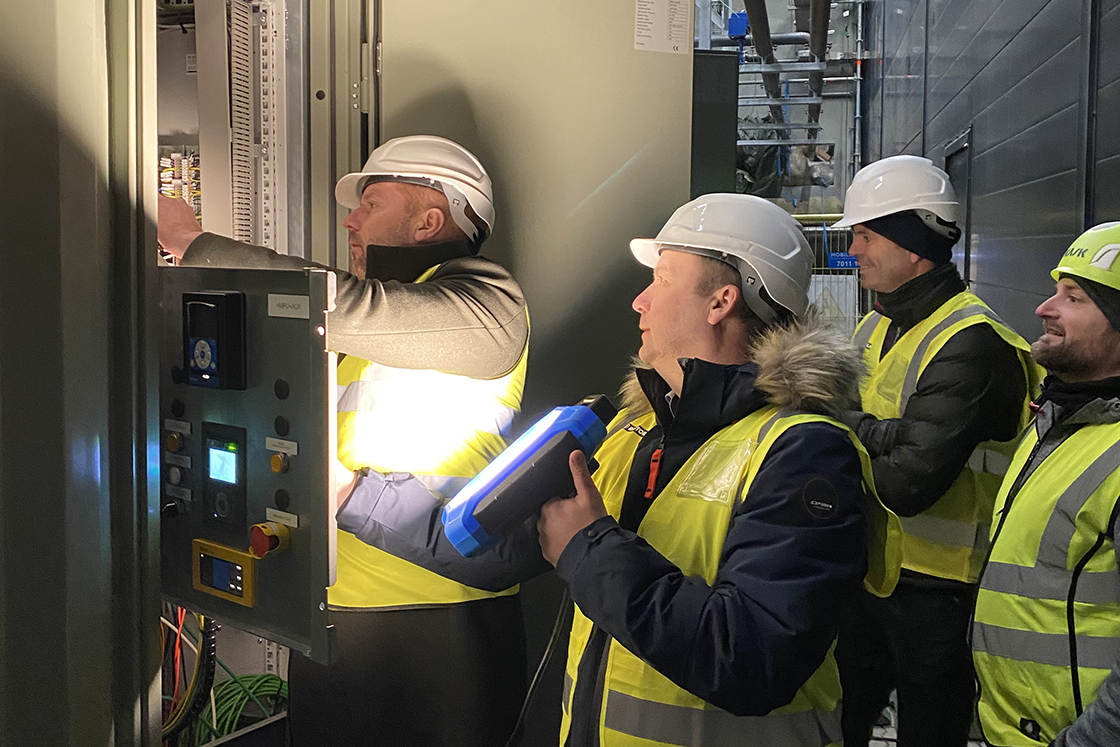 The HySynergy project in Fredericia, Denmark, has successfully produced hydrogen for the first time, which is a significant milestone in the commercialization of green hydrogen as a clean energy source.
Everfuel AS is committed to reducing CO2 emissions through their green hydrogen infrastructure. They partner with industry actors and vehicle OEMs to connect the entire hydrogen value chain and supply hydrogen to industry and mobility customers.
In HySynergy Phase 1, Everfuel uses Danfoss Drives AC to DC converters to power its electrolyzers. Two 20' containers equipped with liquid-cooled grid converters each have two 5 MW outputs. This 20 MW power conversion system will produce enough hydrogen fuel to reduce CO2 emissions by 0.6%.
The commissioning phase went according to plan and the small amount of hydrogen produced was safely emitted into the atmosphere with no environmental impact.
Uffe Borup, CTO at Everfuel, said: "This is a major milestone for us at Everfuel, and it is a step closer to our goal of bringing commercial green hydrogen to the market. We are grateful for the collaboration and support that we received from the experts at Danfoss Drives. They tackled the commissioning professionally both on-site and remotely."
Kjell Stroem, Senior Vice President of Sales, Marketing & Services at Danfoss Drives, said: "Power-to-X is an interesting technology we can use to power the green transition, alongside energy efficiency and electrification. It is still a technology that needs some development, and therefore this milestone is an important step towards realizing our ambitions of scaling up hydrogen production to a commercial level. This is just the beginning of a momentous journey for hydrogen, and we are off to a great start".
When HySynergy Phase II is commissioned in 2025, it will supply an extra 300 MW capacity, bringing the total to 320 MW. Phase III is planned for 2030, with capacity of 1 GW. The Danfoss power conversion solution is designed for easy scalability to cater for these upgrades.
For more information, please contact Helge Vandel Jensen, Business Development Director at Danfoss Drives, email: helge@danfoss.com.
About Everfuel
Everfuel produces green hydrogen for zero-emission industry and mobility. Its green hydrogen is commercially available across Europe, in the form of competitive all-inclusive hydrogen supply and fueling solutions. Everfuel owns and runs green hydrogen infrastructure. It partners with industry and vehicle OEMs to connect the entire hydrogen value chain and seamlessly supply hydrogen fuel to enterprise customers under long-term contracts.
Green hydrogen is a 100% clean energy carrier made from renewable solar and wind power. It is key to decarbonizing industry and transportation in Europe. Everfuel is an ambitious, rapidly growing company, headquartered in Herning, Denmark. It also has activities in Norway, Denmark, Sweden, the Netherlands, Germany, and Belgium, and plans to grow further within Europe. Everfuel is listed on Euronext Growth in Oslo under EFUEL.