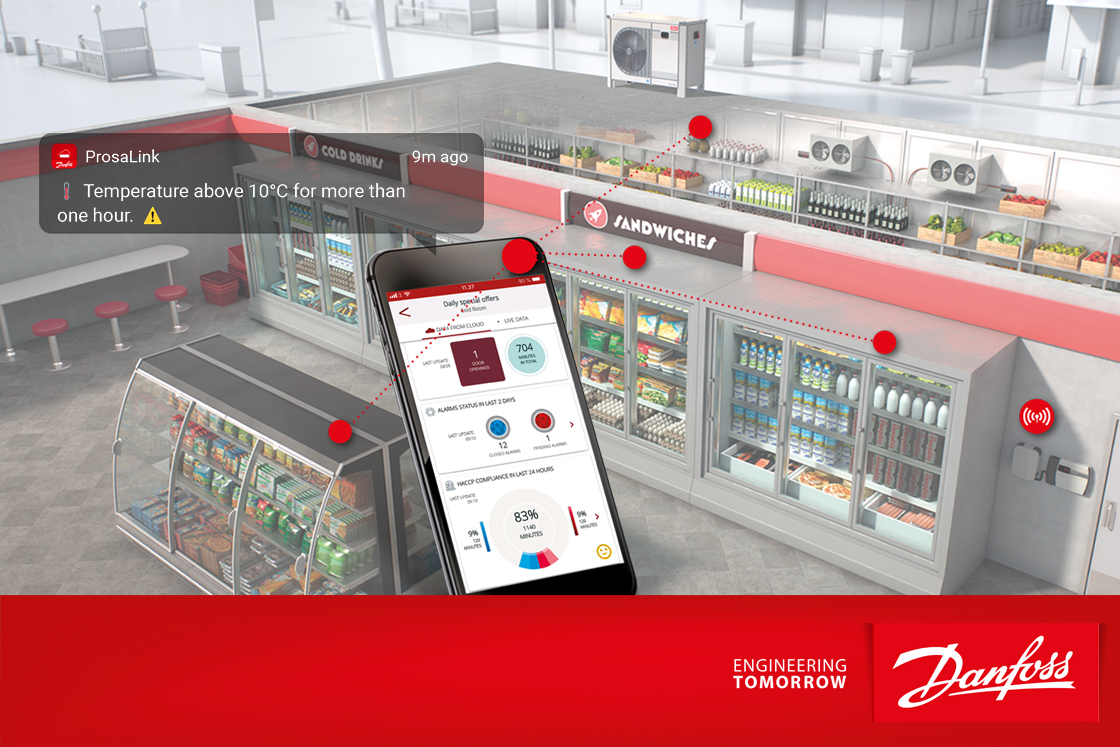 Monitor your refrigeration assets at any time, from anywhere with the ProsaLink mobile app- simple IoT connectivity for the small stores which have no central management control.
Simple app-based solution for food store owner
For simple refrigeration monitoring, the ProsaLink app, paired with the PR-SC4 telemetry device capturing the data, is a user-friendly, 24/7 real-time temperature and automatic data-logging solution—combined with alarm notifications to enable immediate action. Up to 4 cold rooms, display cabinets, refrigerators, or freezers can be connected to one device. And you can have an easy overview of all your connected equipment across your sites in the same app.

With a monthly service cost of 7€, you can get all the benefits described above. For the remainder of 2020, Danfoss will provide the monthly monitoring service free of charge.

In addition, it can be retrofitted to existing systems as well as included in new installations—making it a cost-effective option to improve reliability and cost-efficiency. With an intuitive navigation, clear graphics and information, the app alerts you if a cold room door has been left open or a temperature goes out of safe limits for too long. So you can act immediately and save potentially thousands in wastage costs. And data are securely stored in the Danfoss AlsenseTM cloud.
Simply, it provides peace of mind as you have better things to do than constantly monitoring your refrigeration assets.
Protect your perishable stock and save money
ProsaLink enables store owners to help eliminate food loss from breakdowns and unplanned maintenance, increase food quality by closely monitoring temperature and chiller door status, and save the time spent manually recording temperatures as required under HACCP food safety management standards. 
For more information on ProsaLink, visit prosa.danfoss.com