Danfoss has extended its highly efficient range of Micro Plate heat exchangers—enabling more manufacturers of chillers and heat pumps to benefit from its efficient Z-design technology and address refrigerant and design changes.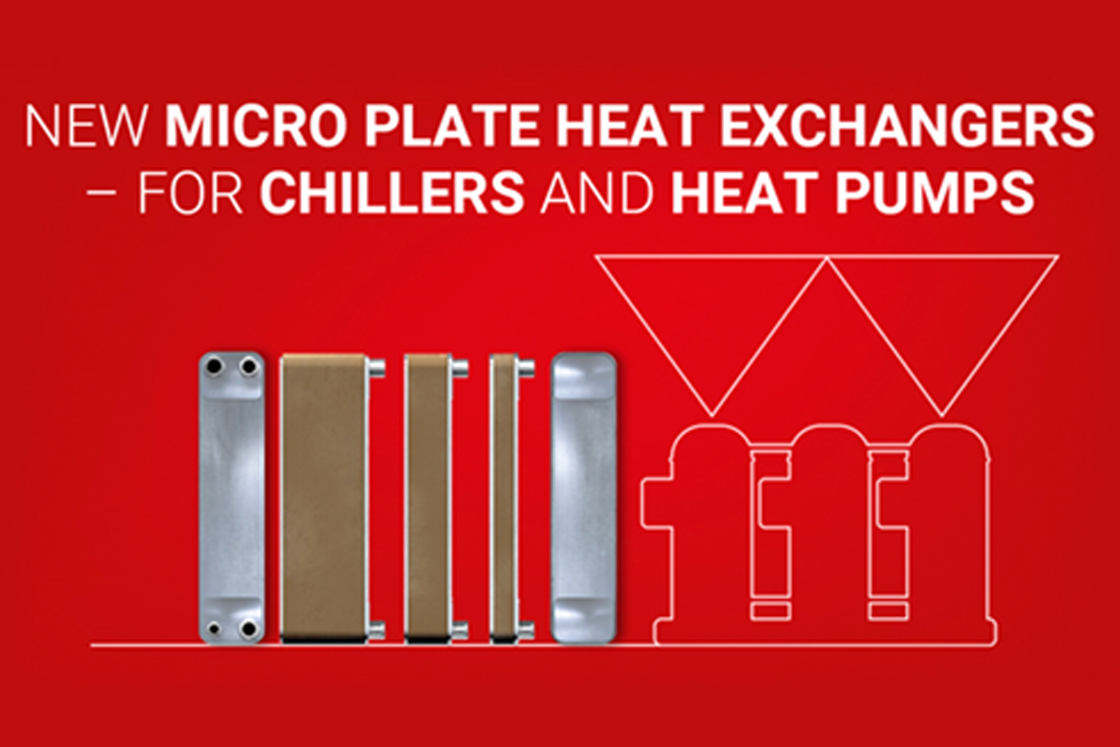 Each new model is designed to solve a particular system design challenge:
The new, R32-optimized range complements existing multi-refrigerant heat exchangers for R410A, R452B, and R454B, widening chiller manufacturers' options when reducing GWP.
New single and dual-circuit versions are available to complete the existing range for chillers. The portfolio can now cover the entire range of light commercial and commercial chiller ranges.
HDW44 is perfect for sanitary water heating, with a double-wall and a built-in interspace preventing water contamination in the event of a refrigerant leak.
The Suction Gas Heat Exchanger (SGHX) can enhance efficiency in heat pump condensers and evaporators, counteracting the impact of high-glide refrigerant blends like R455A and R454C.
The whole portfolio for heat pumps is qualified for flammable refrigerants including propane, making their refrigerant charge-reducing properties especially valuable.
Like all Danfoss Micro Plate Heat Exchangers (MPHEs), the new ranges are built around the proven Z-design concept, which since 2016 has helped OEMs worldwide to improve efficiency, minimize weight, and reduce the refrigerant charge, thanks to its high heat transfer coefficient.
All the heat exchangers can be customized, matching the number of plates and connection sizes to the individual system requirements—and combined with Danfoss expansion valves, they can all achieve stable outlet superheat also below 3K.
Danfoss is today the only supplier that can offer such a comprehensive MPHE and Micro Channel Heat Exchangers (MCHE) portfolio combined with comprehensive compressors, valves, line components, and technical assistance for OEMs.
Olivier Pelletier, Danfoss Head of Business Development for BPHE, explains: "These new products underline our strong ambition to be manufacturers' go-to choice for heat exchangers in chillers and heat pumps alike and demonstrates intensification of our R&D investment.
"For the past four years, Z-design has changed the game for heat exchange efficiency in condensers and evaporators. It means you can improve your system's capacity, or achieve the same performance with a smaller size."
"The message is clear: whatever system you're designing—and whichever refrigerant you're working with—talk to Danfoss. You'll find a one-stop-shop with a heat exchanger to meet your needs, and technical support to match."

Take a moment to hear the presentation of the new models by Paolo Canal, MPHE technical product manager at Danfoss.
To find out more about Danfoss Micro Plate heat exchangers, visit the Danfoss product store—or watch this animation to see Z-design in action and the functioning of the dual walled heat exchangers.