Commercial chillers must be more environmentally friendly and consume less energy than ever before. Our sector needs to be ready to make real changes as new and diverse energy regulations and standards begin to be enforced worldwide. Danfoss is helping chiller manufacturers meet these challenges by offering unique products and solutions that have been tested and proven within our Application Development Centers around the globe.
Driven by the need to reduce CO2 emissions, countries around the world are implementing new standards and regulations that require air conditioning systems to have better energy performance. The chiller industry remained focused on improving full-load efficiency for decades before pivoting to respond to the recent call for greater emphasis on part-load efficiency standards for equipment. New part-load rating methods will better account for how equipment operates within off-design conditions, when loads vary hour-by-hour and increasing emphasis on part-load efficiency is contributing to a building's overall efficiency.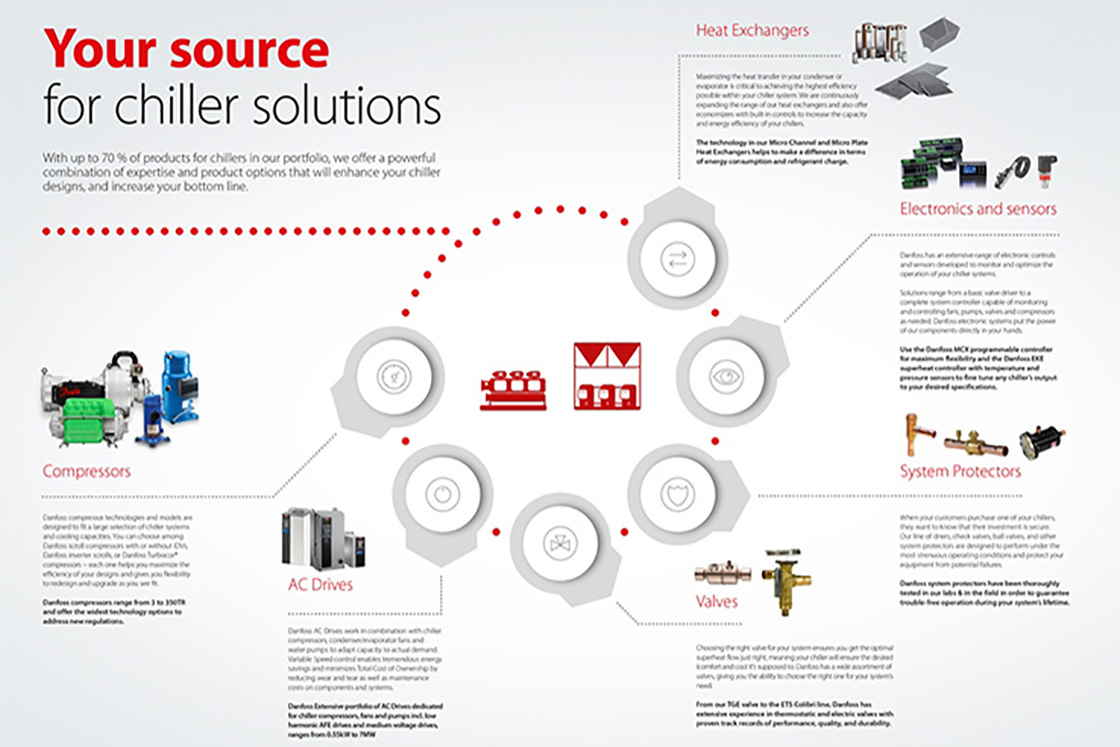 Compliance in 2018 and Beyond
Very few currently-proposed systems meet minimum requirements. In Europe, for example, Danfoss estimates that 60% to 80% of current chillers do not meet the new criteria of regulation, based on information from the Eurovent database, and must be redesigned. Chiller manufacturers (OEMs) now face a new challenge: they have different thresholds under which to meet the new standards, depending on their region.
Although significant energy savings can be obtained by applying advanced technologies and implementing innovative system designs, the amount of savings depends on the specific technologies and the particular applications. Consequently, technical committees are developing their own building efficiency standards to encourage the use of equipment that has been optimized for part-load operation.
OEMs must also account for the impact of the expected HFC phase-down in their system design. This is driven by regulations and by market demand. In Europe, the 517/2014 directive on fluorinated gases and refrigerants requires an 80% reduction of CO2-equivalent refrigerant gas by 2030. Although most of the restrictions put in place by the EU concern the refrigeration industry and not air conditioning, the F-Gas Directive indirectly impacts the market expectations and will drive refrigerant changes coincident with increased efficiency requirements. Additionally, the recent Montreal Protocol expansion agreement to cover the phase-down of high global warming potential gases will indirectly impact the global markets. The US EPA expansion of the SNAP program to de-list specific fluorinated gases used in HVAC in specific applications will directly impact the markets. Additional regional phase-outs and bans similar to the EPA SNAP program are anticipated as the Montreal Protocol expansion is locally implemented.
"Behind this regulatory configuration, governments will encourage the upgrading of all systems currently on the market. All standards require renewed ranges, and encourage enhanced energy efficiency for the entire industry. The industry is at a turning point and OEMs now need to integrate the regulatory dynamics and then drive the redesign phase and technological assessment with those insights," explains Ricardo Schneider, VP and General Manager, Danfoss, Turbocor Compressors.
Which Priorities for New System Designs?
Besides compliance with new manufacturing standards, new generations of air conditioning units must meet current challenges while offering comfort and reliability. Advances in compressors, heat exchangers, fans, and pump motors will lead to significant improvements in both. While internal and external loads vary throughout the day, there are additional contexts that require system flexibility. The building's structural configuration, its function, and its surrounding climate will also define its energy usage.
With the most extensive product catalogue available worldwide, Danfoss is best positioned to provide OEMs with options for chiller designs to meet market and application requirements. This allows OEMs to have a single entry point for most of the system.
"The building sector represents about 40% of global energy use in regions like Europe and the USA. The consumption of air conditioning, heating, and hot water represents more than half of energy expenditure specific to this sector. Improving air conditioning and heating equipment would significantly enhance the building's energy balance. This approach should not only reduce emissions of greenhouse gas but also the cost of energy for building infrastructure and the impact on electrical grids." adds Ricardo Schneider.
Better Efficiencies Start with our Application Design Centers
For Danfoss, designing products that have less impact on the environment and working on a more sustainable use of resources are key issues addressed by innovation, research, and development.
Our Application Development Centers (ADC) placed in strategic locations around the globe are dedicated to measuring, analyzing, and testing systems equipped with various component options. Our experts analyze the behavior of those components within the application and work side-by-side with our business partners to find solutions to their specific challenges. Due to the extent of our product portfolio, Danfoss is the only manufacturer able to offer such technical expertise of the components in the system and offer a collaborative setting to explore their uses together with our partners.
"In our ADCs, we test the chillers, rooftops, and close control units to analyze the behavior of our solutions in given conditions. These investigations are oriented around the requirements of the energy regulations while trying to optimize interactions between different products in our portfolio. Our ambition is to offer a turnkey solution to our customers, where other actors still offer a juxtaposition of products," said Stefan Pietrek, Senior Director, Global Applications, Danfoss.
Chillers