Smart chiller technologies for 24x7 operating hospitals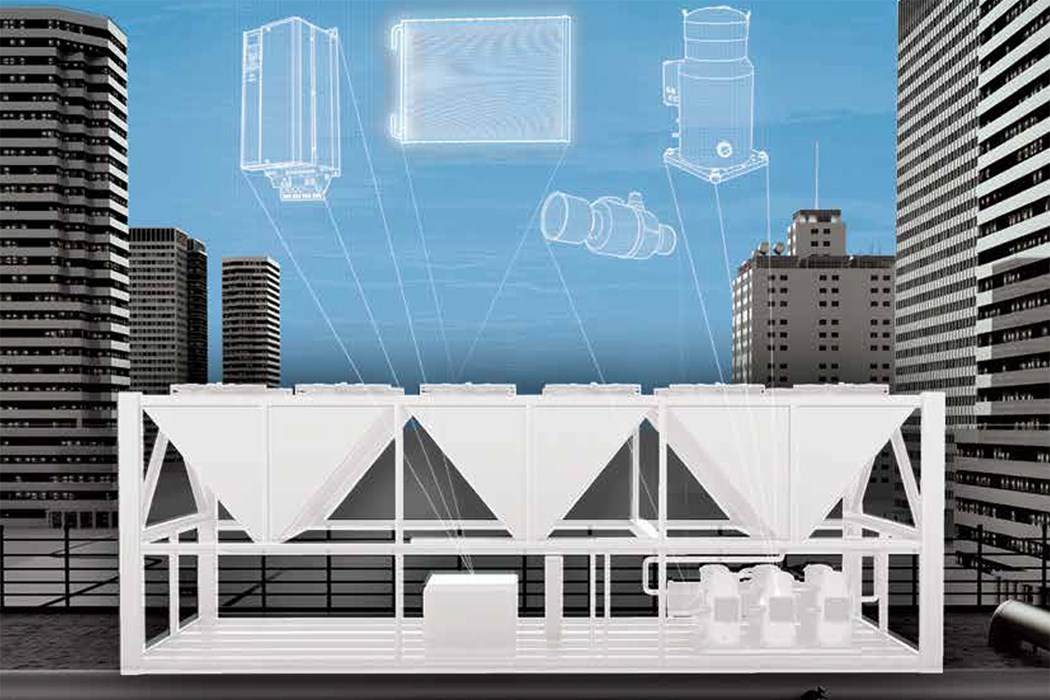 Introduction
The pandemic has reinforced the need for hospitals to be operating at the highest efficiency levels. Hospitals fight indoor bacteria growth by maintaining precise cold temperature, which helps slow down bacterial & viral growth. The precision in temperature is highly essential in hospital set-ups as it prevents cross-contamination, supports maintaining better Indoor Air Quality (IAQ), enhances the patient comfort levels, and improves cold storage efficiency.
The scope of chillers and HVAC systems in Hospitals
The medical equipment generates excess heat, if not removed timely, it could lead to a harmful impact on patients' health, equipment failures and may even cause premature equipment damages. Danfoss' smart chiller technologies provide efficient removal of the excess heat, to optimize system efficiency and eventually reduce the overall costs of chiller design & operations.
Hospital chiller systems' consumption accounts for more than 50 per cent of the total energy consumption of healthcare facilities. In case these systems are not designed for efficient operation, it could lead to higher energy consumption. By using energy-efficient chiller plants, hospitals can reduce their energy costs.
When considering the uses of chillers in hospitals, it ranges from offering precise indoor temperature to patients and additional cooling requirements for specialized medical equipment like MRI, radiation therapy machines for better productivity.
Chiller solutions by Danfoss
Danfoss has a wide range of smart technologies up to 70% of the chiller configuration. Our wide-ranging technological expertise, specializing in hospital chiller solutions, help you optimize energy efficiency, cut down the overall system development time, and promote reliable performance for different chiller types (air-cooled chillers and water-cooled chillers) and their functionality.
Compressors - Danfoss compressor technologies have been developed to fit a wide selection of chiller systems and cooling capacities,
●      Danfoss scroll compressors that include or don't include  IDVs
●      Danfoss inverter scrolls
●      Danfoss Turbocor oil-free compressors
These are designed to maximize efficiency and provide flexibility to redesign and upgrade as per your varied preferences.
AC Drives – Our AC Drives enable chiller compressors, condenser fans and water pumping systems to control the speed of the motor as per the varying load conditions and  capacity with regards to the actual demand. Danfoss Varied speed control technology assists in significant energy savings and lower the total cost of ownership by reducing the wear and tear losses as well as maintenance costs on various components and embedded systems.
Valves - The right choice of valve for your system ensures that you get the most optimal superheat flow. This means your chiller would guarantee the desired comfort and cool temperature for your patients.
System Protectors - Danfoss has a range of driers, check valves and ball valves along with other system protectors. Each of these has been designed to perform under the most extreme operating conditions and protect equipment from possible failures for your 24/7 heavy load operations in hospitals.
Electronics and Sensors - Danfoss MCX programmable controller, provides the highest flexibility to the system, and the EKE superheat controller, provided with pressure & temperature sensors to enhance the chiller's output as per the required specifications. These solutions include basic valve drivers as well as more complex system controllers that monitor and control fans, pumps, valves and compressors as needed.
Understanding the role of HVAC systems in Hospitals as per WHO recommendations
Currently, the most pressing concern hospitals across the globe are faced with is the Coronavirus pandemic. With good Heating, Ventilation, and Air-Conditioning (HVAC) systems, it is possible to maintain indoor humidity and air temperature levels that are both healthy and viable. Systems that are well-maintained and operated can help mitigate the spread of the Coronavirus in indoor spaces.
Assessing the HVAC Chiller systems space
Chillers and HVAC systems are constantly evolving as there is a demand for such systems to be energy-efficient and to meet local regulations and standards.
Danfoss advanced technology for chillers help to achieve top class performance and stay competitive in your business with the least lifecycle costs. Two notable features in this regard are:
1)     Redesign at minimum costs: Using Danfoss' technology solutions consisting of scroll compressors and IDV technology, in collaboration with our electric expansion valves and advanced heat exchangers, your businesses would be able to offer a chiller system comprising of all the latest energy efficiency needs at the least redesign costs.
2)     Oil-free technology for optimum efficiency: Danfoss is the pioneer of the Oil-free Turbocor compressor with magnetic levitation technology. This energy-efficient system has proved to deliver the highest efficiency in demanding applications along with the least maintenance costs and a space-efficient design with nominal noise levels.
Advantages associated with Danfoss's HVAC chiller systems
The hospital HVAC system will benefit from the following Danfoss' smart connected chillers.
●      All offerings are optimized, keeping in mind environmentally-friendly, low GWP refrigerants
●      Applied costs have been reduced, and payback times are short
●      The state-of-the-art technology optimizes energy efficiency for your HVAC system.
●      Each component needed is locally available and capable of being delivered by experts with ample experience in the realm of air conditioning
Summing up
Hospitals on the lookout for energy-efficient HVAC chiller systems ought to consider Danfoss, as the technologies have been designed to allow for maximum efficiency at each step. At Danfoss, through our innovative research and collaborative teamwork, we strive to design environmentally viable products and continuously work forward in the field of sustainable utilization of resources. Along with our advanced technological solutions, we work together to combine your domain knowledge of chiller systems with our deep understanding of innovative chiller components.  We always strive to push forward the achievable standards hence resulting in the most advanced chiller technology solutions for your business.