Danfoss Learning frequently asked questions
What is Danfoss Learning?
Danfoss Learning is a free online learning platform that allows users to access a variety of training resources. These materials are available in a variety of formats and can be accessed anytime, online or offline. Much of our learning content can be found at Learning.Danfoss.com and on the SABA Cloud mobile learning app (for iPhone and Android). However, there are other ways to improve your skills and knowledge; we also offer webinars, downloadable assets, and face-to-face trainings that are hosted in locations around the world.
Who is Danfoss Learning for?
Danfoss Learning is free and open to anyone and everyone. While all are welcome to join Danfoss Learning, the courses and materials are specifically designed to help engineers, installers, service technicians, and wholesalers better understand the products, industry topics, and trends that will help them do their jobs better.
Can I earn certifications through Danfoss Learning?
Yes, Danfoss issues certificates of completion for our Training Program tracks. Participants must go through all prescribed training materials and then pass a test to receive a certificate of completion.
Why did Danfoss create Danfoss Learning?
We believe in power of the knowledge sharing. It's not only valuable to our current and future customers, but a crucial component of our mission to Engineer Tomorrow. By making the latest industry knowledge, techniques, and trends widely available, we hope to inspire and support the experts who will build the communities of tomorrow and a better future for all.
Is Danfoss Learning free?
Yes, it's free to create a Danfoss Learning account and participate in all online training courses. Fees can come into play for face-to-face training.
Where is Danfoss Learning available?
You can access Danfoss Learning from anywhere in the world by logging into your free account at Learning.Danfoss.com. Many of our online courses have been optimized for use on mobile using responsive design and more are being upgraded on an ongoing basis. You can also access a selection of courses through the free SABA Cloud mobile learning app for convenient training while on the go.
Who can access Danfoss Learning?
Everyone is welcome to sign up for a free Danfoss Learning account and access our online training courses.
Can I access Danfoss Learning on my smartphone?
Can I copy the information and visuals in Danfoss Learning courses?
All information and assets used in Danfoss Learning courses are the intellectual property of Danfoss and subject to copyright protection. Any duplication or publication of Danfoss Learning content without our expressed permission is prohibited.
How can I get support from Danfoss Learning?
If you need support with Danfoss Learning or have questions to the catalog, please send an e-mail to: danfosslearningsupport@danfoss.com
I think my account security has been compromised. What should I do? / How can I change my password?
You should immediately change your password to a new one if you feel that your account security has been compromised.
How can I retrieve a forgotten password?
If you forget your password, you will have to request a new password since the system cannot retrieve your forgotten password. Find the link 'Forgot Password' above the FAQ.
I cannot log in to my account after long time of inactivity. Is my account deactivated?
After two years of inactivity your account will be closed and can not be reactivated. Please sign up again by creating a new account via the login page.
Browse our Learning Catalog
Have a glimpse on resources that can help you develop your skills and advance your career.
Access information and training that spans multiple industries, whether you're an engineer, installer, service technician, wholesaler, or student.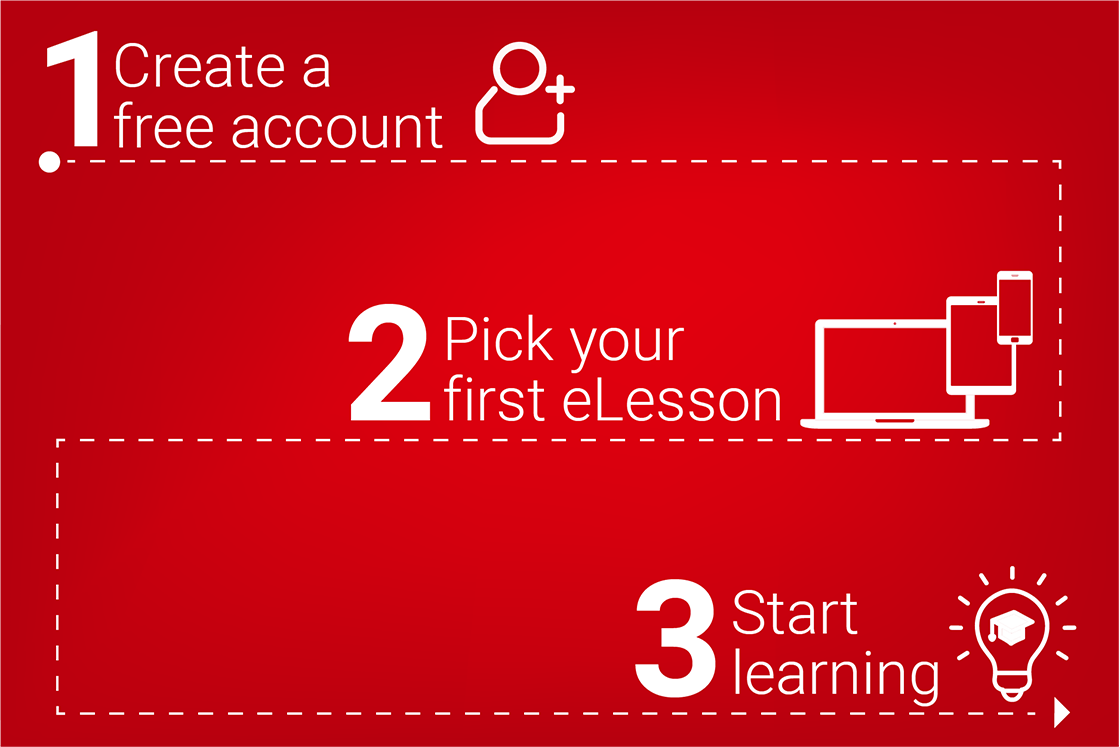 Sign up for Danfoss Learning
Simply sign up for a free account, pick your first e-lesson, and off you go. As a Danfoss Learning user, you can enrol in workshops, step into a virtual classroom, or take self-paced online courses. From your personal dashboard, you'll have a clear overview of your in-progress activities and which courses you have completed.