AK-EM 800 enterprise solutions
The AK-EM 800 is an Enterprise Management solution from Danfoss for the food retail industry. The AK-EM 800 is a multi-user, multi-site server/PC software application which provides a central architecture function providing alarm management, automatic data collection, together with food quality reporting.
In order to operate the AK-EM 800 v2.33 a valid license is required from Danfoss and subsequently installed in the designated AK-EM 800 PC/Server. The issued license from Danfoss will only function on the PC/Server installed with the AK-EM 800 software from which the original license profile was generated. 
If upgrading from a previous version of AK-EM 800, system functionality will stop until a valid license is installed (which is sent via Danfoss license management). All licenses must be supported by a valid purchase order to Danfoss. Please consult with your Danfoss sales representative for more details.
Danfoss highly recommends installation of 64-bit systems due to improved performance and user experience.
Important notice to release 2.33
On the 3rd of September Danfoss announced the release of the latest version of the EM-800 alarm and temperature monitoring software. The 2.33 release includes feature enhancements as requested by customers, a small number of known code defects (bugs) that impacted usability as well as the most critical security vulnerabilities recently identified by internal and external security audits. Data and system security are of the highest importance to Danfoss and our customers, and we are committed to continuing to develop software to ensure the highest possible security.
The table below summarizes the critical security breaches addressed in the 2.33 release. Danfoss recommends that all existing customers that operate this software in an environment that has connectivity to the Internet upgrade their software to the 2.33 release.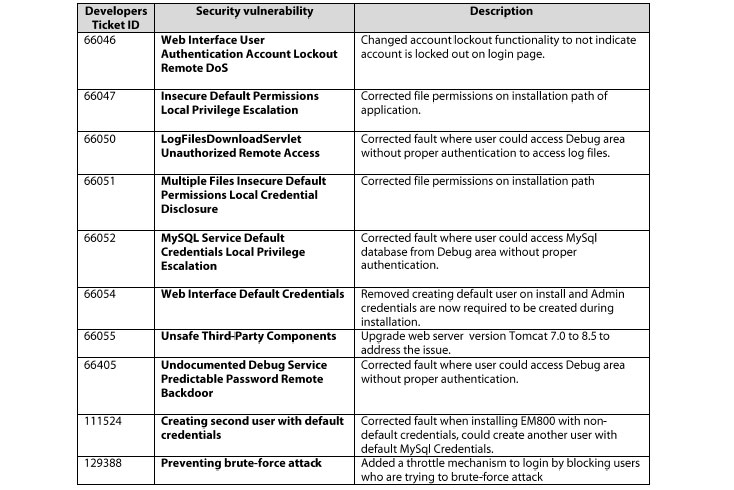 Documents

| Type | Name | Language | Valid for | Updated | Download | File type |
| --- | --- | --- | --- | --- | --- | --- |