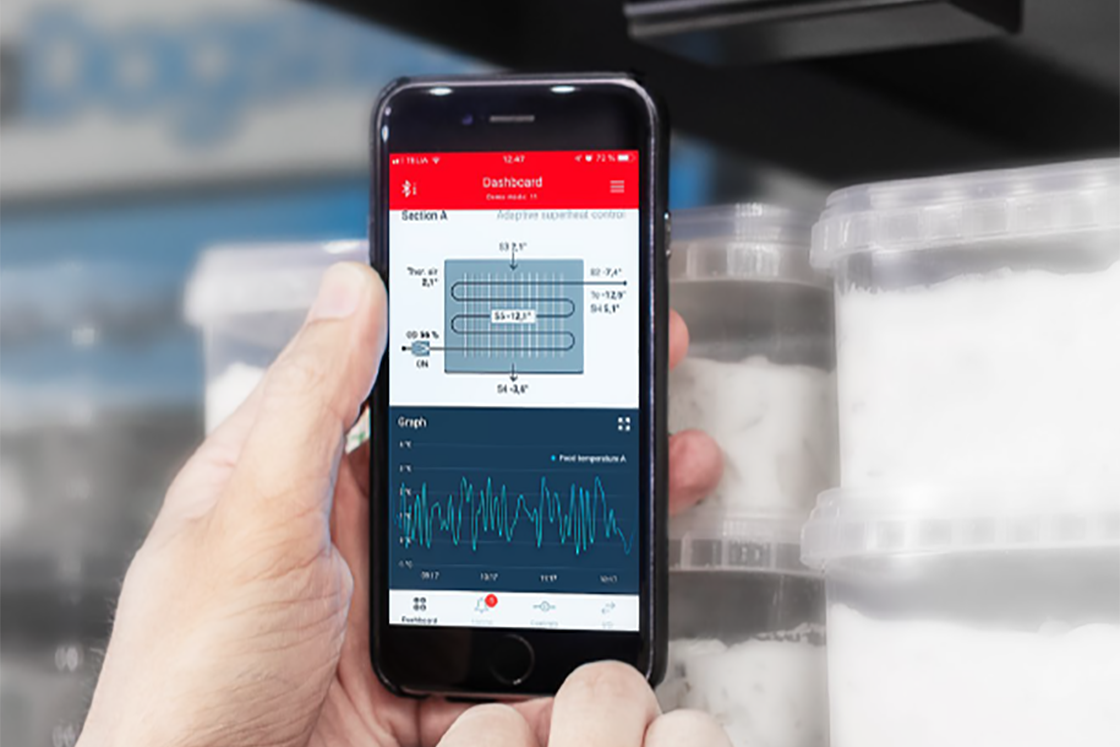 Take user friendliness to the next level with AK-CC55 Connect app
AK-CC55 Connect is an industry first wireless tool for configuration and service of AK-CC55 controlling refrigerated display cases and cold rooms.
Simplified and convenient with Bluetooth
The AK-UI55 remote display comes in a Bluetooth version, which enables wireless connection to the AK-CC55 Connect service app on a smart phone or tablet supported by iOS or Android operating systems.
The app allows for configuration and testing in a user friendly, intuitive manner. Without the need to unload product, remove panels or make physical connections. And real time, operating condition can be monitored while at the display cases or cold room, which ensures better evaluation and troubleshooting.
Full text and graphic display
The enhanced user interface provides full text and graphic display of data not available on conventional multi-segment displays typical of these existing products. Truly, for  installers, commissioning agents, and service technicians, AK-CC55 Connect is a tool that makes the task easier and more efficient.
Features and benefits
Installation
Controller setup in less than 2 minutes
Send and receive setting files via e-mail
Service
Real time overview of cabinet performance with 24-hour history
Alarms including check list function
Monitoring and manual operation of Inputs/Outputs
Value
Ease of use optimized for installation and service
No need to unload cases to configure or troubleshoot equipment
Enabling time savings and first-time fix
Safe operation with patented Bluetooth lock function