Pressure sensors from Danfoss Industrial Automation help Danfoss Semco control water level in vital firefighting systems delivered to customers around the world. The innovative use of MBS 9200 provides substantial savings in assembly costs.
The challenge: Achieve precise and reliable level measurement at minimum cost
Every year, Danfoss Semco installs hundreds of firefighting systems at hospitals, hotels, metros, museums, data centers and marine vessels all over the world. 
These systems can be a question of life and death and priceless values may be at stake. Naturally, safety and reliability take precedence in design and delivery of the vital systems. 
The water mist firefighting system supplied by Danfoss Semco relies on access to water. Therefore, the system is always equipped with a water tank to ensure that sufficient water is present at all times. In the event of fire, it is important that the water tank is full and that is why the water level needs to be constantly monitored in order to detect potential loss of water, for instance due to leakages.
The solution: Use of simple, compact MBS 9200 pressure sensor from Danfoss
A close collaboration between Danfoss Semco and sensor specialists at Danfoss Industrial Automation led to the new solution for measurement of water level by means of water column pressure. The solution relies on Danfoss MBS 9200 sensors for land-based firefighting systems and MBS 9300 sensors for marine systems. The sensors are now used in the majority of water mist solutions delivered by Danfoss Semco.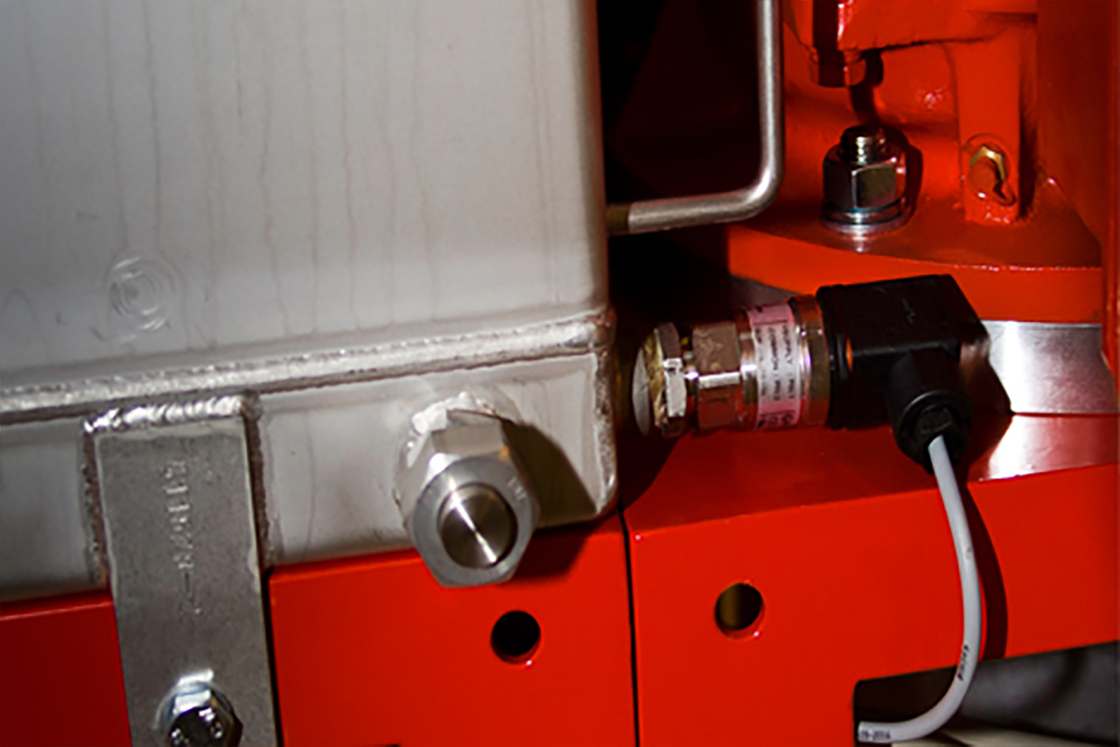 The result: Substantial savings during assembly and highly reliable operation
The highly reliable precision sensors are easy to mount and save costs during installation and subsequently in daily operation.
"When compared to our previous solution where we used a more traditional multi-level switch, we save up to 550 euro on every system, primarily due to savings on assembly costs", says Heino Andreassen, Project Engineer at Danfoss Semco.
The digital low-pressure sensors MBS 9200 provide a number of additional advantages in terms of operational cost savings and high reliability. The sensors monitor and report the water level continuously and send alarms if anything out of the usual is detected as regards water level.
Facts about Danfoss Semco
Danfoss Semco is a leading supplier of firefighting systems for land-based and marine assets. Danfoss Semco develops, manufactures and services cost-effective firefighting components and systems, which offer the highest possible safety for human beings and reduces the damage to properties and other assets to an absolute minimum.
Facts about Danfoss industrial automation
Danfoss Industrial Automation is a leading, global player within development and production of fluid controls and pressure and temperature controls. Through strong partnerships and solid application know-how, Danfoss Industrial Automation offer sustainable, reliable and efficient solutions to a wide range of industries.
Facts about MBS 9200 and MBS 9300
Multi-purpose, low pressure, digital sensors
Type 9200 for general, industrial applications;
Type 9300 for marine applications
Compact and lightweight for flexible use in different designs
Pressure range from 40 to 250 mbar
Offer self-diagnostics and automatic alarms
Enclosure and wetted parts of stainless steel (AISI 316L)