Every day, the food processing industry is investing in solutions that are more and more focused on safety and on the reduction of the charges of ammonia and losses in their plants. Cataby, a pork producer in Brazil, has recently relied on the expertise of SCE Engineering for designing and installing a 4,000-meter-squared distribution center equipped with an ammonia refrigeration system in Santa Bárbara D'Oeste, countryside of São Paulo.
SCE came to Danfoss to support them and the proposed solution was to install Flexline™ ICF valve stations, designed to offer intelligent simplicity, time-saving installation and advanced flexibility. By adopting Danfoss solutions, they could reduce at least 15% of the welding points and 10% of the installation hours according to Sérgio Santos, SCE engineer.
Quality, Innovation, Commitment and Support were Key
Besides the ICF valve stations, the whole plant at Cataby included ICLX servo-operated solenoid valves, SVA manual shut-off valves, ICS control valves, and other components. "The choice for Danfoss was made based on a set of competences that only Danfoss and their internal team has proven to have, such as product quality and innovation, delivery dates and commitment to the schedule demanded by SCE, engineering support, and a technical team and solution. We can also count on field service, follow-up and training to the end-user, as well as regular visits and information bulletins that help us add value to the end-user," says Santos.
The ICF valve station has only one specification, but multiple configuration possibilities. Its common valve housing can be connected to several different and exchangeable function modules and all of them offer anti-corrosion treatment. That is why replacing the conventional valve stations by Danfoss ICF solution provides faster installation, and reduces significantly the risk of leakage, the maintenance costs and the inactivity time. 
"Adopting ICF valve stations reduces significantly the quantity of weldings from 12 to only 2, which reduces by up to 80% the risk of ammonia leakage," explains Enri Tunkel, Industrial Refrigeration Segment Marketing Manager for Danfoss in Latin America. All ICF vale stations are designed for a maximum operating pressure of 52 bar and to operate efficiently with ammonia, CO2 and high pressure refrigerants that might come up in the future.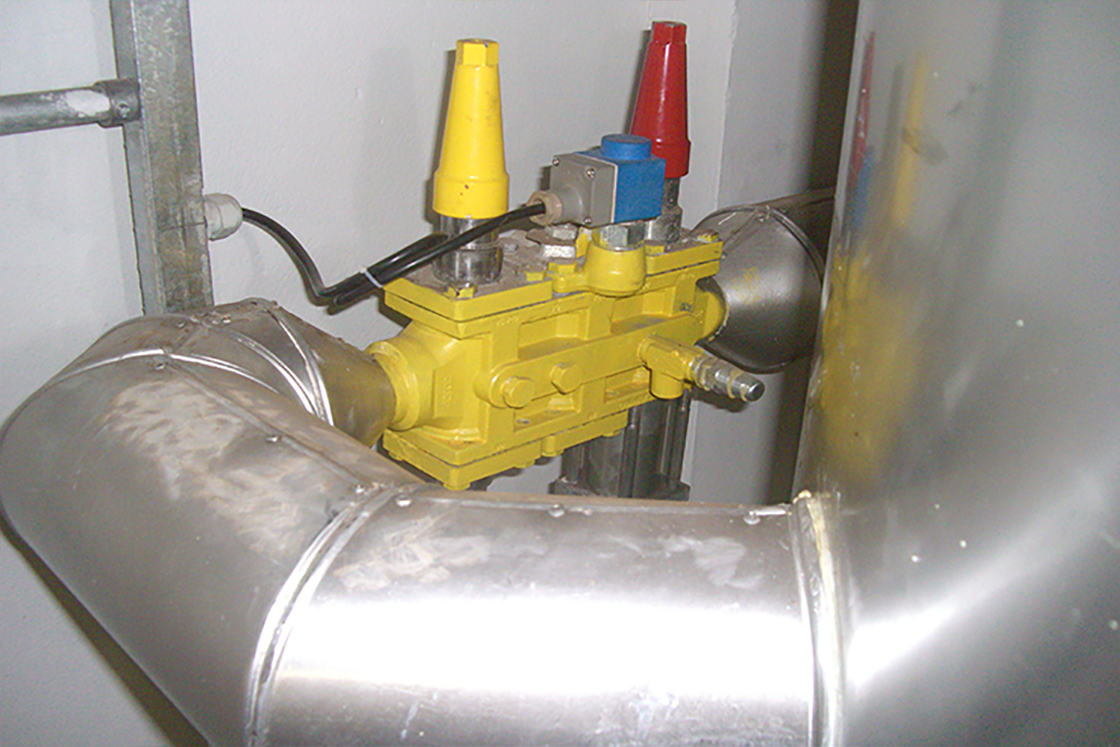 Complete Flexline™ Solution
Besides the ICF vale stations, the plant also had the installation of SVA shut-off valves, that have the same flexibility principle: one common valve body (angle or straightway) with five different inserts compose the SVL platform - the complete portfolio includes shut-off valves, regulating valves, check valves, stop check valves, and filters. Not only does the SVA valve feature a sealing system that guarantees safe and reliable opening and closing, it also embeds a securing function of the cone that limits the cone spin during system vibration, thereby avoiding fatigue wear on the piston assembly.
"The SVA shut-off valve with SOC connection Danfoss provides also reduces the installation hours by at least 30%", adds Tunkel. This gain is due to the use of SOC connections, available for the valves up to 2". The SOC connection facilitates the assembly and welding processes, leading not only to faster but also safer installation, thus reducing the risk of leakage.
An additional benefit is the cost reduction with welding material and there is no need for either X-ray or ultrasound inspections, as well as any other tests. Last but not least, the SVA shut-off valve is available with extended spindle, optimal for insulated systems.