For over 100 years, Diaper Poultry has built a strong reputation for the high-quality, fresh chickens it sells to butchers, farm shops, delis and restaurants from its headquarters near Stowmarket in Suffolk, England.
Recent years have been good at Diaper Poultry, and that has meant growth. With that growth came increased production and a need for quick expansion, especially in the factory's cold room.
The dilemma was how to complete the expansion with the safest, most energy-efficient solution, while ensuring as little impact as possible on daily production.
In cooperation with installation contractor Pitkin & Ruddock, Diaper Poultry looked at expanding the cold room and utilising the factories existing refrigeration plant or to install new standalone equipment. The decision fell on building the new cold room powered by three Danfoss Optyma™ Plus condensing units.
"Diaper Poultry are really pleased with the result. Compared to the old refrigeration solution, the new Optyma™ solution is only about a quarter of the size, it works much more quietly and at the same time it is just as efficient as the old system", says Pitkin & Ruddock's Branch Manager Les Mitchell, who expressed confidence in Danfoss as the right choice for a safe and energy-efficient cold room solution.
Ease of installation and maintenance
The installation of these plug-and-play condensing units took just a few weeks, had no impact on existing production and proved to be a faster solution than retrofitting or expanding the existing cold room.
"We used the Optyma™ units in the past and know they are reliable products. They are very compact, easy to work on and maintain. Diaper Poultry appreciates that all refrigeration is in just one place that they can easily give a daily visual check up to make sure that everything is working", says Les Mitchell.
The installed Optyma™ units operate on R407F. With a GWP below 2000, Optyma™ Plus with R407F is fully compliant with the F-Gas regulation and highly efficient in the refrigeration systems. It is a good choice for combining environmental gains with lower energy cost.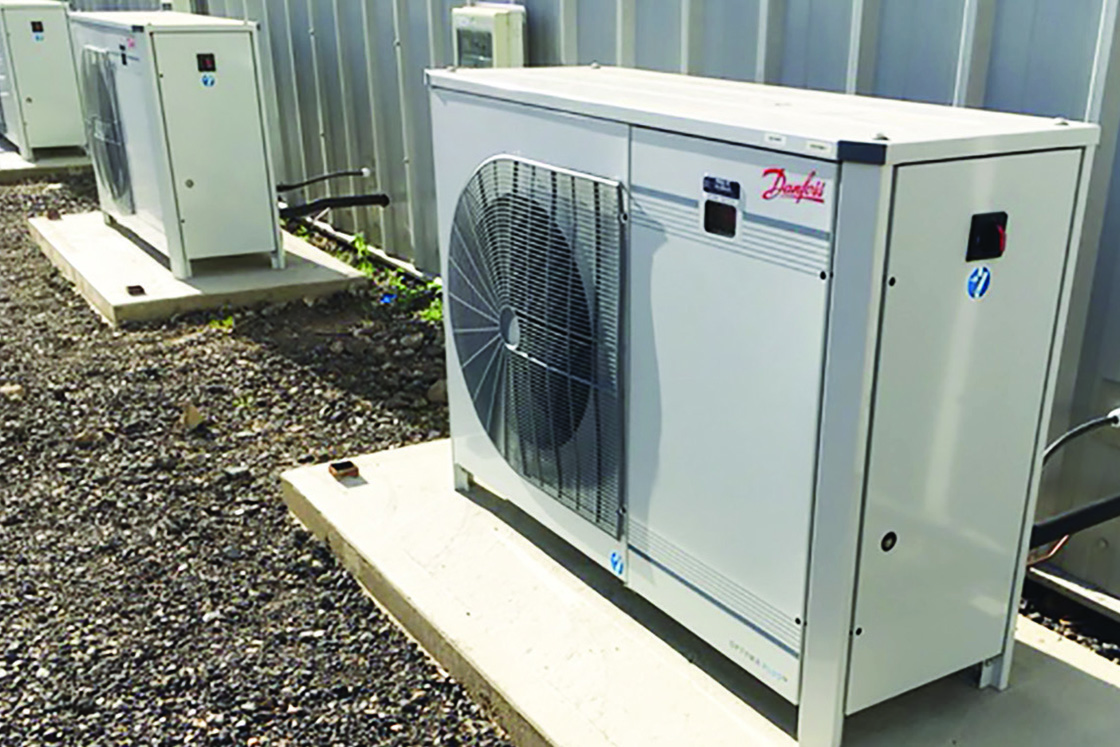 Facts about the Diaper cold room
| | |
| --- | --- |
| Cold Room Area | 243 m2 |
| Room Volume | 1,236 m3 |
| Room temperature | -1 / +1 |
| Total Refrigeration Load | 33.92 kW |
| Entry Temperature | +4 |
| Exit Temperature | 0° C |
| Freezing Temperature | -2.8° C |
| Product Turnover | 25 kg/m3/cycle |
| Total Capacity | 31,150 kg/cycle |
Facts about Danfoss equipment installed
3 Optyma™ Plus New Generation condensing units operating on R407F
3 TE2 R407F thermostatic expansion valves
3 EVR solenoid valves
Facts about Diaper Poultry
Diaper Poultry in Suffolk is one of the few remaining chicken companies in the UK controlling the value chain from farm, factory to distribution. The family-owned company, established in 1911, has built a strong reputation for supplying quality fresh chicken to butchers, farm shops, delicatessens and restaurants in 15 counties.
Facts about installation contractor Pitkin & Ruddock
Pitkin & Ruddock Ltd Refrigeration & Air Conditioning provides turnkey cold containment solutions from design to installation, service and maintenance. The company offers a wide range of solutions from stand-alone ice machines to integral refrigerated cabinets, cold rooms or complete factory refrigeration, including process cooling systems for industries as varied as food production, printing, chemical and injection moulding. Pitkin & Ruddock provide a comprehensive range of both simple and complex refrigeration & air conditioning solutions.