Compactness, high reliability and cost competitiveness make the Danfoss pumps a perfect choice for ships. The pumps run in more than one hundred RO plants for the Royal Navy alone.
Danfoss APP pumps are a key part of Salt Separation Services' winning solution for the RO plants for the largest and most powerful ships ever built for the U.K.'s Royal Navy.
The two new aircraft carriers, HMS Queen Elizabeth and HMS Prince of Wales, each rely on three seawater RO desalination plants for fresh water production. At the heart of each plant are two APP 8.2 pumps running in parallel.
The challenge: Keep the aircraft carriers supplied with fresh water – with fewer crew than ever before
With a displacement of 65,000 tons and length of 280 meters, the Queen Elizabeth class aircraft carriers are the largest warships ever constructed for the United Kingdom's Royal Navy, and the second-largest class of warships in the world. Fresh drinking water is a critical resource for the ship's company of about 700, and for up to 1600 embarked personnel. It is also indispensable for showers, cooking, dishwashers and general ship husbandry.
The new aircraft carrier class was designed from the bottom up for efficiency. In order to reduce running costs, the Aircraft Carrier Alliance and the Royal Navy placed great emphasis on maximizing crew productivity. The number of persons required to run each ship, 700, is exactly the same as their predecessor's, the Invincible class, which measures just one third in size. Operating a ship three times larger with the same size crew required stringent attention to a vast spectrum of details, and resulted in an unprecedented use of automation and other technological innovations.
For fresh water production, this meant the ship's RO plant had to be designed for minimal maintenance. Like everything else on a ship, footprint and weight were also important criteria. Finally, total costs of ownership were highly scrutinized.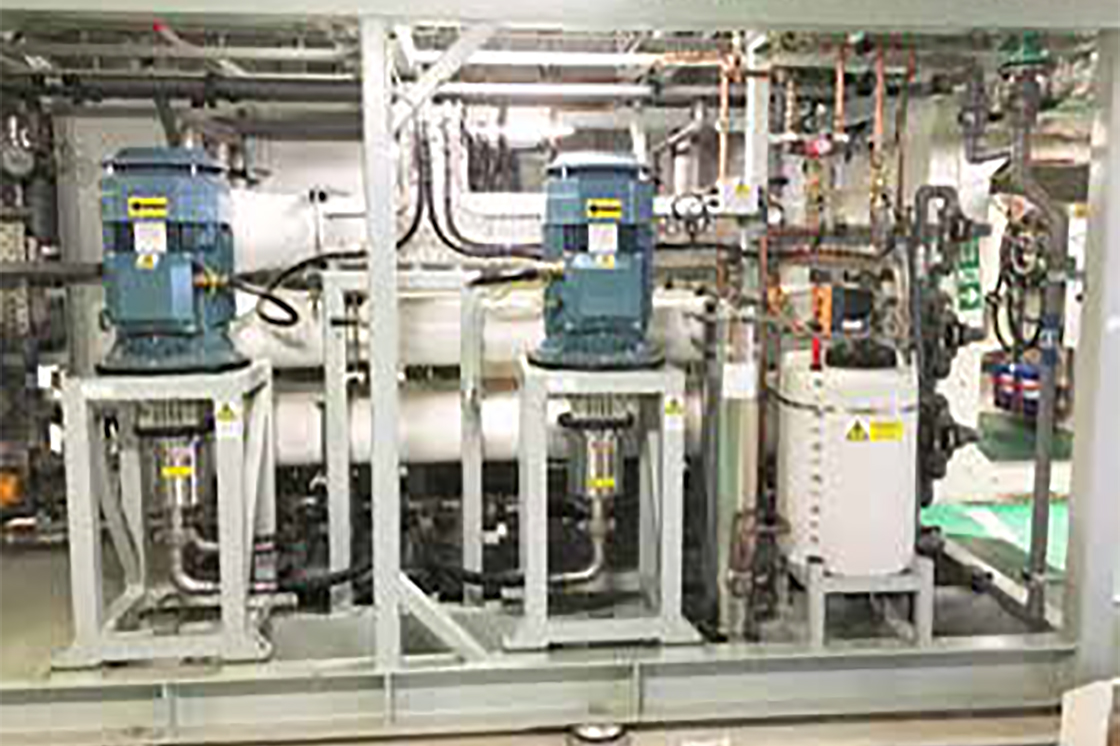 The solution: Danfoss APP technology for reliable low-maintenance performance – and minimal footprint
Salt Separation Services was an early adapter of Danfoss APP technology, and knows the advantages of axial piston pump technology better than most.
"As a company with deep roots in the marine and offshore segments, we took an early interest in the APP's very compact footprint. We trialled some of the very first APP pumps as far back as 2002," explains director Daniel Shackleton, "and we currently have APP pumps running in over one hundred RO plants for the Royal Navy alone. Their long service intervals, dependable reliability and overall cost competitiveness made them a natural for this new application. At the time of bidding, the APP 8.2 had the largest capacity in the Danfoss portfolio, so we designed each plant around two APP 8.2 pumps running in parallel."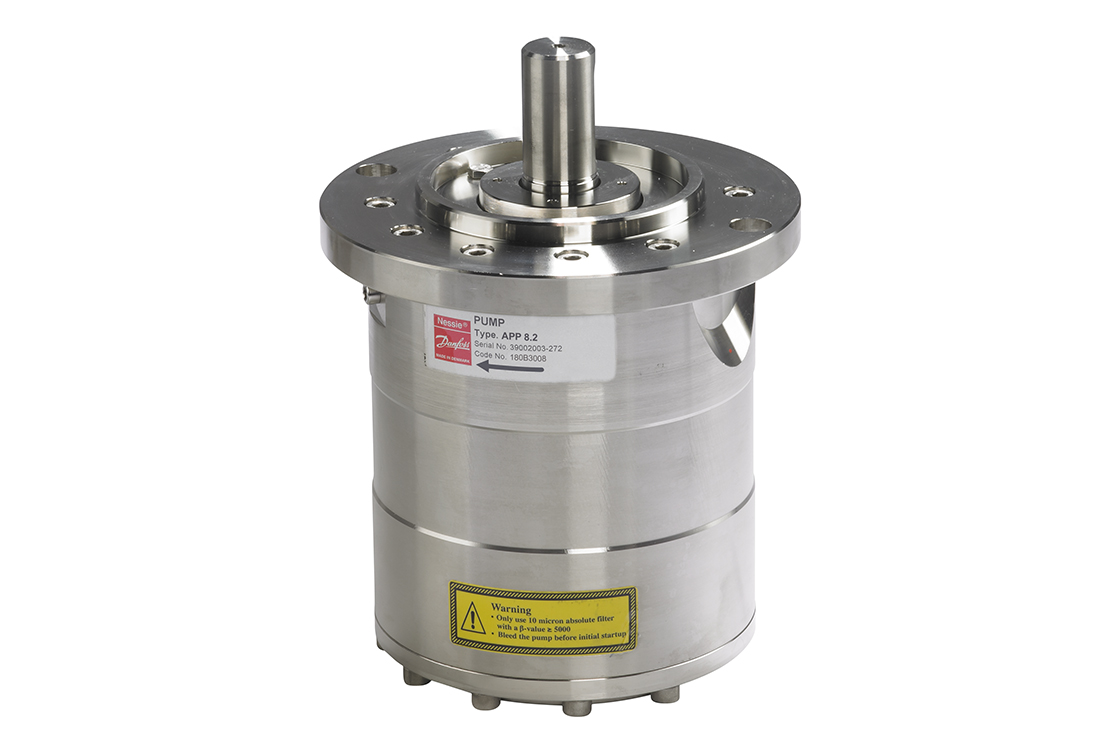 The results: Competitive capital costs meet low operating costs and unmatched reliability to win bid
Salt Separation Services won the project, and Shackleton is convinced that the APPs played a key role in evaluations.
"There's no getting around the fact that fewer moving parts equates to less maintenance, reduced manpower hours and fewer worries," he says. "The APP pumps require no belts, discharge pulsation dampeners or in-line suction dampeners.And, importantly, there is no lubrication to schedule or contaminate. There's just less upkeep involved."
With 8000-hour service intervals for the high-pressure pumps, automatic RO membrane flushing and advanced remote monitoring, just one marine engineer takes care of the water plant for up to 1600 shipmates.
"The flexibility APPs provide for marine applications is another advantage," adds Shackleton. "They're compact and can be installed either vertically or horizontally. And each pump weighs just half of a reciprocating pump of similar capacity, so they're far easier to work with and ship."
About Salt Separation Services
Salt Separation Services provides engineered water treatment solutions to a worldwide market. The company has designed, manufactured,installed and commissioned seawater reverse osmosis desalination plants for the royal navies of the United Kingdom, Australia and Malaysia, as well as many major cruise ship lines, and international customers in the offshore oil and gas industry.
Established in 1990, Salt Separation Services is a privately-owned company with BS EN ISO 9001:2008 quality assurance accreditation. From its very beginning, Salt Separation Services has gained a reputation for manufacturing high quality reliable equipment coupled with excellent spares and technical support. Salt Separation Services has more than ten engineers with offshore survival certification – enabling the company to provide offshore service and technical support at short notice.