Qingdao Sodash, a major producer of soda ash and other chemicals located on China's booming east coast, generates its own power in a steam-driven plant that requires plenty of fresh water. As municipal water prices in Qingdao are high, management of the growing company targeted lower water costs as a strategic priority.
Together with Veolia, a worldwide leader in water treatment, Qingdao Sodash formed a unique joint venture in 2009 to build, own and operate an SWRO plant to provide its power plant with enough fresh water to meet production plans for the coming years. Veolia chose 12 Danfoss axial piston pumps configured in two parallel trains to meet both criteria.
Deliver a reliable supply of fresh water at competitive prices – and a profitable joint venture
The objectives for the SWRO joint venture were refreshingly clear: the plant must be as reliable as it is profitable.
First, it must deliver near-constant uptime in order to ensure a dependable supply of fresh water to the electrical plant, so the factory that relies on it can run 24/7. No SWRO water for the electrical plant would result in either the shutdown of the plant
or the plant reverting to municipal water supplies that cost more than twice as much as the JV's.
Second, it must produce water at predictably lower prices than those available from the municipality so the JV can make a profit. With municipal power in Qingdao costing up to RMB 0.8/kWh, anything less than optimal efficiency would be a burden on operating costs and quickly erode the JV's profit margin.
A dual-train SWRO plant built around Danfoss axial piston pumps
Since high-pressure pumps account for 50-60% of an SWRO plant's energy consumption, efficient pumps are key to the JV's profitability. So axial piston pumps, which operate at 90% efficiency rates, have a significantly lower total cost of ownership over the life of the plant than centrifugal pumps, which operate at just 69-76% efficiency.
To ensure both predictably low operating costs and the highest possible uptime, Veolia thus opted for a dual-train SWRO plant built around 12 Danfoss APP pumps running in parallel. The system is designed to produce a total of 5,800 m3 (1.5 MG) per day, with a recovery rate of 45% and pressure at 53 bar.
Major energy savings and still running strong after 30,000 hours
The plant's 12 Danfoss APP 24 pumps require 23% less electricity to run than fewer centrifugal pumps with a similar output would. This efficiency saves the JV 603,000 kWh – or approximately USD 74,000 at local energy prices – year in, year out. 
 Danfoss APP 24 pumps used in the SWRO plant 
In addition to efficiency, two trains of six pumps running in parallel enable another of the plant's key features: the redundancy it needs to deliver very high uptime. Even if one or more pumps in either train might be down or need maintenance, the system continues operation so a constant supply of fresh water is available for power production. In fact, since the Qingdao Sodash/Veolia plant came on line in 2009, each of its two trains has run for more than 30,000 hours with minimal maintenance.
Operating manager for the JV, S.B. Liu, is happy that pump reliability and efficiency are two things that he does not need to worry about.
"During four years of operation," he explains, "only one of the 12 pumps has needed any service at all. While the dependability of Danfoss pumps minimizes the need for dundancy, it does not completely remove it. We are firm believers in multiple-train SWRO plants for dependable uptime. The energy efficiency and reliability of Danfoss axial piston pumps are an important part of our joint venture's success."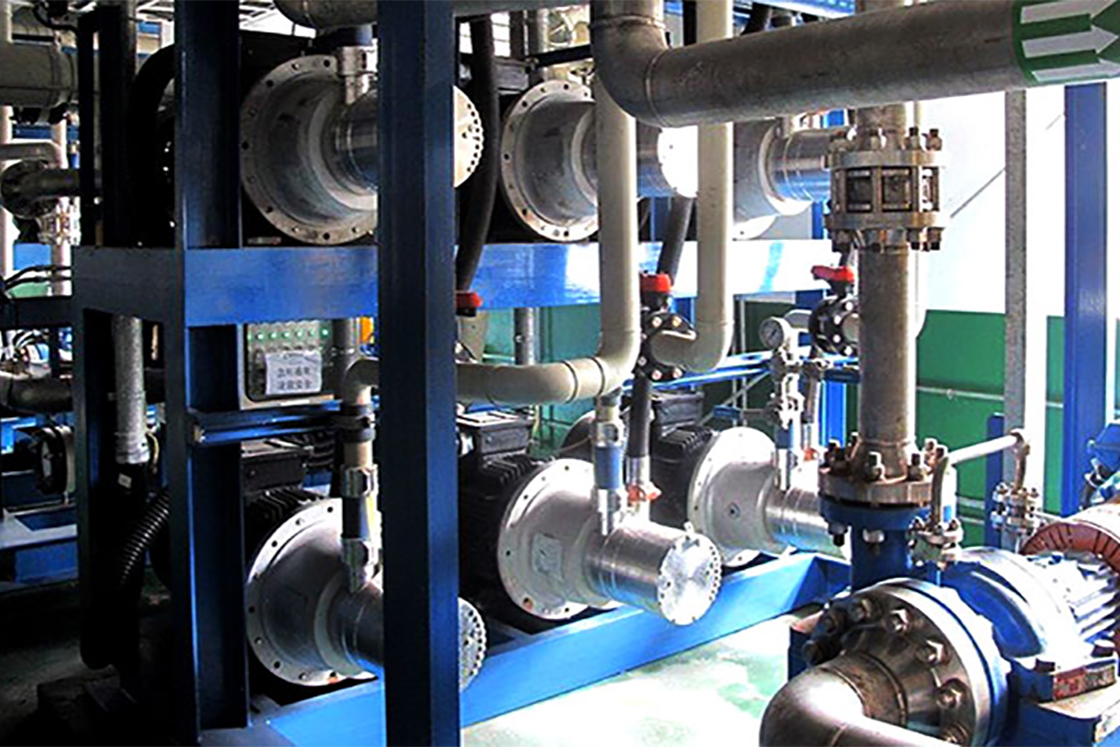 About Qingdao Soda Ash Industrial Co., Ltd. and Veolia Water Technologies
Qingdao Soda Ash Industrial Co., Ltd. is a large scale comprehensive chemical enterprise. It is integrated with science, industry and trade and is one of the hi-tech enterprises in Qingdao, Shandong province, P.R.China.
Veolia Water Technologies has multi-local presence. They provides the complete range of services required to design, build, operate, maintain, upgrade and manage water and wastewater treatment facilities and systems.