Danfoss Rotary valves are used in heating systems that include:
Boiler applications
Solar applications
Heat pump applications
Mixing and diverting applications
Priority control applications
Rotary valves are designed for regulation of flow and temperature in heating system that can accept a certain leakage and where a defined control characteristic is not required.
Danfoss has designed the unique position indicator for easier installation and simple commissioning. The valve position indicators are designed to be viewed from the top or from the side, with or without the actuator mounted. This saves time during installation and commissioning.
Due to the new advanced valve design, Danfoss rotary valves have the lowest leakage in their class. For zero leakage and premium controllability, Danfoss recommends iMCV™ – the new generation of intelligent motorized control valves. iMCV™ includes an anti-oscillation function, tool-free installation, one actuator for DN 15 to 80 and bubble-tight design (no leakage).
Features and benefits
Lowest leakage in class, unique adjustable position indication for faster commissioning and easy installation
AMB actuators are faster, maintenance-free and flexible: the best quality actuators on the market.
100% bullet-proof commissioning with visible valve position indicator
Heat Selector
Danfoss Heat Selector is the best-in-class online selection tool that optimizes planning process for heating application experts.
District heating application guide
We share experience, application expertise and make recommendations on optimum performing DH applications and key applied control components
Application guide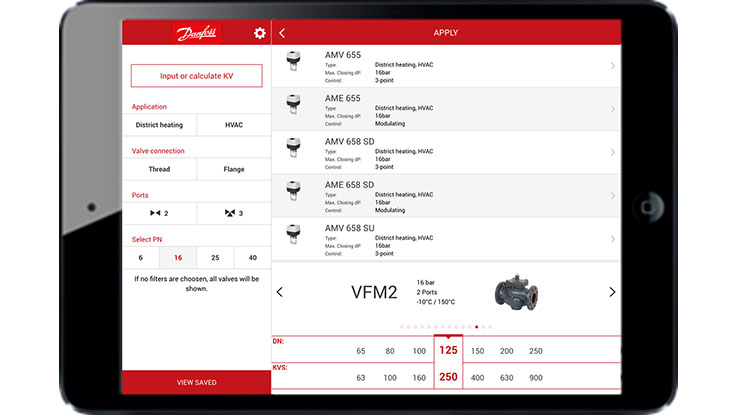 Valve ruler app
The new Valve Ruler App from Danfoss, available for smart phone or tablet, allows you to select and connect valve types and actuators for the application at hand. You can input or calculate KV by entering the required flow and inlet/outlet pressure. You can also select application type, and specify valve connection, ports and PN for the application.