Danfoss AMZ 112/113 actuators provide a user-friendly, reliable, easy to install and commission product, which fit to every application and increases its flexibility. It offers flexibility and functions that match customer needs, enables trouble-free (single handed) installation and commissioning - without high-level (external) skills/expertise.
Danfoss AMZ 112/113 actuators allow you to avoid problems and reduce the time for product selection, installation, and commissioning without compromising reliability (metal gears in actuator) and performance. They provide additional functionality for diagnostics and utilization of the application for the best performance possible.
AMZ is designed to be used in HVAC or CH applications to shut-off zones without leakage or to switch/divert flow from one consumer/source to another in so called priority control systems. They are typically found in HVAC applications (fan coils, AHU) and in central heating, e.g. in boiler, solar, heat pump, hybrid, priority control and domestic hot water preparation applications, but DH could also be applicable in DHW preparation on the primary side.
AMZ is designed to be easy to use and commission, without compromising reliability or performance.
 AMZ should be used in:
HVAC zone shut-off systems – fan coils, AHU,
Domestic and commercial central heating applications,
Domestic hot water applications,
Solar energy plants,
Priority control of hot water supply and heating (diverting function),
Priority control of boiler and solid fuel installations (diverting function).
Features and benefits
Save time with easy and trouble-free commissioning and installation
Top-quality, reliable and robust product results in longer lifetime and decreased service costs
Flexible concept reduces your time for selection
Heat Selector
Danfoss Heat Selector is the best-in-class online selection tool that optimizes planning process for heating application experts.
District heating application guide
We share experience, application expertise and make recommendations on optimum performing DH applications and key applied control components
Application guide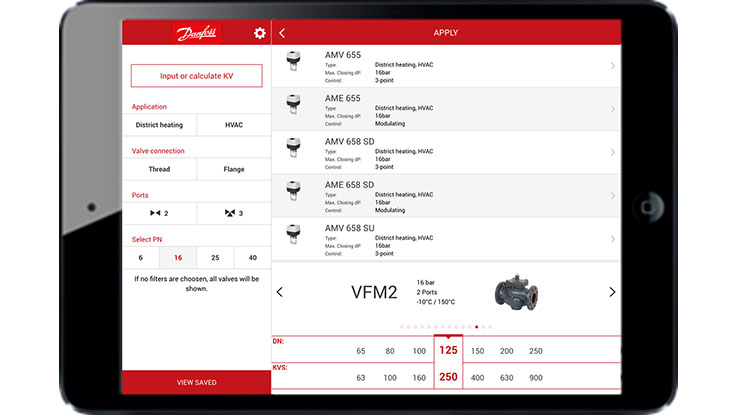 Valve ruler app
The new Valve Ruler App from Danfoss, available for smart phone or tablet, allows you to select and connect valve types and actuators for the application at hand. You can input or calculate KV by entering the required flow and inlet/outlet pressure. You can also select application type, and specify valve connection, ports and PN for the application.