Control transmission to improve performance
In the transmission system temperature control of the oil is vital to maximize efficiency and prevent down time. MBT 3270 temperature sensor controls the temperature to avoid damages to the transmission.
Pressure control in transmission systems improves performance, MBS 1250 pressure transmitter ensures clutch engagement and that the line pressure is controlled to balance the torque in the transmission and avoid power loss. Exact pressure and temperature control ensures maximum performance and reduces down-time.
CVT - Continuously Variable Transmission, is an automatic transmission commonly used in agricultural applications. APS - Automatic Power Shift, is typically used in construction and material handling applications.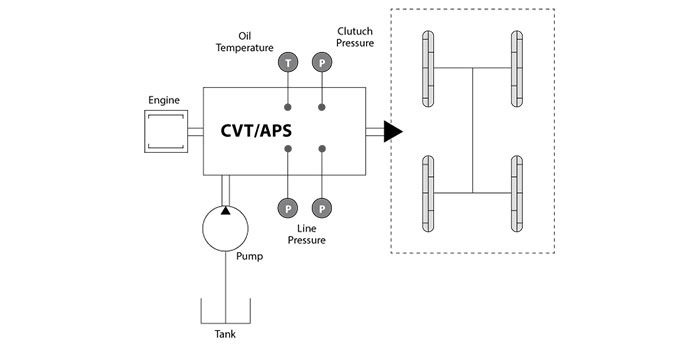 CVT/APS transmission temperature
Benefits by using Danfoss temperature sensors
Fast reaction time to temperature changes
Wetted parts stainless steel or Brass suitable for most media
Wide temperature range
Good vibration and shock stability
Wide range of electrical and process connections and insertion length
Common temperature sensitive elements, Pt 100, Pt 1000, NTC and PTC
Can also be used in high pressure hydraulic and transmission systems
Typical Specifications
Temperature range -50 – 150 °C
Sensing element NTC, PTC or Pt 100
Reaction time in water 6 sec.
CVT/APS transmission pressure
Benefits by using Danfoss pressure transmitters
High burst and over pressure capabilities due to fully welded design
Resistant towards cavitation and liquid hammering
Good vibration and shock stability
Excellent EMC immunity
Zero drift due to excellent long term stability
Wide range of electrical and pressure connections
Wetted parts made of stainless steel
Typical specifications
Clutch:
Pressure range: 0 – 40 bar
Temperature range: -40 – 125 °C
Accuracy: 0.5% FS
Response time typically < 1 mS
Overpressure: 3 x FS
Burst pressure: 10 – 20 x FS
Line pressure:
Pressure range: 0 – 400 bar
Temperature range: -40 – 125 °C
Accuracy: 0.5% FS
Response time typically < 1 mS
Overpressure: 3 x FSBurst pressure: 10 – 20 x FS