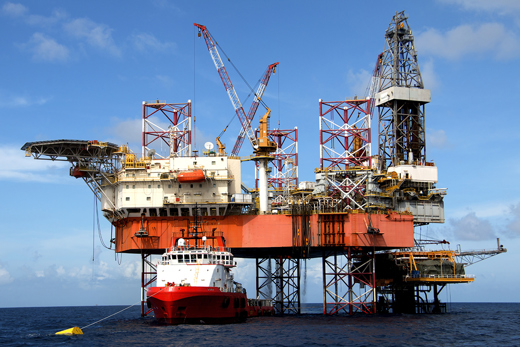 Optimize reliability and precision at high torque
Since well conditions change over time, it's optimal for productivity to adapt pumping capacity to meet changing needs. Using AC drives, alternatively known as variable speed drives (VSDs), you no longer need to resize pumps to meet varying downhole conditions. Applying pump control using VSDs also enables you to reduce operating costs, enhance efficiency, improve reliability and extend equipment life. Their extreme reliability, low maintenance requirements and ability for remote control makes them highly suited for offshore locations.
Clean power is also vital for integrity of operations. Low-voltage and medium-voltage AC drives from Danfoss offer unique capabilities for smooth uninterrupted power conversion. These LVDs and MVDs provide integrated harmonic mitigation capability and VACON® DCGuard® technology to ensure world-class equipment protection for robust integrity of operations.
Enhancing top drive performance
AC drives enhance accuracy and performance when applying high torque to the drill string to facilitate the borehole drilling process. Today this task is normally performed by a top drive. Due to the requirement of precise control at high torque, the top drive is one of the most demanding offshore applications, with one or two drive-controlled motors in parallel on the same shaft. In the past, a rotary table was more common, however drives control improves performance for either method. The drive does this by ensuring highly accurate torque and speed control.
Drawworks control
As the primary hoisting machinery on a drilling rig, the main function of the drawworks is to hoist and lower the block, top drive or drill string. Since precise control at high speed is essential for effective operation of the drawworks, this is another of the most highly demanding applications offshore. With 2-4 motors operating in parallel on the same shaft, applying drive control enables load sharing across the motors, as well as enabling exact control of line tension and hoisting or lowering speed. As well as controlling torque and speed very closely, drives from Danfoss also provide robust gear and brake protection via the mechanical brake.
Mudpump protection
AC drives protect and extend the life of the mudpump piston pump, as well as optimizing energy efficiency. Two motors in parallel circulate the drilling fluid under high pressure (up to 7500psi) down the drill string and back up to the rig. When these motors are regulated by AC drives, the mudpump performance is enhanced at the same time as reducing operating costs and energy consumption.
One of the ways the drives achieve performance enhancement is by ensuring optimal load sharing between several motors driving the same pump.
Robust pipe handling
When moving the drill pipe from storage to the drill floor, use AC drive control to optimize reliability and accurate performance of the pipe handling machines.    
Jack-up rig reliability
With several motors running on parallel on the same shaft to move the legs down to the seafloor and lift the complete rig out of the water, jacking is one of the most critical offshore applications, and requires full reliability in all weather conditions and in high seas. By applying drives to control the operation of these motors you achieve optimal stability - and therefore safety.
Danfoss Drives' solutions for offshore industry have the highest number of marine class type approvals from nine authorities: DNV-GL, ABS, Bureau Veritas, Korean Register, CCS, RINA, Lloyds Register, RMRS, and Class NK. We also offer drives with the SIRA EX certification required for top drive and drawworks.
This gives you the best possible choice when selecting drives for your offshore drilling applications.