Whether your building requires heating or cooling, heat exchangers are instrumental in creating a comfortable indoor climate. Their purpose is to distribute thermal energy throughout the building, as well as provide domestic hot water on demand.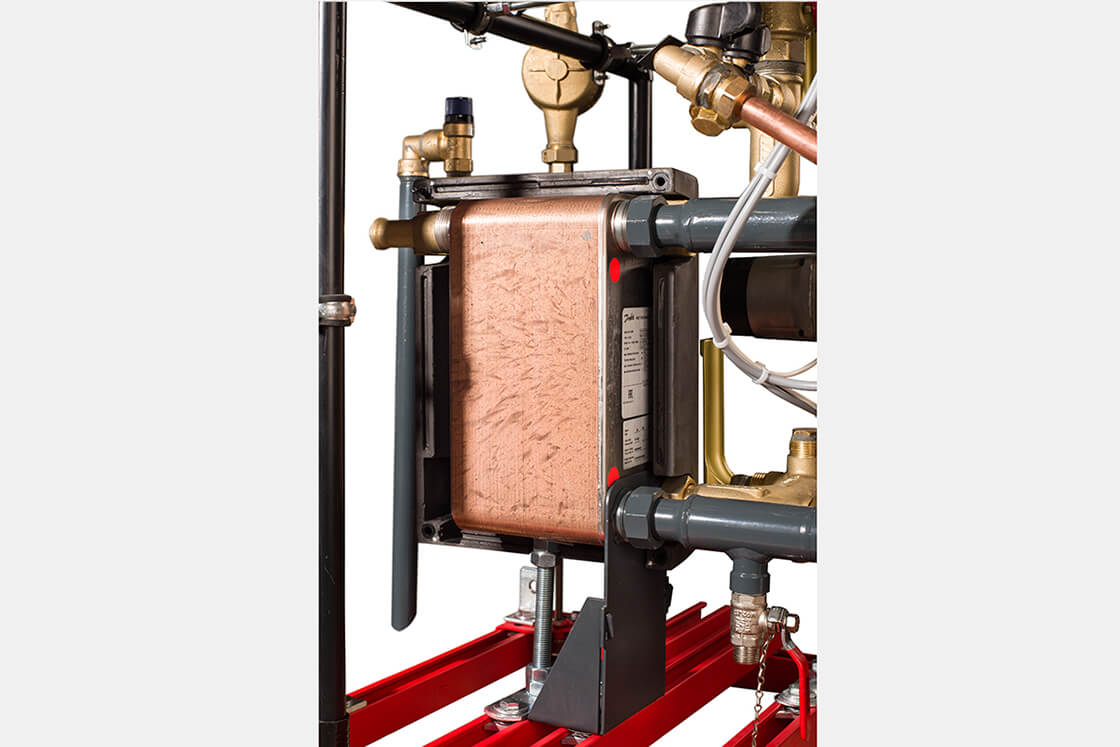 Heat exchanger as an integral part of a substation
An integral part of a substation, large to medium-sized Danfoss plate heat exchangers receive energy from the source and distribute it throughout the system, whether it be an entire residential area, individual houses, multi-family buildings, or commercial buildings. Due to the efficiency of our plates, very little energy is lost by the time it reaches its destination.
Substations with heat exchangers acting as pressure breakers are needed in HVAC systems for high-rise buildings, both residential and commercial. Using high-efficiency heat exchangers designed to handle high pressure levels and achieve very close temperature approaches can reduce the circulation flow and ensure an even temperature distribution which ultimately reduces the number of heavy-duty substations needed in a building. The excess space can instead be put to better use.
Heat transfer in residential buildings
In residential buildings, medium to small-sized Danfoss plate heat exchangers introduce external energy to the internal system of a house. Commonly part of a unit, our heat exchangers ensure an even distribution of thermal energy throughout the entire house, providing the desired indoor temperature as well as domestic hot water. The efficiency of our heat exchangers lets them operate with very close temperature approaches, making them very cost effective. Furthermore, our heat exchangers eliminate the need for buffer tanks in the domestic hot water production, removing the risk of the Legionella bacteria and making for a much more hygienic system.
How we can help you
Heat exchanger solutions that perfectly match your requirements
No need for larger pipes in the piping system, due to the reduced flow
No need to upgrade to better pumps
Less electrical energy consumption
Greater return of investment
Legionella-free domestic hot water system
Choosing the right heat transfer solution may lower the construction costs and running costs of your building, while upgrading an existing installation may lower the energy consumption of your building. Flexibility is key, as each building offers different challenges. The heat exchangers must accommodate the space, weight, and thermal requirements of the individual project which is covered by Danfoss' extensive product portfolio.