Connected systems are all about constantly providing an up-to-date status of technical building data. This data can then be used for analyses and possible improvements of the system to provide higher comfort or run more efficiently. As these connected systems can be accessed via the Internet, they also offer significant time and budget savings.
Danfoss offers a variety of connected systems and is focused on supporting the digital transition in buildings. We are constantly engineering additional systems and improving our existing systems.
Currently we offer connected systems in these areas: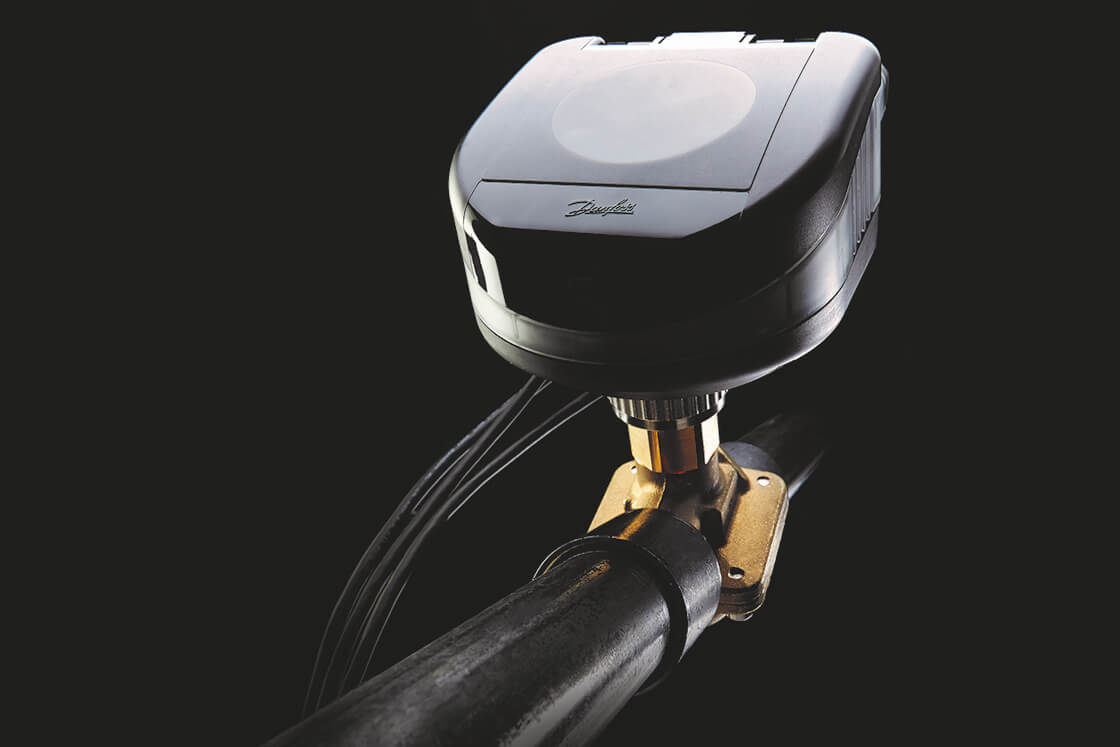 Digital actuators for PIBCV
The innovative actuator NovoCon® is specially designed for the integration of HVAC hydronic balancing and control with BACnet or Modbus operating Building Management Systems (BMS). It can replace BMS components and via the daisy-chain bus communication provides the BMS with up-to-date system data. Once external data access to the BMS is established, it allows remote commissioning of the system.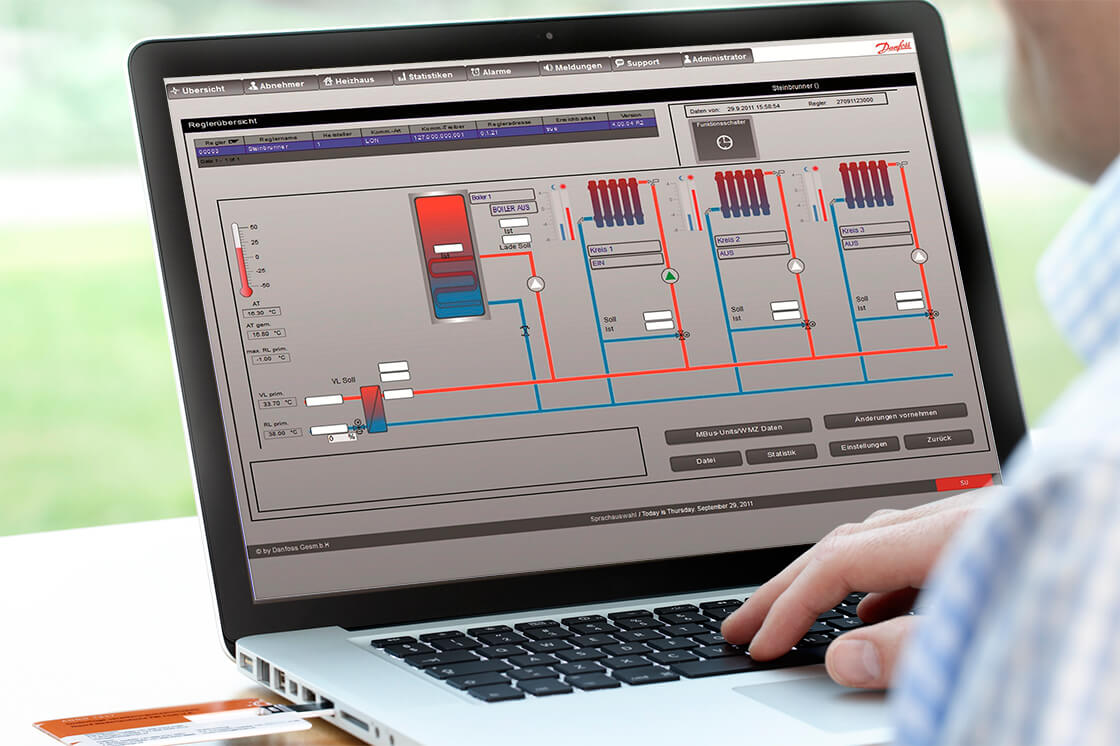 SCADA for Electronic controllers
The electronic controllers ECL 310 and Apex 20 can be remotely controlled by three different SCADA systems:
- Danfoss Energy Control System (DECS), a web-based solution for heating systems. It can be installed locally and will automatically configure its user interface and functionality to support the application in the controller
- OPC server, is compliant with most SCADA clients and allows quick connection and configuration of the ECL controller as a device in the system. It supports Modbus communication protocols as well as special read/write algorithms to increase the throughput to and from the controller.
- ECL Tool, a web-based software for service personnel to streamline system service and commissioning. It is connected to one or more ECL 310 controllers and allows remote monitoring and control from a PC or smartphone app.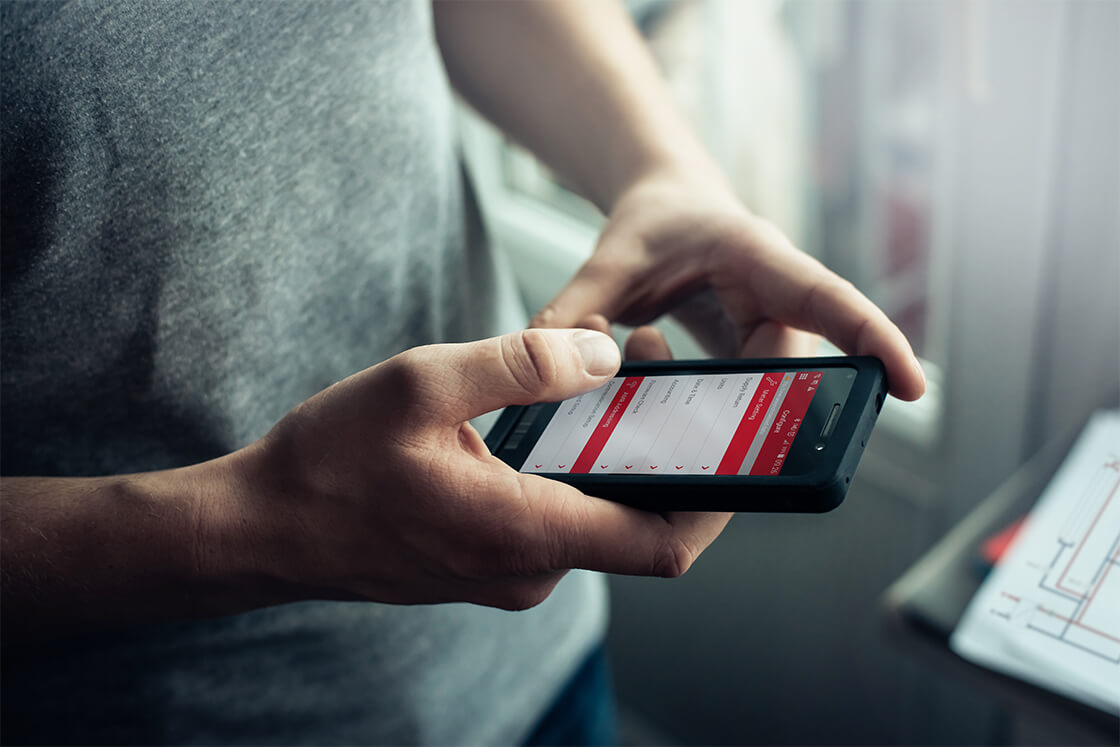 Automatic energy meter reading
The energy consumption data collected by our wide range of Sono® ultrasonic energy meters for heating and cooling can be collected, analyzed and visualized by our Automatic Meter Reading (AMR) solution. Some of these meters can be configurated via the SonoApp™. The SonoCollect™ data collector with wired or wireless M-Bus interface, can store data from up to 500 individual meters. If one or more collectors are connected to the Cloud-based SonoEnergy™ Software as a Service (SaaS) platform, the data can be accessed remotely. The consumption data can be analyzed and ordered for further processes in other systems, e.g. billing solutions, energy advising solutions, optimization of grid, SCADA, BMS, etc.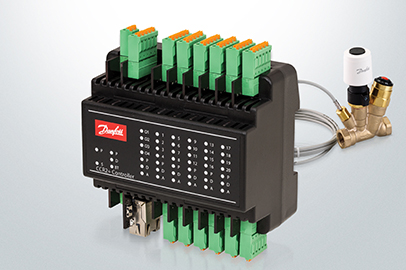 Automated legionella control
MTCV thermal balancing valves equipped with the optional electronic disinfection module and TWA thermal actuators provide the basis for a fully automated Domestic Hot Water system. The system can be controlled by using the CCR2+ electronic controller. This controller can be remotely accessed via WiFi on mobile devices or be integrated in Building Management Systems (BMS). It results in a fully automated system for temperature monitoring and logging, disinfection sequences, alarms and more.
How we can help you
Increased system data insight
Remote access and control
Increase energy efficiency
Contribution to smart building concepts

Rethinking efficiency in buildings with Danfoss solutions
There are technologies available proven to make our buildings and the systems within them more efficient. By optimizing the technical buildings systems - which control the heating, cooling and ventilation systems within our buildings, we can achieve 30% average energy savings.
NovoCon® S Digital Actuator

With NovoCon® S Danfoss revolutionizes the way hydronic balancing and HVAC control work together. The first of its kind digital HVAC actuators are directly connected with a Building Management System (BMS). This enables System Integrators to design state-of-art, Internet of Things (IoT) solutions.

AB-QM

AB-QM Pressure Independent Balancing and Control Valves (PIBCV) provide both a control functionality and dynamic balancing solution for HVAC heating and cooling systems. PIBCV are designed for various types of terminal units and provide high indoor comfort and energy efficiency in public and commercial buildings.
Coming soon...
Coming soon...