Danfoss has confirmed a series of innovations in chiller technology that will help OEMs and contractors respond to growing challenges around energy efficiency, low-GWP refrigerants, and rising system costs.
Around the world, several key milestones are looming in refrigerant legislation and energy efficiency standards, leaving engineers racing to meet new technical requirements. Meanwhile, rising applied, operating and maintenance costs are an issue in a growing number of contractor-client relationships.
Danfoss has responded by sharing information on new and emerging chiller technologies which the company believes will help OEMs to reduce system design time, and deliver comfort in commercial buildings without undue price pressure.
Easing the transition to lower-GWP refrigerants
Not content with the market's widest range of compressors, heat exchangers, valves, sensors and line components qualified for lower-GWP refrigerants, Danfoss is continuing to develop new, drop-in components to make transition as easy as possible. Currently, R1234ze, R513A, R32 and R452B are at the top of the agenda, and the company has pledged to support further low-GWP alternatives as they emerge in future.
New advances in oil-free chiller technology
HVAC professionals now have more opportunity than ever to take advantage of the benefits of an oil-free approach: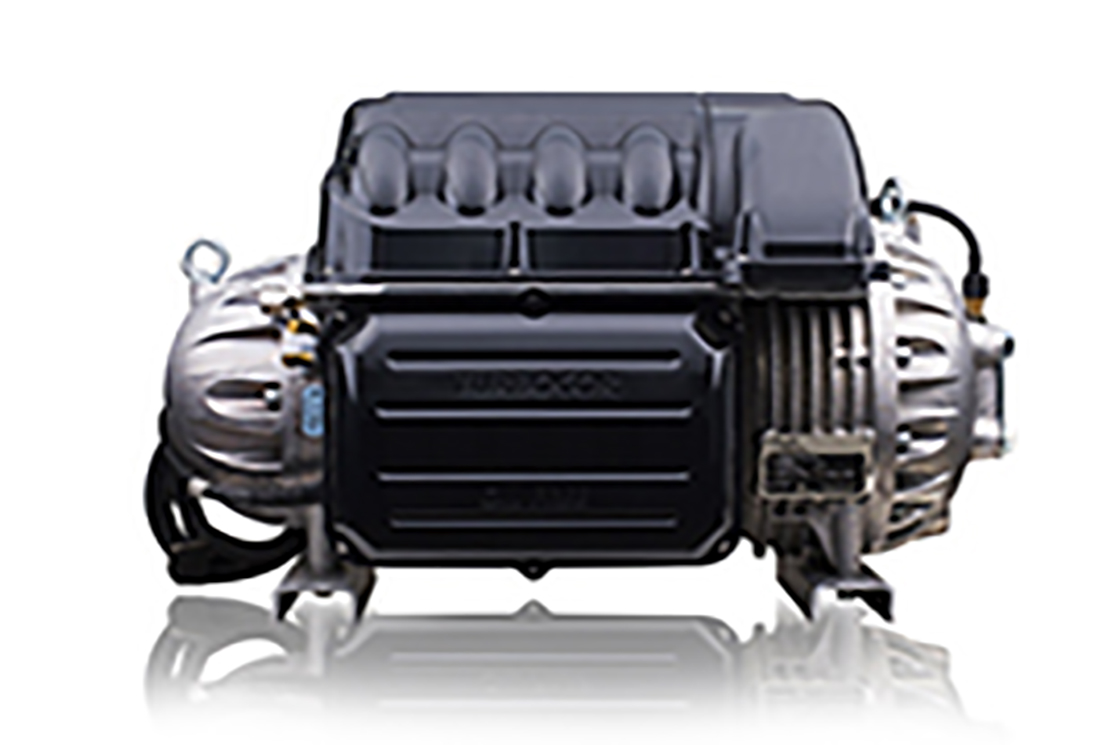 Danfoss Turbocor® TTH/TGH high-lift compressors
Danfoss Turbocor® TTH/TGH high-lift compressors are the latest compressors to use the award-winning, variable speed, magnetic bearing technology. From early 2019, the new Danfoss Turbocor® TTH/TGH high-lift compressors will offer outstanding full- and part-load efficiency, low vibration and sound, a small footprint, and reduced maintenance. Their high-lift capability is suitable for high-lift applications like air-cooled chillers, heat pump and heat recovery.
Meanwhile, the existing Danfoss Turbocor® TT/TG Series compressors are now available for R-513A, a low-GWP, non-flammable (A1) alternative refrigerant to R-134a. As a result, chiller manufacturers will have another option to meet future HFC regulations in low-lift, oil-free applications.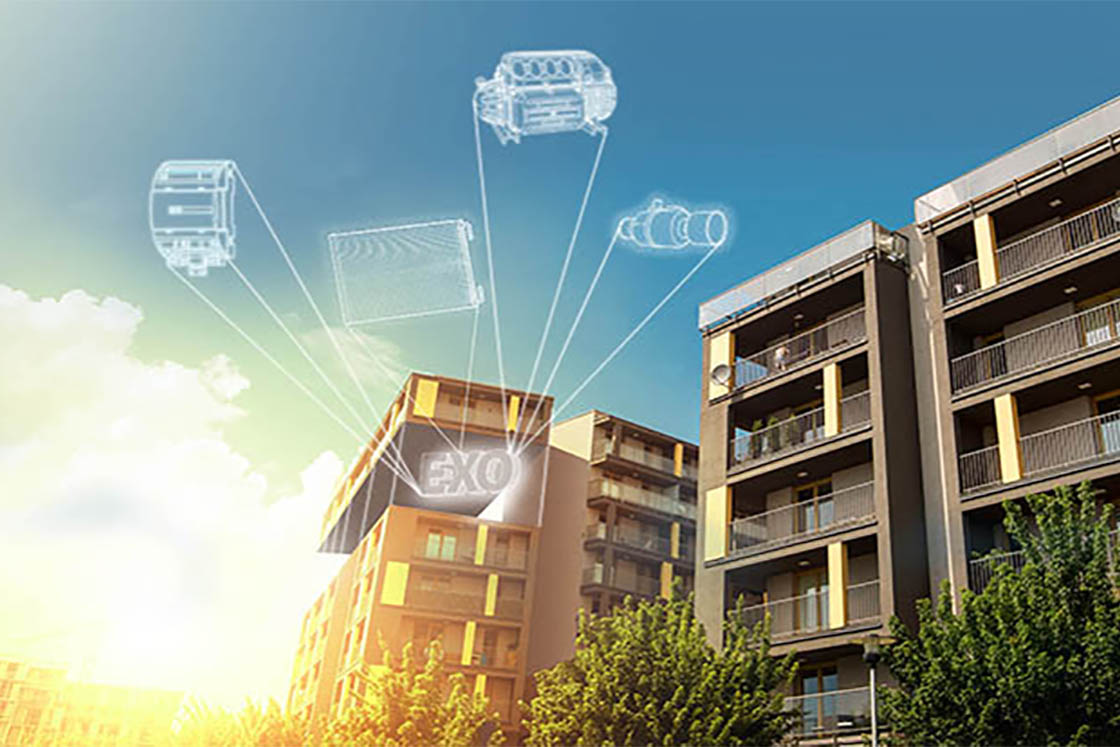 Danfoss has developed the Danfoss EXO: first ever oil-free program
Danfoss has developed the Danfoss EXO: first ever oil-free program. This new program offers a wide range of key components designed to further enhance the reliability and efficiency of the next generation of oil-free chillers. In addition to the pioneering Danfoss Turbocor® TT, TG, TTH, or VTT compressors, the portfolio includes:
ETS C electric expansion valves series;
EKE superheat controllers;
AKS 32 pressure sensors;
MPHE and MCHE micro plate and microchannel heat exchangers; and
MCX system controllers;
It also features system protectors, such as DCL/DCR filter driers, CHV check valves, GBC ball valves, and ICM controller displays.
More about the oil-free program
New, high-efficiency scroll compressors give OEMs immediate gains
Two innovations in scroll compressor technology have been proven to deliver significant efficiency gains – while also accelerating development time for OEMs.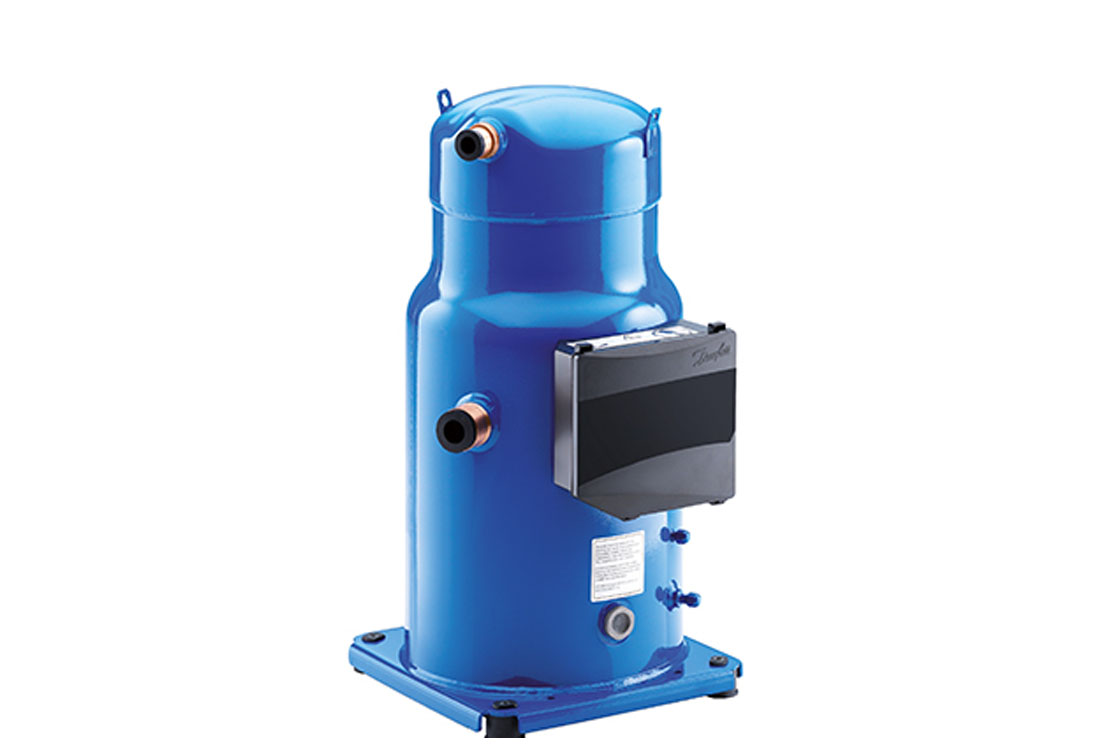 New Danfoss Scrolls with IDVs
New Danfoss Scrolls with IDVs will be added to the range by early 2019, for air-cooled and water-cooled chillers up to 150 TR per circuit in manifold configuration, where traditional designs would otherwise require quadros or more than two circuits. IDV technology has already demonstrated system-wide energy efficiency gains, especially at part-load, and is becoming increasingly popular in the new generation of efficient and cost-effective chillers. The new compressors' compact dimensions fit standard chiller footprints, giving an immediate efficiency boost with minimal redesign. Their wide operating map will expand further when DSH qualification is announced for R542B and R32 in the coming years.
Two new Danfoss VZH Inverter Scrolls (8 TR and 10 TR) will be introduced by mid-2018, giving higher efficiency and stepless modulation in chillers, rooftops units, and close controls. They will be available as a prequalified compressor and drive package, accelerating OEM time to market, while IDV technology and permanent magnet motors help to provide best-in-class energy efficiency. The new additions further extend the inverter scroll range from 4 to 26 TR, and up to 52 TR in tandem, meaning Danfoss is uniquely positioned to support equipment manufacturers' efforts to achieve energy efficiency and precision cooling throughout their range.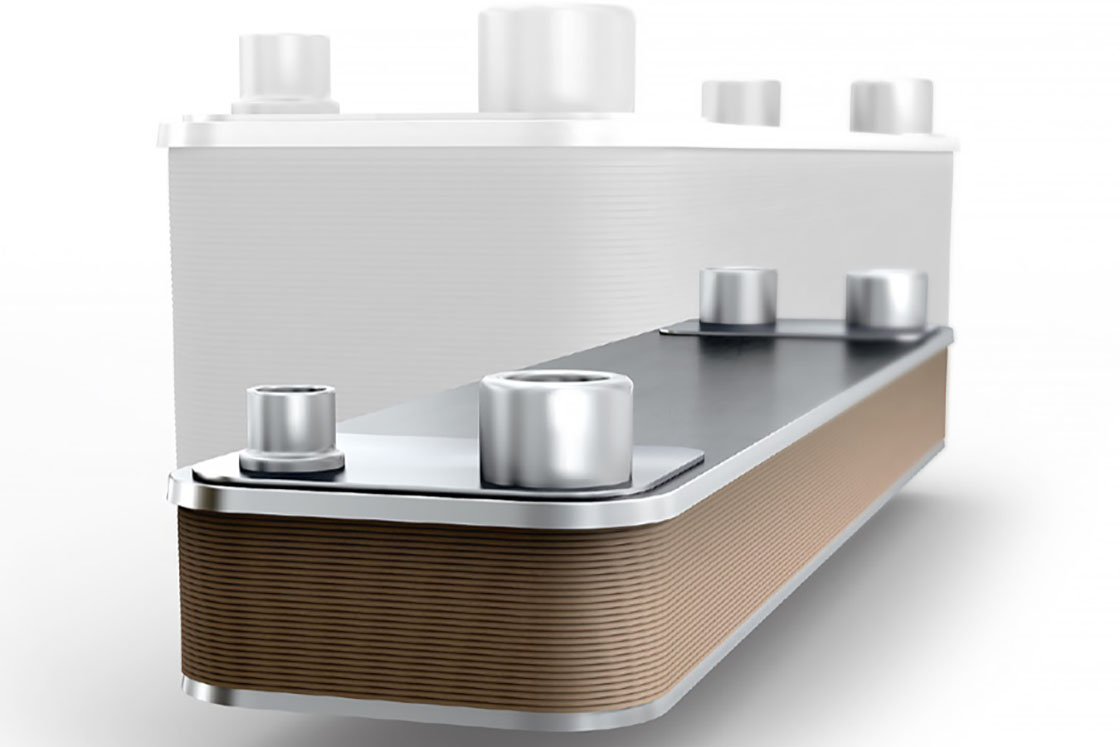 High-efficiency heat exchange and superheat control:
For those seeking still more energy efficiency, two further technologies offer significant appeal.
New Danfoss MPHE micro plate heat exchangers with Z-design evaporators have been released, increasing capacity and efficiency in chillers from 10 to 115 TR (using R-410A) in both single and dual circuit systems. The innovative Z-pattern channel plate design enhances performance of the heat exchanger by fully mixing liquid and gas refrigeration. The technology gives both water chiller and heat pump manufacturers the opportunity to improve the economic and environmental efficiency of their machines, and is compatible with a wide range of low-GWP refrigerants.
New Danfoss EKE superheat controllers offer a fast way for OEMs develop more efficient chillers, cutting development and operating costs by up to 20 percent. The adaptive superheat algorithms give reduced energy consumption and higher system reliability, while installation is very straightforward. A fast start-up feature ensures optimal superheat in the shortest amount of time and avoids low-pressure cut-out. Meanwhile, the EKE controllers' advanced software delivers efficiency, ease of use, and enhanced protection for the HVACR system. It can also be combined with Danfoss' pioneering ETS Colibri® expansion device, to further reduce a chiller's running costs.
More about Superheat controllers
Ricardo Schneider, President at Danfoss Turbocor, said: "This is a time of unprecedented challenges for chiller developers and contractors alike. As a leader in the industry, we're determined to do what we can to help – and these new technologies give HVACR professionals more options than ever to embrace a high-efficiency, low-GWP future."
The new solutions come with a set of tools for product selection such as Coolselector® and hexact selection softwares and some e-learning on system types, components and oil-free systems available for free at learning.danfoss.com.