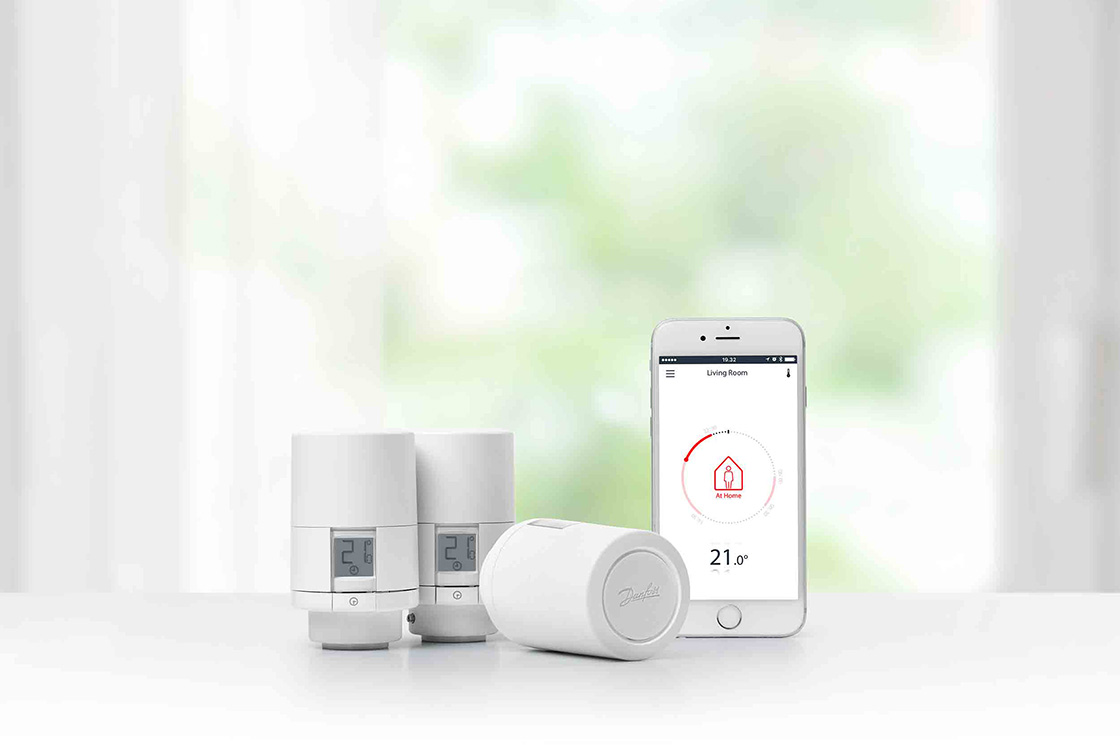 Danfoss Eco™ - išmanus radiatorių termostatas su Bluetooth
Danfoss Eco™ idealiai tinka mažesniems namams ar keičiant atskirus radiatorių termostatus.
Danfoss Eco™ yra prijungtas prie "Bluetooth" ir per programėlę galite valdyti savo termostatą iš 10 metrų atstumo.
Jei jūsų radiatoriuose yra įleidimo vožtuvai, akivaizdus pasirinkimas yra pakeisti juos Danfoss Eco™.
Danfoss Eco buvo pristatytas 2011 m. ir pavadintas "living eco". Nuo 2017 m. elektroninis termostatas buvo pavadintas Danfoss Eco™.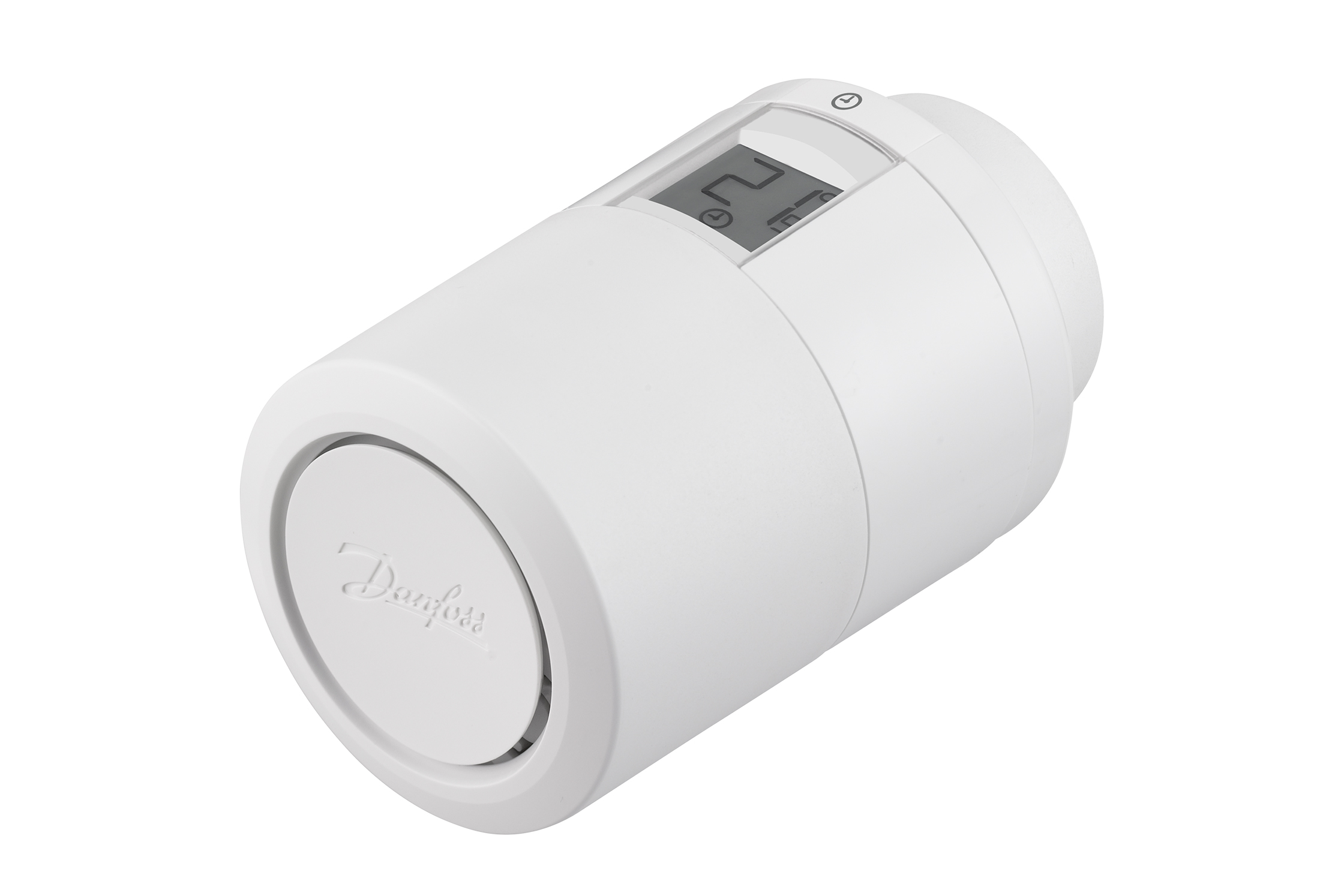 Danfoss Eco™ su Bluetooth
Ši versija yra rinkoje nuo 08.2017 -
Valdymas per Danfoss Eco™ programėlę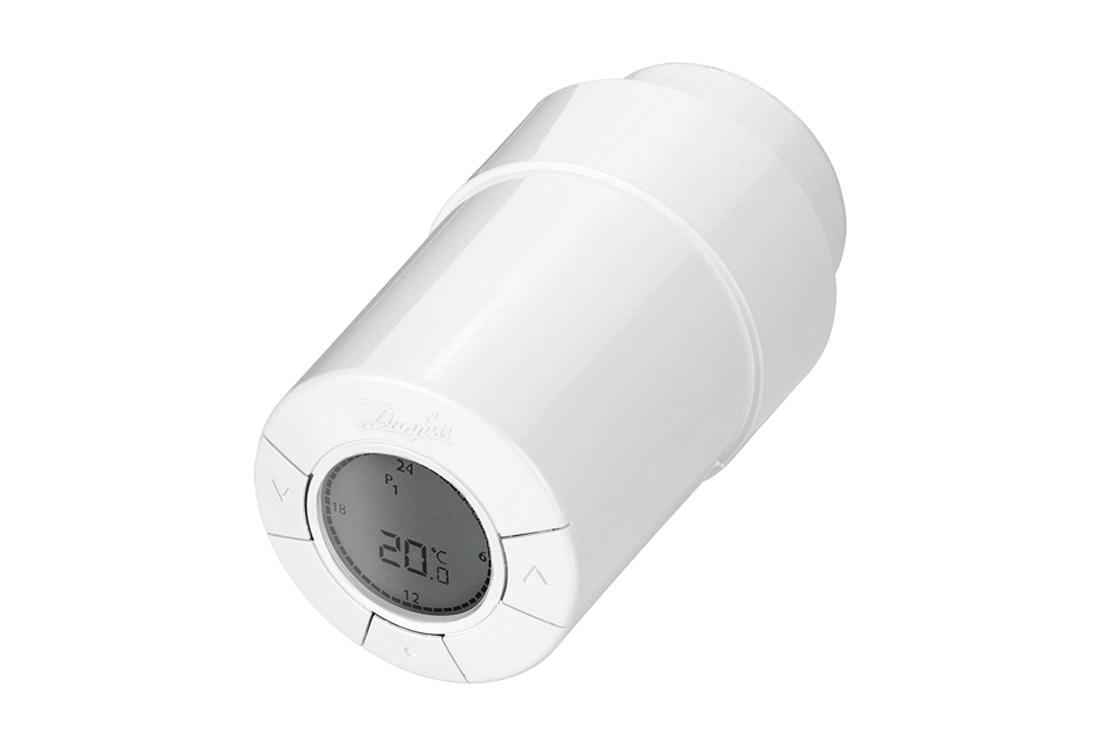 Danfoss Eco™ versija >1.63
Ši versija buvo rinkoje šiuo laikotarpiu: 08.2015 - 08.2017
Nutraukta gamyba
Žr. versijos numerį po baterijos dangteliu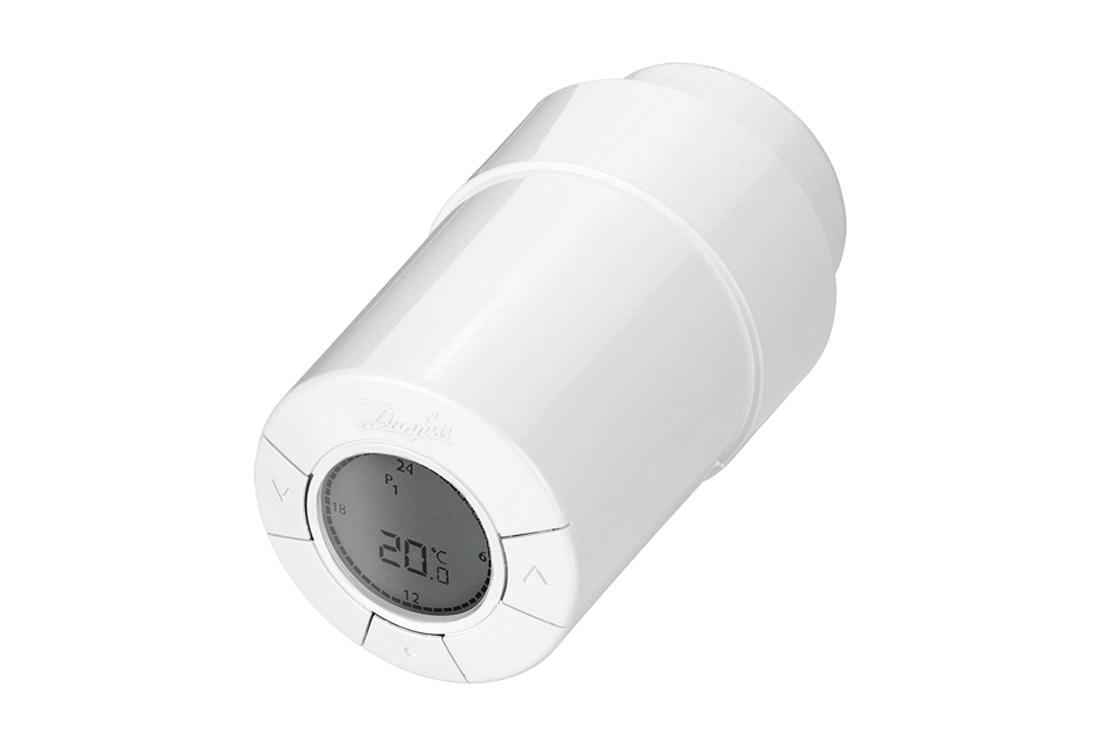 Danfoss Eco™ versija <1.27
Ši versija buvo rinkoje šiuo laikotarpiu: 07.2010 - 08.2015
Nutraukta gamyba
Žr. versijos numerį po baterijos dangteliu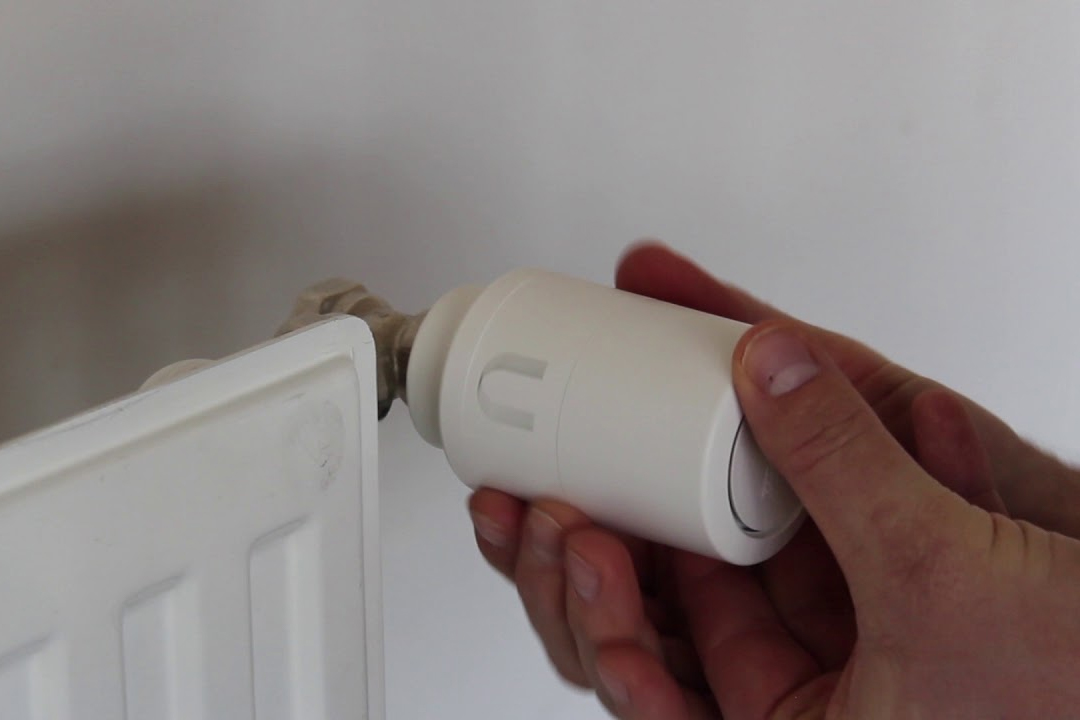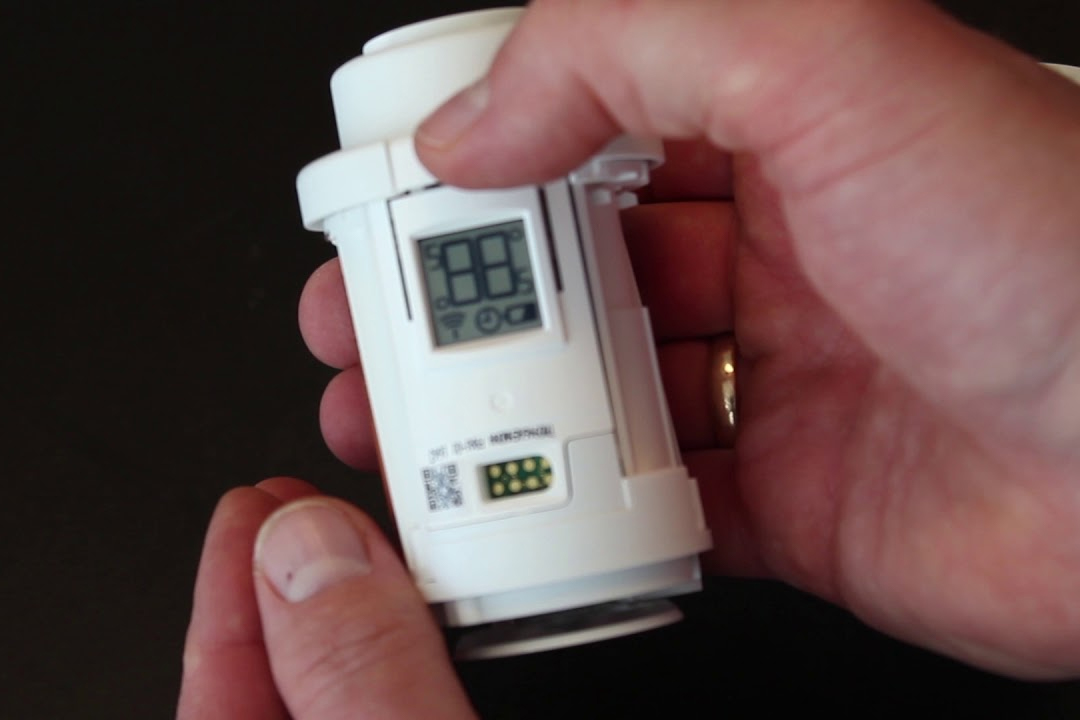 Video: Kaip iš naujo nustatyti Danfoss Eco ™ radiatorių termostatą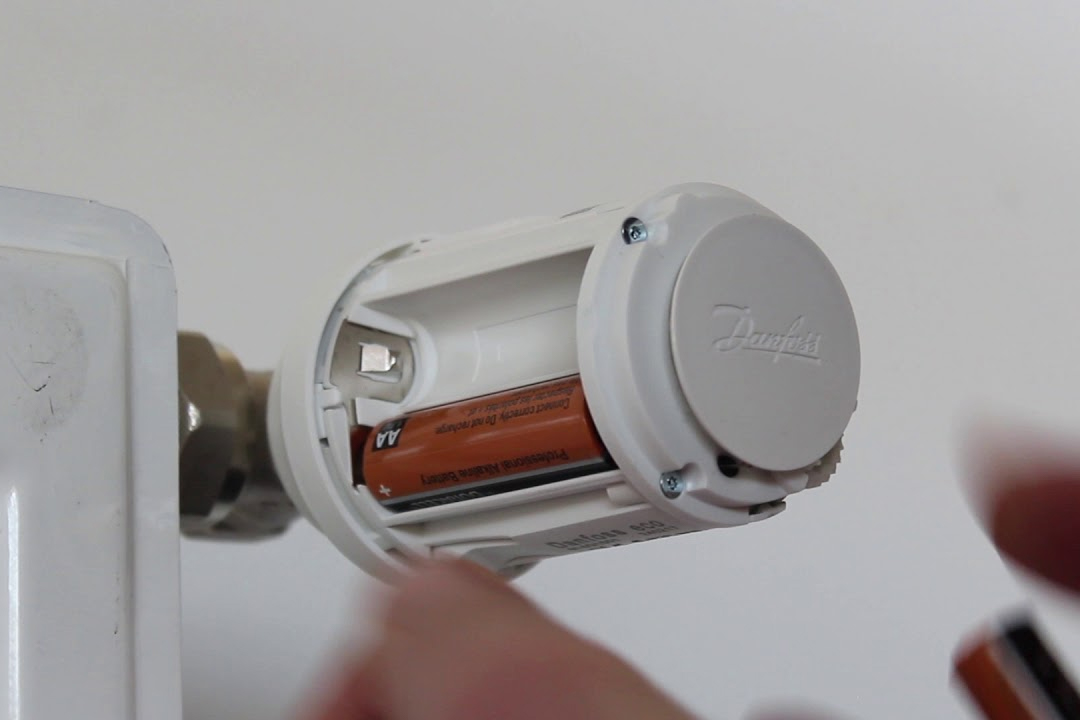 Danfoss Eco™ elementų keitimas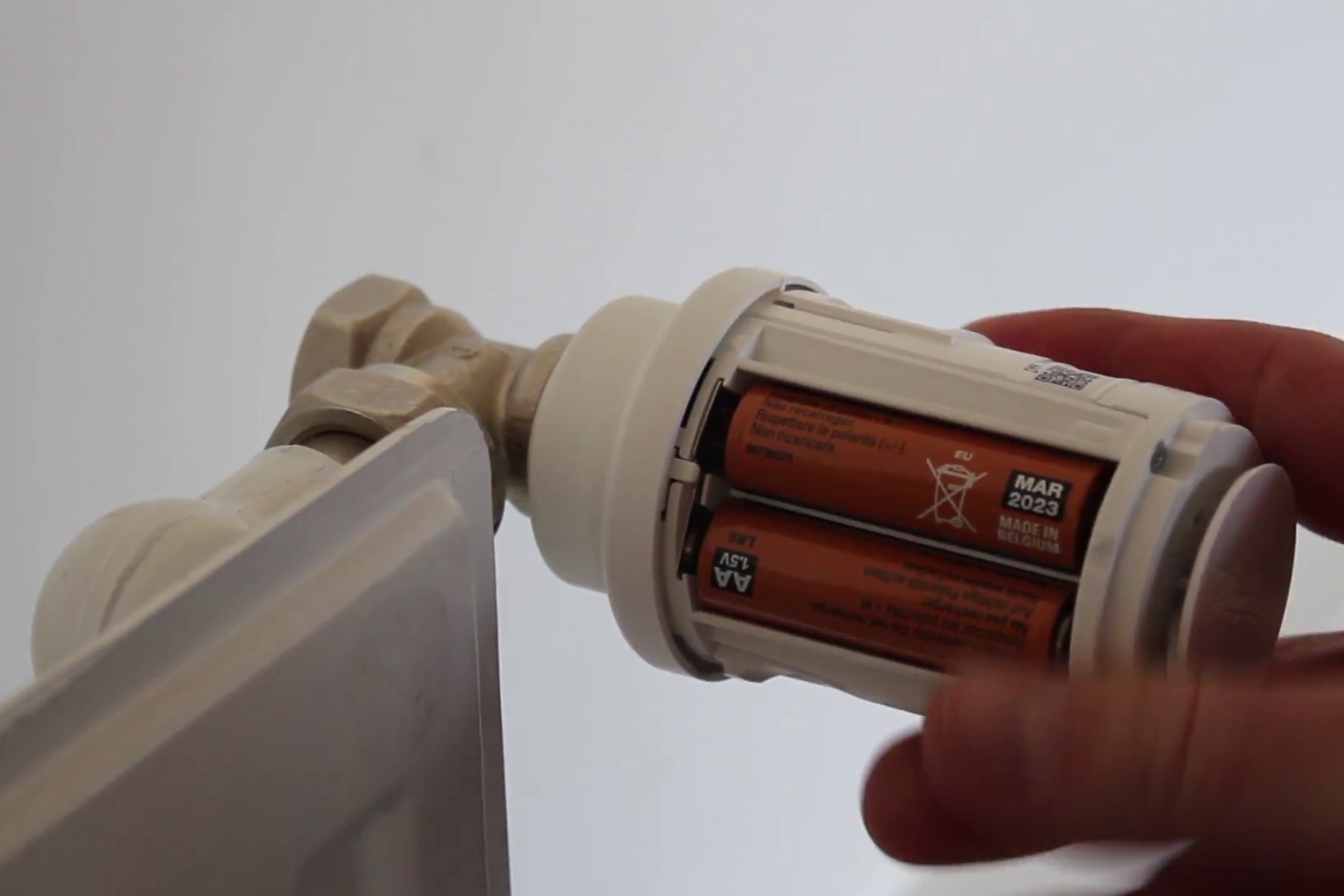 Video: Kaip išmontuoti Danfoss Eco™ elektroninį radiatorių termostatą
Danfoss Eco ™ su "Bluetooth" automatiškai atsinaujina į naujausią programinės įrangos versiją. Tai daroma per "Bluetooth". Programėlė praneša vartotojui, kuomet atsiranda nauja programinė įranga.
Programinės įrangos diegimas trunka apie 1 minutę.
Programinės įrangos versijos apžvalga
Koks skirtumas tarp Danfoss Eco™ ir Danfoss Link™?
Danfoss Eco™ yra autonominis termostatas, kuriame visos valdymo ir programavimo funkcijos valdomos vienu termostatu, pasukant patį termostatą arba per "Bluetooth" ir Danfoss Eco programėlę, ir ne didesniu kaip 10 m atstumu.
Danfoss Link™ belaidžiu ryšiu bendrauja su Connect termostatais ir yra suderinamas su kitais Danfoss gaminiais, tokiais kaip grindinis šildymas (tiek elektrinis, tiek su vandeninis), vėdinimo įrenginiai, šilumos siurbliai ir centralizuoto šildymo valdikliai. Danfoss Link™ turi integruotą belaidį internetą, kad galėtumėte reguliuoti šilumą per Danfoss Link programėlę, nepaisant to, kur esate.

Abiejuose išmaniuosiuose termostatuose / sistemose yra integruotos taupymo programos, kurias galite pritaikyti pagal savo šeimos poreikius ir tvarką.
Do electronic thermostats work on return valves?
No, electronic thermostats must be installed on one-way valves.
It is possible to switch from return flow to one-way flow on radiators without it becoming a huge operation. You can discuss your options with your local installer. With underfloor heating, unfortunately, it is not quite so easy.
Return valves were used in many district heating installations in the 1960s in particular, so it is an older technology. The advantages of changing to one-way valves are – besides having the opportunity to use electronic thermostats – that the heat can be more precisely regulated, which in turn leads to increased comfort and considerably improved energy efficiency.
We also recommend replacing older valves with valves with pre-setting in order to ensure the best possible cooling and thus energy savings in the radiator.
Do electronic thermostats work on one-pipe radiator units?
Yes – unless the valve is a double check valve, which has both one-way and return flow in the same valve. In this case you can not use electronic thermostats.
Kaip sumontuoti adapterį?
Seno termostato išmontavimas
Prieš montuodami Danfoss Link™ Connect, turite išmontuoti senus termostatus. Priklausomai nuo dabartinio termostato, norėdami atsukti varžtą termostato šone, turėsite naudoti atsuktuvą arba "Allen" raktą. Tada galėsite atsukti visą termostatą, pasukdami jį prieš laikrodžio rodyklę.
Naujo termostato ir adapterio montavimas
Pirmiausia turite rasti tinkamą adapterį. Danfoss tiekia skirtingus adapterius skirtingiems vožtuvų tipams (Danijoje daugelis vožtuvų yra RA tipo). Use the adapter guide to place the different cuts of the valves and find the classification for the adapter that fits.
Note! Electronic thermostats are only mounted on one-way valve systems
Adapteriai tinka daugiau nei 90% visų "Danfoss" ir kitų gamintojų vožtuvams. Jei jūsų vožtuvui netinka joks adapteris, vožtuvas yra per senas, todėl rekomenduojame jį pakeisti nauju.
Tada turėtumėte uždėti adapterį ant vožtuvo. Įdėkite baterijas į "Connect" termostatą ir pritvirtinkite termostatą prie adapterio.
Kaip išmontuoti adapterį?
Šiame vaizdo įraše mes parodysime, kaip išmontuoti adapterį tiek Eco™, tiek Connect™ termostatuose.
Turiu Danfoss Eco™ termostatus.
Kodėl šyla tik vienas radiatorius, kol kiti kambariai vis dar šalti?
If the cold air hits one of your Eco thermostats, this will open immediately and start heating up the room. The other Eco thermostats will therefore not detect the cold air and thus never open.
Ką turėtumėte padaryti, tai šiek tiek pakoreguoti radiatorių, kurie šiuo metu nešyla, temperatūrą. Galbūt "karštąjį" radiatorių reikia nustatyti iki 20 laipsnių, o "šaltąjį" - iki 21 laipsnio, kad patalpos temperatūra būtų pakelta iki norimos.
Keep trying and feeling how hot the radiators are until they reach the same level of heating and cooling
Jei toje pačioje patalpoje yra daugiau nei vienas radiatorius, rekomenduojame naudoti Danfoss Link™ su Connect termostatais, nes tada kambario temperatūrą galima valdyti naudojant Danfoss Link™ RS kambario jutiklį, patalpintą kur nors kambario centre.
Kaip veikia "Atviro Lango" funkcija?
Ar galiu pats nustatyti šildymą taip, kad jis tam tikram laikui išsijungtų?
"Atviro lango" funkcija termostate įsijungia tada, kai per 3 minutes staigiai sumažėja temperatūra bent ½ laipsniu. Jei taip neatsitiks (jei šaltis "lėtai prasiskverbia" į termostatą), "Atviro lango" funkcija nebus aktyvuota.
Papildoma Danfoss Eco™ su "Bluetooth" funkcija yra ta, kad galite patys nustatyti termostatą išsijungti: greitai pasukite termostatą į kairę, kad jis ekrane rodytų 6 laipsnius (arba temperatūrą, kurią nustatėte kaip apsaugą nuo užšalimo).
Kai norite vėl įjungti termostatą, galite tai lengvai padaryti naudodamiesi programėle arba pasukdami termostatą vienu laipsniu į dešinę.
Kaip pasiekti optimalų energijos taupymą naudojant Danfoss Eco™?
Energija taupoma, kai sumažinate šilumą.
Paprastai kiekvienu laipsniu sumažindami šilumą, galite sutaupyti maždaug 5% energijos. Rekomenduojame sumažinti temperaturą 3-4°C laipsniais naktį, o dieną, kol šeimos nėra, temperatūrą sumažinti, pvz.: nuo 21°C iki 17°C.
"Atostogų funkciją" galite naudoti ir išvykę iš namų kelioms dienoms, pvz. būdami atostogose.
Jei 15 metų senumo termostatą pakeisite Danfoss Eco™ termostatais, galite sutaupyti iki 23% šilumos sąnaudų.
Rekomenduojame pakeisti senesnius vožtuvus išankstinio nustatymo vožtuvais, kad būtų užtikrintas kuo geresnis vėsinimas ir tokiu būdu sutaupoma energijos radiatoriuje.
Kur galėčiau gauti pagalbos dėl Danfoss Eco programėlės?
Apsilankykite mūsų programėlės pagalbos tarnyboje, kur rasite papildomos pagalbos.
Kodėl termostatas nepasiekia mano nurodytos temperatūros?
Norint užtikrinti, kad elektroninis termostatas greitai pasiektų norimą temperatūrą, rekomenduojame, kad Esamos (miego) ir Namų temperatūros skirtumas būtų ne didesnis kaip 4˚C.
Danfoss Eco™ turi vadinamąją "adaptyviąją" funkciją. Tai reiškia, kad per savaitę sistema pažįsta šildymo sistemą, kad galėtų laiku pradėti šildyti ir tinkamu laiku būtų pasiekta norima temperatūra.
Pirmąją savaitę ir keičiantis sezonams patirsite nedidelius šilumos svyravimus. Tai yra visiškai normalu ir netrukus galėsite mėgautis automatiškai valdomu šildymu: miegoti vėsiuose, o prabusti šiltuose namuose.
Kaip atnaujinti Danfoss Eco™ programinę įrangą?
Kai tik prisijungiate per programėlę prie termostato, Danfoss Eco™ automatiškai atsinaujina.
Kaip tai daroma, galite pamatyti čia: programinės įrangos atnaujinimas
Jei atnaujinant programinę įrangą prarandate ryšį su termostatu, galite rasti pagalbos čia.
Ar galiu pirmiausia nusipirkti Danfoss Eco™, o vėliau - Danfoss Link™ centrinį valdiklį?
Ne.
Danfoss Eco™ yra atskiras produktas, kuriame galite nustatyti individualaus termostato programavimą ir valdymą.
Danfoss Link™ Connect termostatą galite naudoti kartu su Danfoss Link™.
Kiek išmaniųjų telefonų galima prijungti prie Danfoss Eco™ programėlės?
Kokius išmaniuosius telefonus galima naudoti?
Nėra jokių apribojimų, kiek Danfoss Eco™ termostatų galima valdyti iš vieno išmaniojo telefono.
I nėra jokių apribojimų, kiek išmaniųjų telefonų gali valdyti vieną termostatą.
Danfoss Eco™ programėlę galima atsisiųsti į "iPhone" ir "Android" įrenginius. Deja, "Windows" telefonams programėlės įsigyti negalima.
Ar galiu visiškai išjungti šildymą Danfoss Eco™ termostate?
Ne, jūs negalite pasukti termostato žemiau nei 5 laipsniai, o tai yra minimali apsaugos nuo užšalimo režimo temperatūra.
Apsaugos nuo užšalimo režimas nustatomas Danfoss Eco programėlėje: Pasirinkite Meniu - Pasirinkite Parametrai - Pasirinkite Ribas - Nustatykite Min. temperatūra (gali būti mažiausiai 5 laipsniai).
Can I turn off the heating in the summer?
You can do three things when the temperature rises in the summer and you wish to turn off the heat:
1. You can set the entire house on an indefinite break. This will turn the thermostats down to the frost protection temperature of 6 degrees. If it gets cold one night, you can quickly interrupt the break and warm it up.
2. You can set a holiday period, so the heat is reduced to the specified reduced temperature.
3. You can specify a lower comfort temperature, so heating first kicks in when it is colder than the specified temperature. This temperature is reset when the air gets colder.
Mano termostatai atlaisvėję. Ką turėčiau daryti?
1. Patikrinkite, ar tinkamai sumontuotas adapteris
2. Patikrinkite, ar vožtuvo adapteris teisingai prisuktas tiek prie vožtuvo, tiek prie elektroninio termostato. Jei reikia, prisukite stipriau.
Gaunu klaidos pranešimą "E9". Ką tai reiškia?
E9 reiškia, kad vožtuvas negali užsidaryti. Taigi tai nėra paties termostato klaida, o pranešimas apie tai, kad kažkas negerai montavime.
Galimi klaidos šaltiniai gali būti neteisingas montavimas, netinkamas adapteris ar purvas vožtuve. Tokiu atveju galite paprašyti pagalbos iš šildymo įrenginių montuotojo.
Dokumentai

| Tipas | Pavadinimas | Kalba | Valid for | Atnaujinta | Atsisiųsti | Failo tipas |
| --- | --- | --- | --- | --- | --- | --- |
| Installation guide | Danfoss Eco Instruction Manual | German | Multiple | 06 rugp., 2017 | 4.1 MB | .pdf |
| Installation guide | Danfoss Eco Instruction Manual | Ukrainian | Multiple | 06 rugp., 2017 | 4.1 MB | .pdf |
| Installation guide | Danfoss Eco Instruction Manual | Finnish | Multiple | 08 rugp., 2017 | 4.1 MB | .pdf |
| Installation guide | Danfoss Eco Instruction Manual | Lithuanian | Multiple | 08 rugp., 2017 | 4.1 MB | .pdf |
| Installation guide | Danfoss Eco Instruction Manual | Estonian | Multiple | 08 rugp., 2017 | 4.2 MB | .pdf |
| Installation guide | Danfoss Eco Instruction Manual | Norwegian Bokmål | Multiple | 08 rugp., 2017 | 4.0 MB | .pdf |
| Installation guide | Danfoss Eco Instruction Manual | Slovenian | Multiple | 08 rugp., 2017 | 4.1 MB | .pdf |
| Installation guide | Danfoss Eco Instruction Manual | Croatian | Multiple | 09 rugp., 2017 | 4.1 MB | .pdf |
| Installation guide | Danfoss Eco Instruction Manual | Turkish | Multiple | 09 rugp., 2017 | 4.1 MB | .pdf |
| Installation guide | Danfoss Eco Instruction Manual | Romanian, Moldavian, Moldovan | Multiple | 09 rugp., 2017 | 4.1 MB | .pdf |
| Installation guide | Danfoss Eco Instruction Manual | Hungarian | Multiple | 09 rugp., 2017 | 4.1 MB | .pdf |
| Installation guide | Danfoss Eco Instruction Manual | Czech | Multiple | 09 rugp., 2017 | 4.1 MB | .pdf |
| Installation guide | Danfoss Eco Instruction Manual | Polish | Multiple | 09 rugp., 2017 | 4.1 MB | .pdf |
| Installation guide | Danfoss Eco Instruction Manual | Russian | Multiple | 09 rugp., 2017 | 4.2 MB | .pdf |
| Installation guide | Danfoss Eco Instruction Manual | Dutch, Flemish | Multiple | 14 birž., 2017 | 4.1 MB | .pdf |
| Installation guide | Danfoss Eco Instruction Manual | Italian | Multiple | 15 birž., 2017 | 4.1 MB | .pdf |
| Installation guide | Danfoss Eco Instruction Manual | Danish | Multiple | 14 birž., 2017 | 4.0 MB | .pdf |
| Installation guide | Danfoss Eco Instruction Manual | English | Multiple | 14 birž., 2017 | 4.2 MB | .pdf |
| Installation guide | Danfoss Eco Instruction Manual | German | Multiple | 14 birž., 2017 | 4.1 MB | .pdf |
| Installation guide | Danfoss Eco Instruction Manual | French | Multiple | 14 birž., 2017 | 4.1 MB | .pdf |
| Installation guide | Danfoss Eco Instruction Manual | Spanish, Castilian | Multiple | 14 birž., 2017 | 4.1 MB | .pdf |
| Data sheet | Danfoss Eco™ — programmējamais radiatora termostats viedtālrunim | Latvian | Multiple | 06 spal., 2020 | 4.0 MB | .pdf |
| Data sheet | Danfoss Eco™ — programmējamais radiatora termostats viedtālrunim 014G1001 014G1115 | Latvian | Multiple | 04 lapkr., 2020 | 4.0 MB | .pdf |
| Installation guide | Danfoss Eco™ Elektronisks radiatora termostats | Latvian | Multiple | 08 rugp., 2017 | 4.1 MB | .pdf |
| Data sheet | Danfoss Eco™ Programmable radiator thermostat for smartphone | English | Multiple | 21 rugs., 2020 | 10.7 MB | .pdf |
| Data sheet | Danfoss Eco™ Programmable radiator thermostat for smartphone | Slovenian | Multiple | 06 spal., 2020 | 4.1 MB | .pdf |
| Data sheet | Danfoss Eco™ Programmable radiator thermostat for smartphone | Norwegian Bokmål | Multiple | 06 spal., 2020 | 4.0 MB | .pdf |
| Data sheet | Danfoss Eco™ Programmable radiator thermostat for smartphone | Croatian | Multiple | 06 spal., 2020 | 4.0 MB | .pdf |
| Data sheet | Danfoss Eco™ Programmable radiator thermostat for smartphone | Turkish | Multiple | 06 spal., 2020 | 4.0 MB | .pdf |
| Data sheet | Danfoss Eco™ Programmable radiator thermostat for smartphone | Bulgarian | Multiple | 06 spal., 2020 | 4.1 MB | .pdf |
| Data sheet | Danfoss Eco™ Programmable radiator thermostat for smartphone | Romanian, Moldavian, Moldovan | Multiple | 06 spal., 2020 | 4.1 MB | .pdf |
| Data sheet | Danfoss Eco™ Programmable radiator thermostat for smartphone | Hungarian | Multiple | 06 spal., 2020 | 4.0 MB | .pdf |
| Data sheet | Danfoss Eco™ Programmable radiator thermostat for smartphone | Czech | Multiple | 06 spal., 2020 | 3.9 MB | .pdf |
| Data sheet | Danfoss Eco™ Programmable radiator thermostat for smartphone | Russian | Multiple | 06 spal., 2020 | 4.1 MB | .pdf |
| Data sheet | Danfoss Eco™ Programmable radiator thermostat for smartphone | Spanish, Castilian | Multiple | 06 spal., 2020 | 4.0 MB | .pdf |
| Data sheet | Danfoss Eco™ Programmable radiator thermostat for smartphone | Italian | Multiple | 06 spal., 2020 | 4.0 MB | .pdf |
| Data sheet | Danfoss Eco™ Programmable radiator thermostat for smartphone | Ukrainian | Multiple | 06 spal., 2020 | 4.0 MB | .pdf |
| Data sheet | Danfoss Eco™ Programmable radiator thermostat for smartphone | Finnish | Multiple | 06 spal., 2020 | 3.9 MB | .pdf |
| Data sheet | Danfoss Eco™ Programmable radiator thermostat for smartphone | Lithuanian | Multiple | 06 spal., 2020 | 4.0 MB | .pdf |
| Data sheet | Danfoss Eco™ Programmable radiator thermostat for smartphone | Estonian | Multiple | 06 spal., 2020 | 3.9 MB | .pdf |
| Data sheet | Danfoss Eco™ Programmable radiator thermostat for smartphone | Slovak | Multiple | 06 spal., 2020 | 4.0 MB | .pdf |
| Data sheet | Danfoss Eco™ Programmable radiator thermostat for smartphone | Swedish | Multiple | 06 spal., 2020 | 3.9 MB | .pdf |
| Data sheet | Danfoss Eco™ Programmable radiator thermostat for smartphone | Dutch, Flemish | Multiple | 06 spal., 2020 | 4.0 MB | .pdf |
| Data sheet | Danfoss Eco™ Programmable radiator thermostat for smartphone | French | Multiple | 06 spal., 2020 | 3.9 MB | .pdf |
| Data sheet | Danfoss Eco™ Programmable radiator thermostat for smartphone | Portuguese | Multiple | 06 spal., 2020 | 3.9 MB | .pdf |
| Data sheet | Danfoss Eco™ Programmable radiator thermostat for smartphone | Icelandic | Multiple | 06 spal., 2020 | 4.0 MB | .pdf |
| Data sheet | Danfoss Eco™ Programmable radiator thermostat for smartphone | Polish | Multiple | 07 rugp., 2019 | 3.9 MB | .pdf |
| Data sheet | Danfoss Eco™ Programmable radiator thermostat for smartphone | German | Switzerland | 07 rugp., 2019 | 3.9 MB | .pdf |
| Data sheet | Danfoss Eco™ Programmable radiator thermostat for smartphone | English | United Kingdom | 07 rugp., 2019 | 4.0 MB | .pdf |
| Data sheet | Danfoss Eco™ Programmable radiator thermostat for smartphone | German | Multiple | 07 rugp., 2019 | 3.4 MB | .pdf |
| Data sheet | Danfoss Eco™ Programmable radiator thermostat for smartphone 014G1001 014G1115 | Danish | Denmark | 30 rugs., 2020 | 10.9 MB | .pdf |
| Data sheet | Danfoss Eco™ Programmable radiator thermostat for smartphone 014G1001 014G1115 | Ukrainian | Multiple | 04 lapkr., 2020 | 4.0 MB | .pdf |
| Data sheet | Danfoss Eco™ Programmable radiator thermostat for smartphone 014G1001 014G1115 | English | United Kingdom | 04 lapkr., 2020 | 4.0 MB | .pdf |
| Data sheet | Danfoss Eco™ Programmable radiator thermostat for smartphone 014G1001 014G1115 | Finnish | Multiple | 04 lapkr., 2020 | 3.9 MB | .pdf |
| Data sheet | Danfoss Eco™ Programmable radiator thermostat for smartphone 014G1001 014G1115 | Lithuanian | Multiple | 04 lapkr., 2020 | 4.0 MB | .pdf |
| Data sheet | Danfoss Eco™ Programmable radiator thermostat for smartphone 014G1001 014G1115 | German | Multiple | 04 lapkr., 2020 | 3.9 MB | .pdf |
| Data sheet | Danfoss Eco™ Programmable radiator thermostat for smartphone 014G1001 014G1115 | Estonian | Multiple | 04 lapkr., 2020 | 3.9 MB | .pdf |
| Data sheet | Danfoss Eco™ Programmable radiator thermostat for smartphone 014G1001 014G1115 | Croatian | Multiple | 04 lapkr., 2020 | 4.0 MB | .pdf |
| Data sheet | Danfoss Eco™ Programmable radiator thermostat for smartphone 014G1001 014G1115 | Turkish | Multiple | 04 lapkr., 2020 | 4.0 MB | .pdf |
| Data sheet | Danfoss Eco™ Programmable radiator thermostat for smartphone 014G1001 014G1115 | Bulgarian | Multiple | 04 lapkr., 2020 | 4.1 MB | .pdf |
| Data sheet | Danfoss Eco™ Programmable radiator thermostat for smartphone 014G1001 014G1115 | Romanian, Moldavian, Moldovan | Multiple | 04 lapkr., 2020 | 4.1 MB | .pdf |
| Data sheet | Danfoss Eco™ Programmable radiator thermostat for smartphone 014G1001 014G1115 | Hungarian | Multiple | 04 lapkr., 2020 | 4.0 MB | .pdf |
| Data sheet | Danfoss Eco™ Programmable radiator thermostat for smartphone 014G1001 014G1115 | Slovenian | Multiple | 04 lapkr., 2020 | 4.1 MB | .pdf |
| Data sheet | Danfoss Eco™ Programmable radiator thermostat for smartphone 014G1001 014G1115 | Russian | Multiple | 04 lapkr., 2020 | 4.1 MB | .pdf |
| Data sheet | Danfoss Eco™ Programmable radiator thermostat for smartphone 014G1001 014G1115 | Slovak | Multiple | 04 lapkr., 2020 | 4.0 MB | .pdf |
| Data sheet | Danfoss Eco™ Programmable radiator thermostat for smartphone 014G1001 014G1115 | Norwegian Bokmål | Multiple | 04 lapkr., 2020 | 4.0 MB | .pdf |
| Data sheet | Danfoss Eco™ Programmable radiator thermostat for smartphone 014G1001 014G1115 | Czech | Multiple | 04 lapkr., 2020 | 3.9 MB | .pdf |
| Data sheet | Danfoss Eco™ Programmable radiator thermostat for smartphone 014G1001 014G1115 | Polish | Multiple | 04 lapkr., 2020 | 3.9 MB | .pdf |
| Data sheet | Danfoss Eco™ Programmable radiator thermostat for smartphone 014G1001 014G1115 | English | Multiple | 03 lapkr., 2020 | 4.0 MB | .pdf |
| Data sheet | Danfoss Eco™ Programmable radiator thermostat for smartphone 014G1001 014G1115 | French | Multiple | 03 lapkr., 2020 | 3.9 MB | .pdf |
| Data sheet | Danfoss Eco™ Programmable radiator thermostat for smartphone 014G1001 014G1115 | Spanish, Castilian | Multiple | 03 lapkr., 2020 | 4.0 MB | .pdf |
| Data sheet | Danfoss Eco™ Programmable radiator thermostat for smartphone 014G1001 014G1115 | Italian | Multiple | 03 lapkr., 2020 | 4.0 MB | .pdf |
| Data sheet | Danfoss Eco™ Programmable radiator thermostat for smartphone 014G1001 014G1115 | Swedish | Multiple | 03 lapkr., 2020 | 3.9 MB | .pdf |
| Data sheet | Danfoss Eco™ Programmable radiator thermostat for smartphone 014G1001 014G1115 | German | Multiple | 02 lapkr., 2020 | 3.4 MB | .pdf |
| Data sheet | Danfoss Eco™ Programmable radiator thermostat for smartphone 014G1001 014G1115 | Portuguese | Multiple | 03 lapkr., 2020 | 3.9 MB | .pdf |
| Data sheet | Danfoss Eco™ Programmable radiator thermostat for smartphone 014G1001 014G1115 | Icelandic | Multiple | 03 lapkr., 2020 | 4.0 MB | .pdf |
| Data sheet | Danfoss Eco™ Programmable radiator thermostat for smartphone 014G1001 014G1115 | Dutch, Flemish | Multiple | 03 lapkr., 2020 | 4.0 MB | .pdf |
| Data sheet | Danfoss Eco™ Programmable radiator thermostat for smartphone 014G1001 014G1115 | German | Switzerland | 04 lapkr., 2020 | 3.9 MB | .pdf |