Rilevamento del gas Plug and Play per la refrigerazione industriale
– semplifica e ottimizza il tuo modo di lavorare
I rilevatori di gas Danfoss si basano su una piattaforma digitale in grado di offrire numerose funzioni per garantire una migliore affidabilità operativa, una calibrazione semplice, una manutenzione efficiente, un'attenzione ai costi e conformità alle normative. 
La soluzione Danfoss per il rilevamento del gas offre un elevato grado di flessibilità nella progettazione e nella costruzione del tuo impianto di rilevamento del gas. Il portafoglio comprende una vasta gamma di modelli, da quelli base fino ai modelli per prestazioni gravose - correlati da una grande scelta di accessori. 
Le unità di rilevamento gas sono in grado di rilevare un'ampia gamma di gas refrigeranti, tra cui l'ammoniaca (R717), la CO2 (R744), i refrigeranti fluorinati (HCFC e HFC) e il propano (R290). Sono disponibili con varie tecnologie di sensori in modo da soddisfare i requisiti specifici di ogni refrigerante e applicazione, nonché quelli relativi alla sicurezza degli impianti di refrigerazione. I sensori disponibili includono quelli elettrochimici (EC), a semiconduttore (SC), Pellistor (P) e a infrarossi.
La connessione analogica o RS485 Modbus permette una facile comunicazione con un sistema centrale. Sono inoltre disponibili unità indipendenti di rilevamento gas con relè integrati, che possono essere connesse direttamente ai sistemi esterni per attivare i sistemi di allarme. Per poter fornire un'affidabile soluzione Plug and Play, tutte le unità di rilevamento gas dispongono di una preconfigurazione di fabbrica, in modo da rispondere ai requisiti dei refrigeranti e delle tipiche impostazioni PPM. In base alle normative nazionali, le impostazioni PPM potrebbero essere soggette a modifiche.

Guarda il video
Scopri come la nostra nuova soluzione Plug and Play di rilevamento del gas può valorizzare la tua attività
Caratteristiche e vantaggi
Le unità di rilevamento del gas vengono fornite con una preconfigurazione di fabbrica per adattarsi ai refrigeranti e alle impostazioni PPM generalmente richieste (*In base alle normative nazionali, le impostazioni PPM potrebbero essere soggette a modifiche.)
Routine di calibrazione integrata - la calibrazione con il gas non richiede più l'uso di potenziometri e multimetri
Sensori facili da sostituire e precalibrati per una sostituzione Plug and Play
Gli avvisi relativi allo scadenzario degli interventi e le allerte di manutenzione necessaria aiutano a pianificare in maniera ottimale la manutenzione
Soluzioni autonoma con tre relè integrati o collegate a un sistema centrale, ad esempio PLC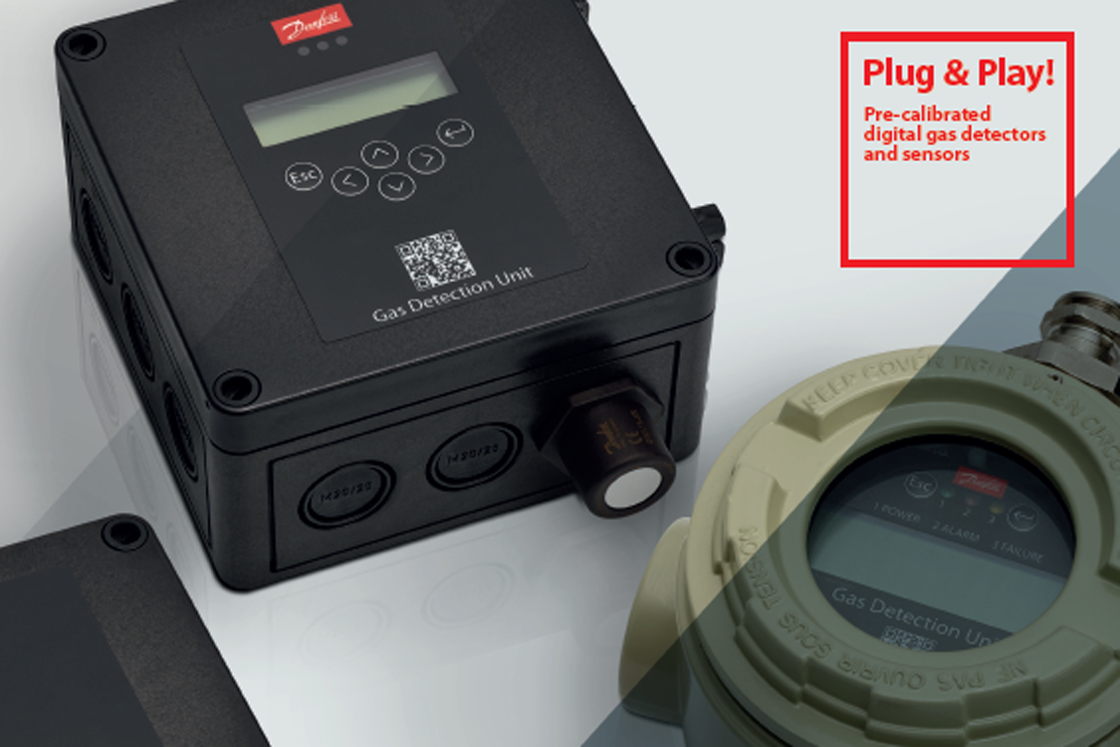 Scarica il catalogo dei prodotti
Scarica il catalogo per avere una panoramica della gamma dei prodotti Danfoss per il rilevamento del gas, inclusi i numeri di codice, per la refrigerazione industriale
Documentazione

| Tipo | Nome | Lingua | Valido per | Aggiornato | Scarica | Tipo di file |
| --- | --- | --- | --- | --- | --- | --- |
| Scheda tecnica | Danfoss gas detection - Controller unit | Francese | Multiplo | 07 nov, 2022 | 1.0 MB | .pdf |
| Scheda tecnica | Danfoss gas detection - Controller unit | Polacco | Multiplo | 07 nov, 2022 | 1.1 MB | .pdf |
| Scheda tecnica | Danfoss gas detection - Controller unit | Tedesco | Multiplo | 07 nov, 2022 | 1.0 MB | .pdf |
| Scheda tecnica | Danfoss gas detection - Controller unit | Spagnolo, castigliano | Multiplo | 07 nov, 2022 | 1.0 MB | .pdf |
| Scheda tecnica | Danfoss gas detection - Controller unit | Portoghese | Multiplo | 07 nov, 2022 | 1.0 MB | .pdf |
| Scheda tecnica | Danfoss gas detection - Controller unit | Cinese (CN) | Multiplo | 07 nov, 2022 | 1.5 MB | .pdf |
| Guida all'installazione | Danfoss Gas Detection - Controller unit and expansion module | Inglese | Multiplo | 05 ago, 2022 | 300.2 KB | .pdf |
| Scheda tecnica | Danfoss gas detection - Expansion module | Francese | Multiplo | 04 nov, 2022 | 1.4 MB | .pdf |
| Scheda tecnica | Danfoss gas detection - Expansion module | Polacco | Multiplo | 04 nov, 2022 | 1.5 MB | .pdf |
| Scheda tecnica | Danfoss gas detection - Expansion module | Portoghese | Multiplo | 04 nov, 2022 | 1.5 MB | .pdf |
| Scheda tecnica | Danfoss gas detection - Expansion module | Spagnolo, castigliano | Multiplo | 04 nov, 2022 | 1.3 MB | .pdf |
| Scheda tecnica | Danfoss gas detection - Expansion module | Cinese (CN) | Multiplo | 04 nov, 2022 | 1.9 MB | .pdf |
| Scheda tecnica | Danfoss gas detection - Expansion module | Tedesco | Multiplo | 04 nov, 2022 | 1.5 MB | .pdf |
| Manuale d'uso | Danfoss Gas Detection - Modbus communication | Inglese | Multiplo | 16 set, 2020 | 977.3 KB | .pdf |
| Scheda tecnica | Danfoss gas detection - PC tool | Polacco | Multiplo | 03 nov, 2022 | 2.6 MB | .pdf |
| Scheda tecnica | Danfoss gas detection - PC tool | Francese | Multiplo | 03 nov, 2022 | 2.6 MB | .pdf |
| Scheda tecnica | Danfoss gas detection - PC tool | Portoghese | Multiplo | 03 nov, 2022 | 2.6 MB | .pdf |
| Scheda tecnica | Danfoss gas detection - PC tool | Spagnolo, castigliano | Multiplo | 03 nov, 2022 | 2.6 MB | .pdf |
| Scheda tecnica | Danfoss gas detection - PC tool | Tedesco | Multiplo | 03 nov, 2022 | 2.6 MB | .pdf |
| Scheda tecnica | Danfoss gas detection - PC tool | Cinese (CN) | Multiplo | 03 nov, 2022 | 2.6 MB | .pdf |
| Scheda tecnica | Danfoss gas detection - Warning module | Polacco | Multiplo | 07 nov, 2022 | 1.2 MB | .pdf |
| Scheda tecnica | Danfoss gas detection - Warning module | Spagnolo, castigliano | Multiplo | 07 nov, 2022 | 2.3 MB | .pdf |
| Scheda tecnica | Danfoss gas detection - Warning module | Portoghese | Multiplo | 07 nov, 2022 | 2.3 MB | .pdf |
| Scheda tecnica | Danfoss gas detection - Warning module | Tedesco | Multiplo | 07 nov, 2022 | 1.1 MB | .pdf |
| Scheda tecnica | Danfoss gas detection - Warning module | Francese | Multiplo | 07 nov, 2022 | 1.1 MB | .pdf |
| Scheda tecnica | Danfoss gas detection - Warning module | Cinese (CN) | Multiplo | 07 nov, 2022 | 1.4 MB | .pdf |
| Scheda tecnica | Danfoss gas detection unit - Type GD Heavy Duty | Spagnolo, castigliano | Multiplo | 03 nov, 2022 | 1.1 MB | .pdf |
| Scheda tecnica | Danfoss gas detection unit - Type GD Heavy Duty | Francese | Multiplo | 03 nov, 2022 | 1.1 MB | .pdf |
| Scheda tecnica | Danfoss gas detection unit - Type GD Heavy Duty | Polacco | Multiplo | 03 nov, 2022 | 1.1 MB | .pdf |
| Scheda tecnica | Danfoss gas detection unit - Type GD Heavy Duty | Cinese (CN) | Multiplo | 03 nov, 2022 | 2.6 MB | .pdf |
| Scheda tecnica | Danfoss gas detection unit - Type GD Heavy Duty | Portoghese | Multiplo | 03 nov, 2022 | 1.1 MB | .pdf |
| Scheda tecnica | Danfoss gas detection unit - Type GD Heavy Duty | Tedesco | Multiplo | 03 nov, 2022 | 1.1 MB | .pdf |
| Manuale d'uso | Danfoss Gas Detection Units - Type Basic, Premium and Heavy Duty - Direct display or Service Tool display operation | Francese | Multiplo | 24 mar, 2020 | 1.3 MB | .pdf |
| Manuale d'uso | Danfoss Gas Detection Units - Type Basic, Premium and Heavy Duty - Direct display or Service Tool display operation | Inglese | Multiplo | 20 mar, 2020 | 1.3 MB | .pdf |
| Guida all'applicazione | Gas detection in refrigeration systems | Inglese | Multiplo | 20 ago, 2018 | 1.7 MB | .pdf |
| Guida all'installazione | Gas detection PC Tool for configuration of Basic, Premium, Heavy Duty and Controller Expansion modules | Inglese | Multiplo | 05 ago, 2022 | 408.9 KB | .pdf |
| Guida all'installazione | Gas detection sensor - B_L (buzzer and light) alarm replacement for the types Basic, Premium and Heavy Duty | Inglese | Multiplo | 18 giu, 2018 | 258.3 KB | .pdf |
| Guida all'installazione | Gas detection Service Tool for configuration of Basic, Premium, Heavy Duty and Controller expansion modules | Inglese | Multiplo | 05 ago, 2022 | 418.0 KB | .pdf |
| Catalogo | Gas detection solution for industrial refrigeration | Inglese | Multiplo | 14 mag, 2019 | 1.9 MB | .pdf |
| Guida all'installazione | Gas Detection Unit (GDU) - GDA, GDC, GDHC, GDHF, GDH | Inglese | Multiplo | 05 ago, 2022 | 915.8 KB | .pdf |
| Scheda tecnica | Gas detection unit, accessory, Controller unit | Inglese | Multiplo | 27 mar, 2023 | 1.0 MB | .pdf |
| Scheda tecnica | Gas detection unit, Accessory, Duct Mounting Set | Inglese | Multiplo | 26 feb, 2021 | 1.2 MB | .pdf |
| Scheda tecnica | Gas detection unit, Accessory, Expansion module | Inglese | Multiplo | 26 feb, 2021 | 938.2 KB | .pdf |
| Scheda tecnica | Gas detection unit, Accessory, PC tool | Inglese | Multiplo | 26 feb, 2021 | 2.5 MB | .pdf |
| Scheda tecnica | Gas detection unit, Accessory, Warning module | Inglese | Multiplo | 07 nov, 2022 | 996.2 KB | .pdf |
| Scheda tecnica | Gas detection unit, Basic, Type GD Basic and Basic+ | Inglese | Multiplo | 11 nov, 2021 | 961.5 KB | .pdf |
| Scheda tecnica | Gas detection unit, Heavy duty, Type GD Heavy Duty | Inglese | Multiplo | 01 giu, 2022 | 1.0 MB | .pdf |
| Scheda tecnica | Gas detection unit, Premium, Type GD Premium | Inglese | Multiplo | 12 set, 2022 | 979.0 KB | .pdf |
| Guida all'applicazione | GD vent line application - Ammonia gas detection on safety valve discharge lines | Inglese | Multiplo | 12 mar, 2020 | 540.4 KB | .pdf |
| Manuale d'uso | PC tool - Software for addressing, calibration and parameterization of Basic, Premium and Heavy Duty gas detection units and gas detection controller configuration | Inglese | Multiplo | 18 giu, 2018 | 3.3 MB | .pdf |
| Guida all'installazione | Premium - Uninstall/install display of Premium GD unit | Inglese | Multiplo | 07 gen, 2021 | 453.1 KB | .pdf |
| Manuale d'uso | User guide - Danfoss Gas Detection - Controller unit and Expansion module | Inglese | Multiplo | 11 mar, 2022 | 1.3 MB | .pdf |