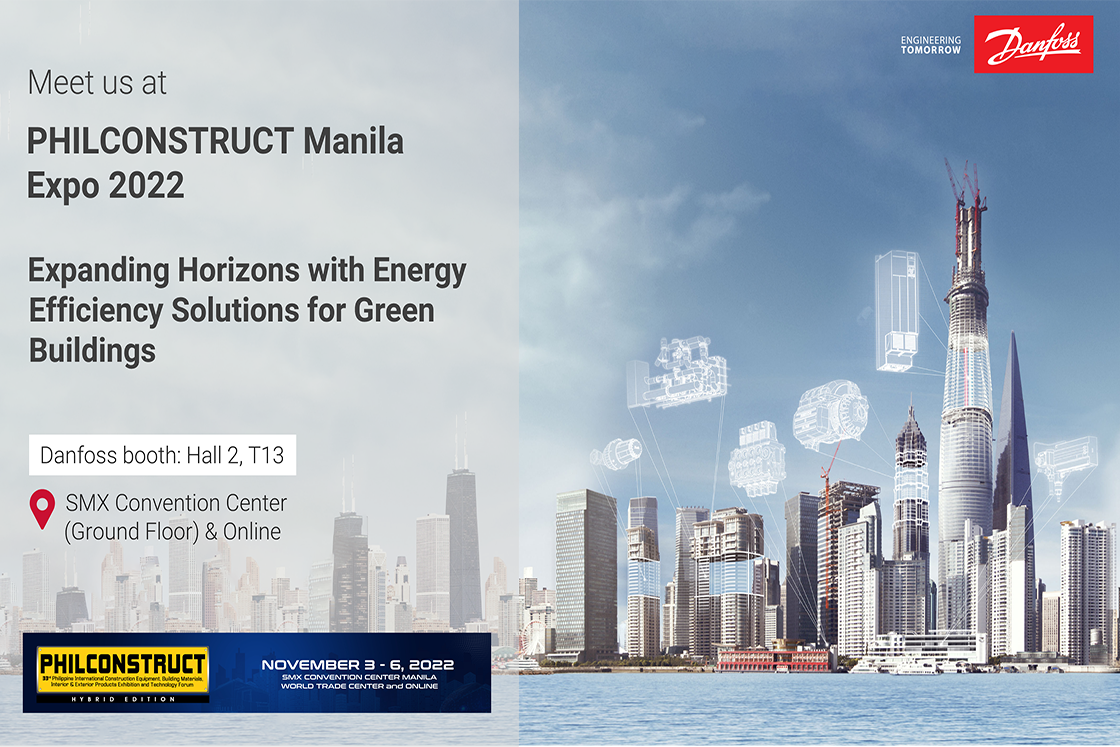 Save The Date And Visit Us!
Danfoss will highlight broad portfolio of innovative solutions for HVACR applications at the Philconstruct Manila 2022 which takes place during 3-6 November. Philconstruct is the Philippines' biggest and Southeast Asia's longest-running B2B showcase of the latest products and services for the building and construction industry. The show is available both physically and virtually for a comprehensive and unique experience this time.
Buildings have been deemed as a cornerstone to decarbonization and HVAC systems account for a large portion of the total energy consumption in commercial buildings. Danfoss provides tailor made solutions which are energy efficient and emission reduction, helping you in the energy management of buildings.
At our booth, Danfoss Climate Solutions and Danfoss Drives will be exhibiting complete product portfolio for HVACR industry from VLT® HVAC Drive, NovoCon® Digital Actuator, Pressure Independent Balancing Control Valves (PIBCV), Optyma™ Condensing Unit, Cold Room Controller, AK-SM 800A System Manager and line components and many more to maximize energy efficiency and performance of HVAC systems.
Plus, Danfoss is thrilled to present an interactive virtual experience of the Green Cities of Tomorrow, helping you to discover how our future-proof HVAC solutions are incorporated in different commercial buildings to build a more sustainable future city.
Danfoss booth is available in Hall 2, Booth T13 at SMX Convention Center (Ground floor) and online. Our experts are excited to engage with you at the event to discuss your specific project needs and opportunities, helping you developing high-efficiency HVACR systems.