"Food safety is a shared responsibility between governments, producers and consumers. Everyone has a role to play from farm to table to ensure the food we consume is safe and healthy. Food safety is everyone's business." This statement was made by the World Health Organisation (WHO), talking on this year's World Food Safety Day (WFSD), celebrated in June with the theme of 'Safe food today for a healthy tomorrow'.
This year, it was heartening to see several African countries, including Ghana, Malawi and South Africa, commemorate the day, highlighting the fact that food safety awareness across Africa is increasing. This is of particular significance considering that Africa is considered to be the most food-insecure continent globally, a predicament only exacerbated by the COVID-19 pandemic.
Furthermore, the Food and Agriculture Organization of the United Nations (FAO) predicts that intra-African food demand is projected to increase by 178% by 2050, adding that "…it is crucial to create and implement effective food safety systems which guarantee that food producers and suppliers along the supply chain work responsibly and ensure the safety of the food."
The critical role of the African dairy sector
An important link in the food production supply chain is the dairy industry, with millions of people dependent on milk and milk products to supply energy, protein and several vitamins and minerals in a single product. 
In addition, many Africans are also employed within the dairy sector. The Kenyan dairy industry, by way of illustration, contributes up to 3.5 percent of the country's Gross National Product (GNP) and up to 14 percent of the agricultural GDP. According to a paper written by Eliud Abucheli Birachi called 'Determinants of Coordination and Supply Chain Performance: The Case of Fresh Milk Supplies Chains in Kenya', the local dairy industry is a source of livelihood for over 660,000 rural households, 365,000 direct farm wage jobs and 40,000 jobs in the processing activities. And as another example, the South African dairy sector is one of the largest agricultural industries in the country, also employing more than 40,000 people.
However, a combination of water, sugars, protein and minerals makes milk at an ambient temperature the perfect medium for bacterial growth. This means that cooling plays a critical element in ensuring sustainability within the dairy supply chain. As a highly perishable food, fresh milk must be refrigerated as soon as the cow is milked in order to adhere to strict processing and handling requirements.
According to Milk South Africa, milk leaves the cow's udder at approximately 35°C, and if maintained at this temperature, the microbial load would increase rapidly. "Cooling milk rapidly to below 6°C is necessary to avoid multiplication of micro-organisms, especially psychrotrophs, which can grow at refrigeration temperatures, although their optimum (>15oC) and maximum growth (20oC) temperatures are much higher," states research by the organisation. Thus, immediate cooling after milking, and storage at refrigeration temperature, are both crucial to reduce bacterial growth.
Dairy farms rely on highly efficient cooling of the milk to keep it at a consistent temperature of around 4°C, in either open or closed milk tanks, until it is collected for further processing. The milk tank is typically equipped with a mixer to accelerate the cooling process and homogenise the milk.
In addition, the dairy sector depends on technology that can control temperatures and ensure uncompromising hygiene in every single step of the conversion of fresh milk into finished products. Whether the end product is ice cream, processed milk, cream, or yoghurt, precise temperature management is absolutely vital.
How Danfoss can assist the African dairy value chain
Whatever the technology solutions used by manufacturers of milk tanks, ranging from direct expansion type, instant cooling to a two-stage cooling process, Danfoss offers an optimal selection of scrolls or reciprocating compressors, standard condensing units or packaged condensing units for 800 to 10,000 litre milk cooling tanks with either reduced application, operating or servicing costs.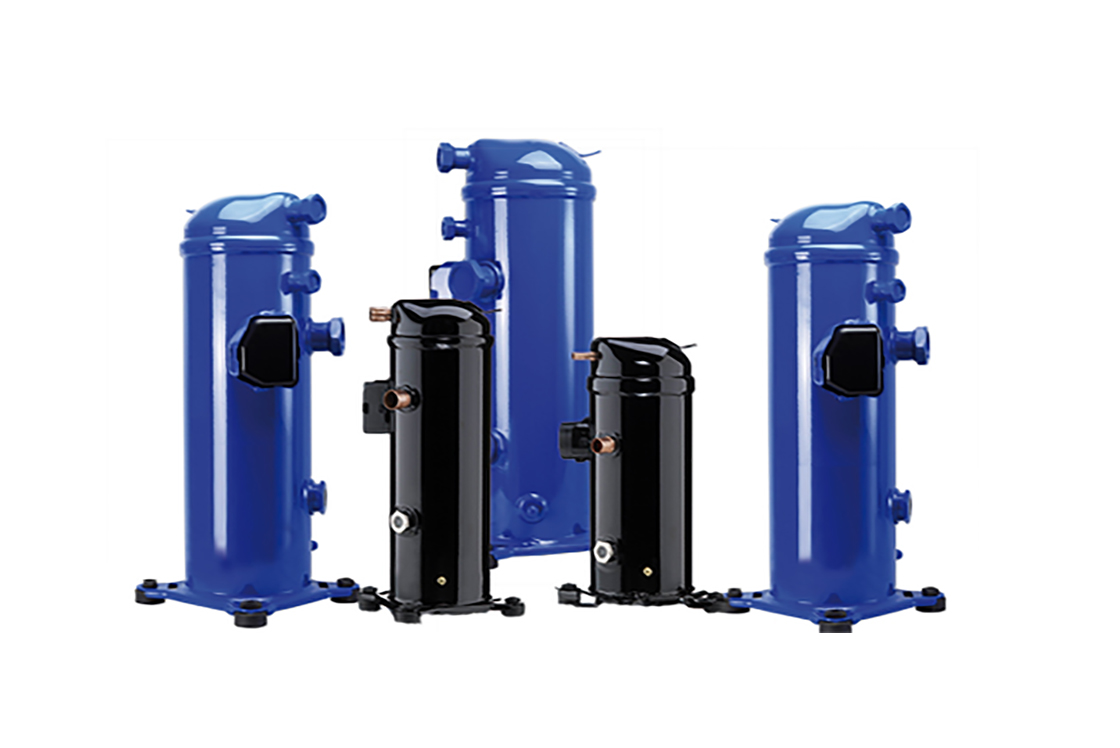 Compressors
Danfoss MLZ scroll compressors are dedicated to commercial and light commercial refrigeration applications with refrigerants R134a, R404A / R507A, R407A/F. Both brazed and rotolock connections are available for most of the compressors.
Benefits include a compact design, especially for large capacities, which frees up space in the systems, as well as an energy efficient design, up to 30 percent smaller than alternatives, with optimised motor and scroll wrap for refrigeration, which cuts down electricity consumption. The MLZ's low decibels improve the working environment with the lowest sound level in the industry.
Danfoss Maneurop® MT and MTZ reciprocating compressors are of the hermetic reciprocating type and are designed for medium and high evaporating temperature applications. Available in a large variety of single and tandem models for refrigerants R404A, R134a, R407A / F, the compressors operate under extreme conditions with reliability and a long lifetime expectancy.
Danfoss Maneurop®  VTZ and VTZ are reciprocating inverter compressors with cooling capacity from three to 48 kW and with multi-refrigerant capability for R404A, R407C and R134a. They prevent the design of oversized and short cycling systems by automatically adapting to the current load in commercial cooling systems. Using an innovative and intelligent compressor package that utilises variable speed technology ensures superior efficiency across the entire operating range.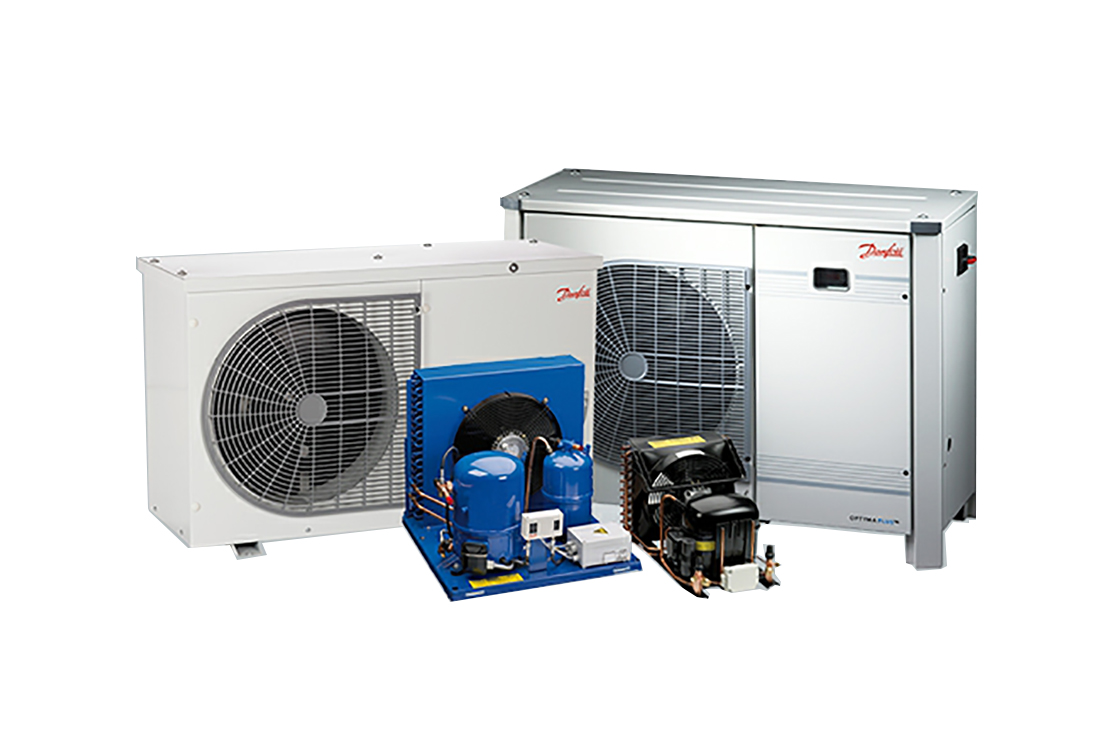 Condensing units
Reliability, efficiency and compactness will make the Danfoss Optyma™ Slim Pack condensing unit an ideal cooling solution in milk tanks.
The Danfoss Optyma™ Slim Pack condensing unit provides:
An energy efficient and cost effective solution - up to 24 percent energy savings, thanks to smart Danfoss design and components.
Up to 35 percent cost savings on refrigerant – Optyma™ Slim Pack units utilise highly efficient micro channel heat exchangers to help reduce refrigerant charge by up to 35 percent compared to standard condensers.
Dimensions - Optyma™ Slim Pack has been designed to perfectly match a milk tank's size, enabling transportation of the entire system from the factory to the end user without additional cost.
High reliability and customer satisfaction - the challenge with milk is to lower its temperature from 35°C to 4°C in just a few hours. Quick pull down is essential to ensure 100 percent quality without product loss. Whether working indoors or outdoors, Danfoss Optyma™ Slim Pack condensing units fulfil the requirements of milk production and collection frequency, with long-term reliability and efficient operations, supported by the inclusion of the tried-and-tested Danfoss scroll compressor technology. All units are 100 percent factory tested to ensure safe factory assembly on to milk tanks, as well as reduced leak risks and down time on site.
The Optyma™ Slim Pack condensing unit is equipped with Danfoss components optimised to work together: compressor, controls, and heat exchanger. Danfoss Micro channel heat exchangers and housing are corrosion resistant, the galvanised and painted housing has passed a 400-hour salt spray test to ensure a long lifetime in harsh environments.
Food safety and system reliability go hand-in-hand. If your cooling solution is performing as it should, and with the proper product management being in place, there should be no safety or longevity issues when it comes to milk storage.
Danfoss Climate Solutions in South Africa has a focus on enabling energy-efficient refrigeration systems for the Sub-Saharan African dairy and agricultural sectors, helping to alleviate the pressure that local dairy manufacturers are under to make their systems more efficient, while maintaining and enhancing cooling performance.
You can visit our "milk cooling tanks" page here.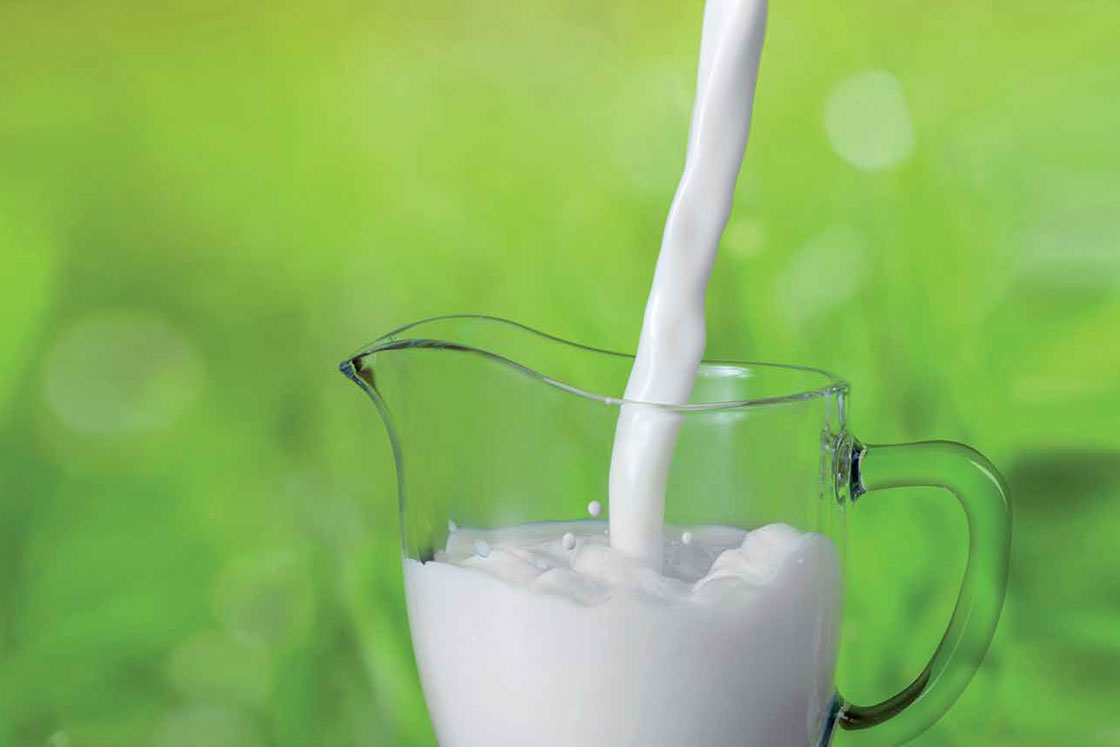 Journey of Milk
For more information on Danfoss' milk tank cooling solutions, please watch Danfoss' short 'Journey of Milk' video.