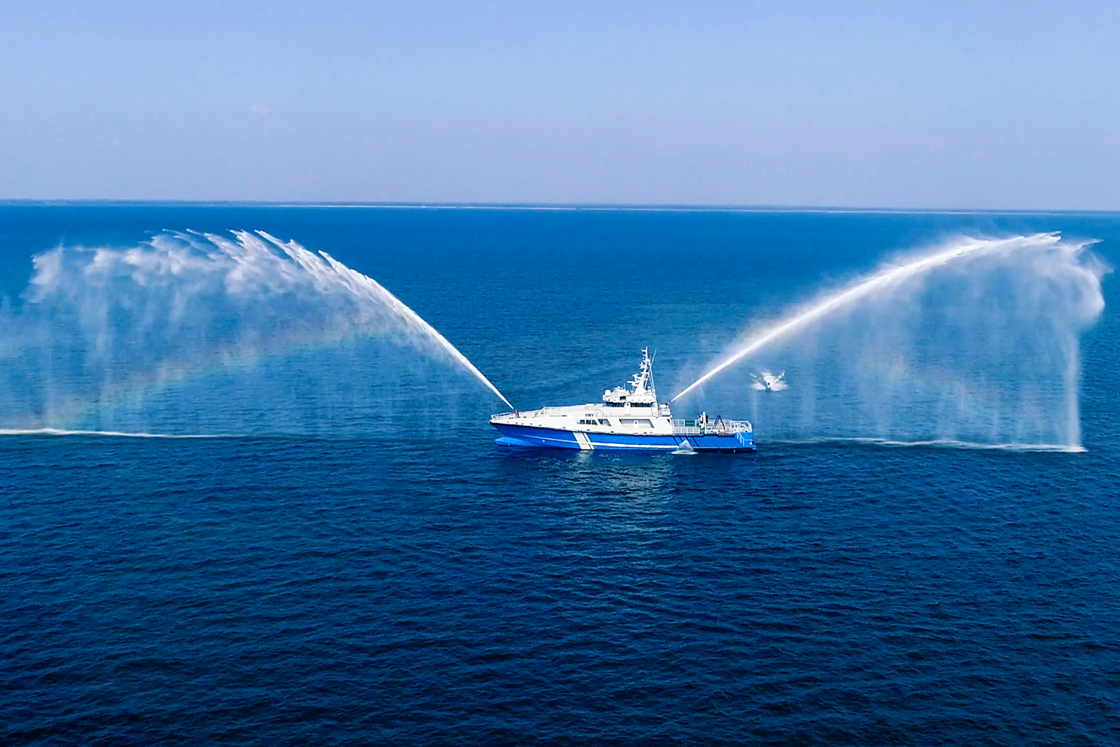 Estonia's pollution-fighting electric hybrid patrol vessel
Electrifying high-performance patrol ships
The Gulf of Finland, between Finland, Russia and Estonia, is one of the busiest shipping zones in Europe. More than 160 million tonnes of fuel is transported in its water every year. The Estonian capital port area of Tallinn Bay also has a high concentration of commercial and passenger ship traffic.
Here, the Estonian Police and Border Guard Board is responsible for patrolling and policing Estonia's marine territory. They are also responsible for firefighting, responding to oil spill pollution emergencies, search and rescue operations in the very rough Baltic conditions.
From 2021, the Baltic Sea will become an Emission Control Area. With this requirement for cleaner-running boats looming, the Estonian Police and Border Guard Board called for a high-performance, low-emission patrol ship. The chosen vendor was the Estonian boat-building firm Baltic Workboats, based on Estonia's historic shipbuilding island, Saaremaa. Baltic Workboats is sspecialized in the construction of steel and aluminium workboats. Therefore, has delivered hundreds of versatile, factory-customized vessels for governments, research institutions and multinational companies. These rage from passenger ferries to robust and rugged pilot icebreakers.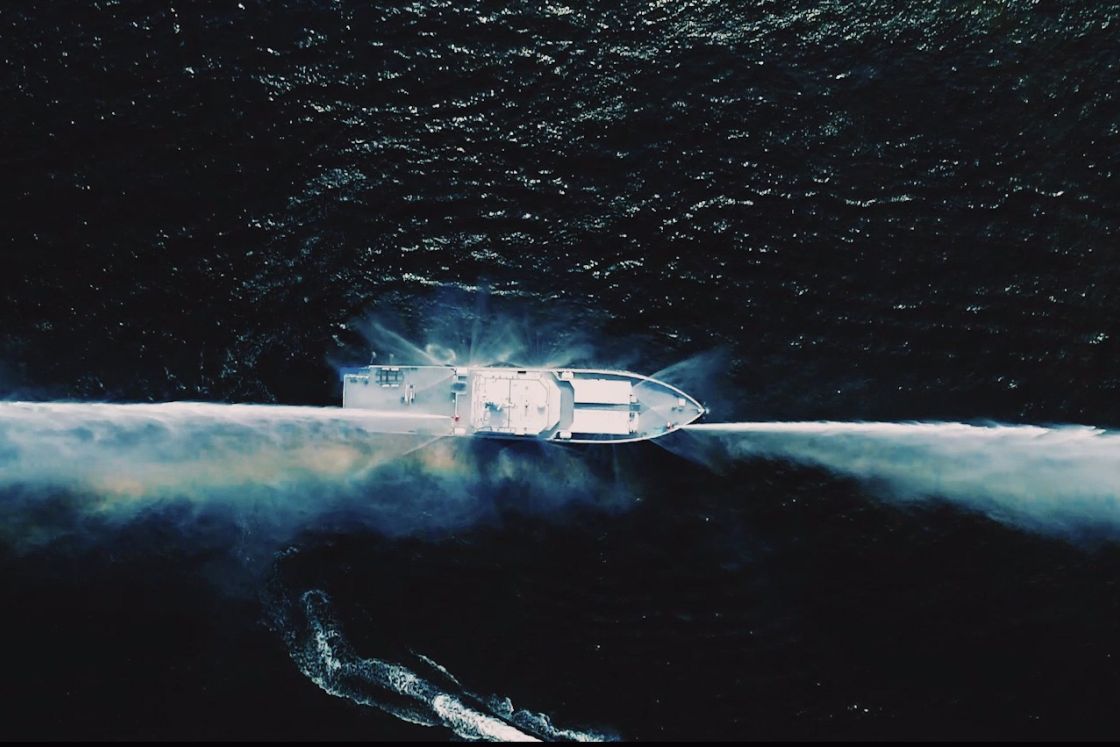 Danfoss helps Estonia combat pollution with new hybrid patrol ship Raju
Estonia's border authorities have launched a hybrid patrol vessel. thanks to innovative hybrid electric propulsion from Danfoss Editron, it protects the environment from oil spills and cuts fuel consumption.
Reliable rapid response and quiet, clean cruise
Baltic Workboats turned to Danfoss and the Editron marine system when faced with the need for a power solution. I should reduce emissions and allow quiet cruising for stealth security operations, reliability and power for rapid response,. The power generation and distribution solution had to be highly compact given the very tight space constraints of workboats. It also had to be flexible and custom-designed to best fit with the new design of Baltic Workboats' wave-piercing patrol ship.
It was important that the power system should offer engine redundancy. So that even if the main engines should fail, the boat would still be able to run on auxiliary or battery systems. The system also had to be capable of smoothly and efficiently transitioning between its high-performance operation and low-speed cruising modes.
Diesel, diesel-electric and fully-electric patrolling
Danfoss responded with a parallel hybrid power system that supports the boat's two main engines. They used a smaller diesel-engine-driven power plant and electric machines coupled to main engines by gearboxes. The Editron hybrid electric system generates electricity when running at speeds of up to 27 knots. This provides power to vessel electronics, as well as stores this power in batteries, and, vice-versa, also enabling fully-electric propulsion at up to 10 knots.
The vessel's highly-compact Editron system is half the size of a conventional diesel-electric propulsion system, due to its smaller, highly-efficient and lightweight Permanent Magnet Machines. These feature synchronous reluctance-assisted permanent magnet technology. The Permanent Magnet Machines and all other Danfoss components are liquid-cooled to minimize their size. The component design also provides a high tolerance to shocks and vibrations, leader to lower maintenance costs for the client.
This electrified patrol ship can reach speeds of up to 27 knots using its main engines, allowing a quick emergency response, and it is also capable of efficient slower cruising, patrolling and idling in both diesel-electric and full-electric operation modes.
The entire power plant and power distribution system is controlled by Danfoss' propriety software system. This system decides whether one or both smaller VolvoPenta diesel-electric auxiliaries will suffice. Either if the patrol vessel can be run on battery power, or if it should run on PTO power from the main engines only.
Environmentally-friendly power, quiet on-demand
The new hybrid patrol boat was launched in August 2018, featuring a custom-built Danfoss power system. This system cuts fuel consumption and maintenance costs through electrification at cruising speeds – also reducing CO2 emissions. It also creates the ability to operate and idle with much less noise. At the same time, still maintaining the necessary capacity for rapid acceleration and un-diminished full-speed.
One of the patrol ship's main tasks is to respond to pollution threats, using state-of-the-art radar. This radar can detect surface contamination (such as oil spills) from up to five miles away. At the same time, its own compliance with the Baltic's impending Emission Control is also ensured thanks to its hybrid and fully-electric operating modes.
Danfoss' solution allows the captain to automatically or manually decide to operate the vessel with or without electric power. Meaning that they can focus on responding to emergencies at hand without having to control this, or choose to switch to fully-electric mode. For example, when wishing to reduce noise for the sake of the crew or in undertaking stealth anti-smuggling operations.
Baltic Workboats Head of Technical Department Peeter Raamat says:
"We chose Danfoss because the Editron is a compact, high-quality and very flexible system. The needs of the crew made it an excellent project to build as a hybrid vessel. For example, the hybrid electric benefit of engine redundancy is important for the Estonian Coast Guard — in case of engine failure, you can switch to diesel-electric or batteries. At the same time, you also have improved fuel efficiency, and much lower noise levels in diesel-electric and fully-electric modes when compared to big diesel engines. This is a big benefit for the crew."
Danfoss Editron Project Manager Jani Hartikka says:
 "With changing regulations, I see that the demand for such hybrid electric solutions will grow rapidly in the near future. Due to ship owners switch to electrical vessels to reduce their CO2 emissions. Creating this unique vessel together with Baltic Workboats already puts us on the front line of development. Ready to respond to what will soon be a huge demand for clean, high-performance vessels. We're thrilled to be working with Baltic Workboats closely in pioneering hybrid patrol boat development. We look forward to supporting them with a cleaner driving force as they ramp up production of this new wave-piercing hybrid patrol boat range."
Specifications

 
Project
Baltic Workboats Patrol 45 WP Hybrid
Customer
Baltic Workboats AS
Location
Nasva, Saaremaa, Estonia
Scope
A diesel-electric hybrid power system for a custom-built patrol ship. The first in an impending range of such hybrid vessels. It integrates a PTO/PTI system with a hybrid diesel-electric power plant.
Solution
A vessel which can flexibly draw operating power from either two main engines, dual electric motors and a diesel engine. It is connected via the same axle, or from the battery system charged by the hybrid drives.
Power

2x250kW diesel-electric propulsion, main engines 2x2000kW.

Danfoss permanent magnet machines are used in auxiliary gensets, as well as in PTO/PTI machines. Each powertrain is controlled by a Danfoss inverter while the battery and ultracapacitor are controlled by a Danfoss DC/DC converter.

Danfoss' component flexibility enables customer and system-specific customization, simplifying integration with customer systems.