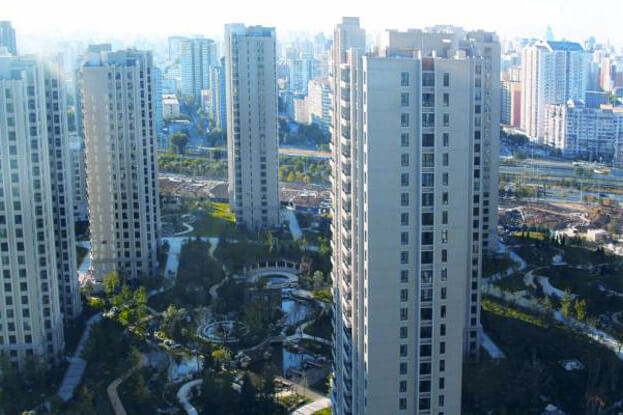 "We wanted to avoid typical complaints related to poor hydronic balancing while also residents optimal comfort. With the help of Danfoss, we fully achieved both these goals."
Mr. Zhu, Xinyuan estate
Ensuring comfortable heating
The "TaiyangGongyuan" project in Beijing, China, includes 17 residential buildings with a total of 2,154 apartments. All buildings are heated via district heating. Due to the large size of the buildings, each with up to 29 floors, establishing proper hydronic balancing was a priority. This would eliminate complaints from residents about uneven heating while providing the desired high level of indoor comfort. To meet both requirements, Danfoss proposed a thoughtfully configured system that included automatic balancing valves, floor heating and individual room temperature control.
Hydronic balancing
To establish the necessary hydronic balance, Danfoss ASV automatic balancing valves were installed for each apartment.These valves prevent pressure uctuations and ensure even heat distribution throughout the entire building.
Different temperatures in each room
In the larger apartments, room temperature can be individually controlled via Danfoss CWD thermostats. The temperature can be separately set for each room, ensuring superb levels of indoor comfort while also saving energy by not heating rooms unnecessarily. In the smaller apartments, temperature is controlled via one central CWD thermostat. A total of 6.090 thermostats were installed to provide the 2.154 apartments with optimum temperature and comfort control.
Danfoss manifold with RA-G valve and TWA-A actuator. This combination was installed in the smaller apartments to provide central temperature control via a CWD thermostat in the main living room. Individual room controls were installed in the larger apartments.
Danfoss ASV balancing valves and energy meters were installed in the technical room for each group of four apartments.
Country: China
Building type: 17 multi family houses
Building year: 2010
Size: 500.000 m2
Heat emitter: Floor heating and hydronic balancing
Floor heating control type: Danfoss CWD and FHF-F manifolds
Heat source: District heating
Company name: Xinyuan
Company industry: Real estate company
Private consumer name: Ms. Chen 
Related products
Room controls

To ensure hydronic (water based) underfloor heating or cooling systems achieve the expected high level of comfort and low energy consumption, good room temperature controls are essential. They control the room or floor temperature to avoid overheating. For optimal comfort each room has it's own room thermostat.

Manifolds and actuators

Danfoss floor heating manifolds are characterized by their flexibility to establish the best suited manifold solution based on requirements. Select from all the components to construct a manifold with or without pre-setting, flow-meters, shut-off valves and air-vents that best fits your project.

Mixing shunts

Danfoss floor heating mixing shunts establish a water temperature low enough to safely be distributed through the floor heating system. It's designed to fit the FH manifolds and mixes the warm supply temperature with colder floor heating return flow to the required floor heating supply temperature.

Panels and pipes

Danfoss floor heating panels establish the basis for a hydronic floor heating system. The Basic system contains 3 different panel models; BasicClip, BasicRail and BasicGrip. With these you can easy establish a wet (in-screed) floor heating system. For dry systems our SpeedUpTM panels are available.