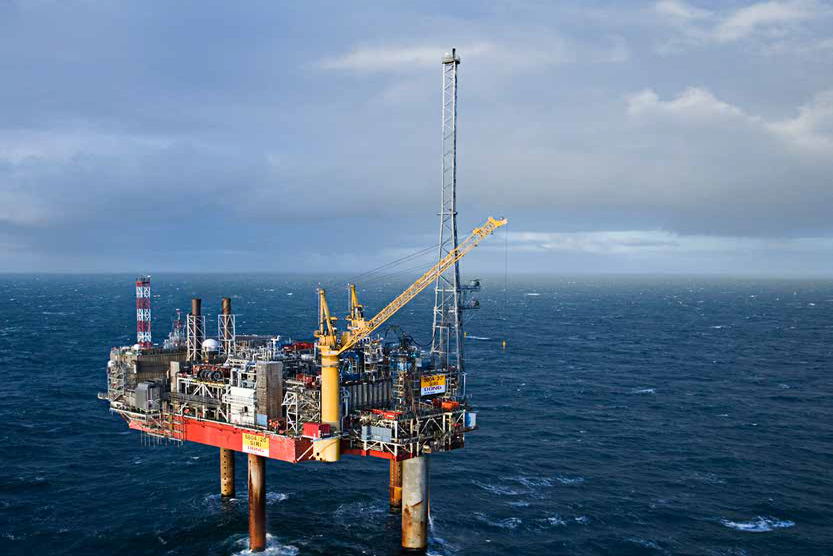 Through a carefully planned and executed strategy, DONG Energy has since tripled Siri's oil reserves and has transformed it into one of the most cost effective production platforms in the North Sea.
DONG Energy is Denmark's largest energy company, with considerable oil and gas exploration and production activities in the North Sea. DONG Energy took on the task of extending the life of the Siri field, 250 km off the Danish coast, in 2002.
The Challenge
One of the keys to extending Siri's life has been optimizing the handling of produced water. And one of the keys to handling produced water is reliable chemical treatment. So when it was time to upgrade the entire system as part of an environmental program, the search began for pumps that could drive injection of biocides, scale inhibitors and oxygen scavengers.
Three sets of two pumps

DONG Energy had a number of criteria its new pumps had to meet. First and foremost was reliability: to protect the environment, DONG Energy has an environmental target of re-injecting 95% of the produced water; realized re-injection is 98%. Flexibility was another key factor: both in terms of pump configuration and accessibility for maintenance, but also on the part of the vendor in case spare parts or replacement pumps were needed. Saving space and weight was imperative. To ensure as much flexibility as possible satisfying any given requirement to rate, the pumps was to be inverter driven.
More companies bid on the pump project, and after a careful review DONG Energy decided to opt for a solution that consisted of three sets of two Danfoss pumps in order to provide complete redundancy. This modular solution maximized reliability and flexibility and, despite it 2 x 100% redundancy, was considerably smaller and lighter than the traditional diaphragm pumps that DONG Energy had used until then. The pumps were installed in January, 2011. 
Excellent reliability builds confidence
According to Henrik Nysted, Project Manager for the Water Injection Upgrade Project, dealing with Danfoss has been a confidence builder. "We thought we had a problem with one of the pumps shortly after installation. We called Danfoss to let them know, and less than 24 hours later a brand new pump had been flown out to the rig. That is service. It turns out that there was actually nothing wrong with the pump, but that is beside the point. We depend on 100% uptime, and having confidence in our suppliers is a must. Danfoss has delivered on all counts."
Danfoss delivered an injection pump skid with 3 times two CLP pumps.
Injection pump skid with 3 times two CLP pumps for injecting biocide, oxygen scavenger and scale inhibitor
The delivered pump type: CLP 675-010
Key technical specification
| | |
| --- | --- |
| Flow Rate | 0-45/130/350 l/h, 0-11.9/34.3/92.5 gph |
| Pressure | 3, 10, 15, (49) barg, 44, 145, 218 (710) psig |
| Fluid | Corrosion inhibitor, Biocide, Scale |
| Temperature | 0-30 °C - 0-86 °F |
| Viscosity (PT) | < 80 cP |
| Area Class | EExII3DGcT3 |
| API | 675 |