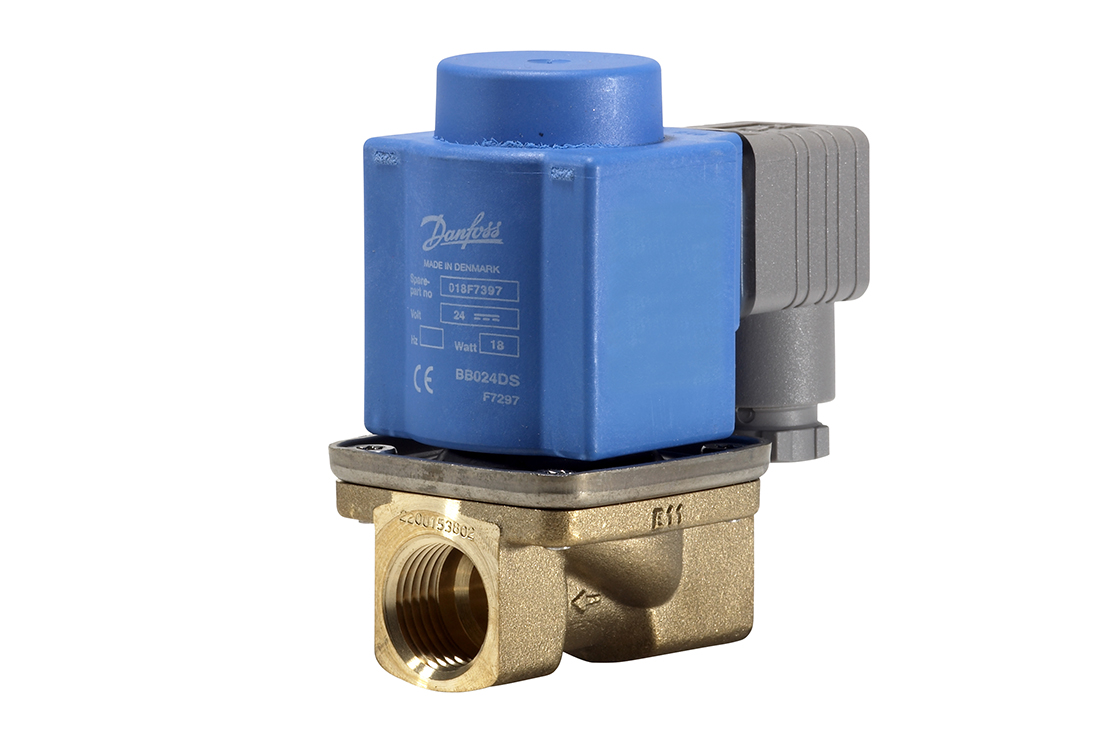 Servo-operated solenoid valves for multiple applications
EV220B 6-22 is a direct servo-operated 2/2-way solenoid valve program with connections from 1/4" to 1". This program is especially for OEM applications demanding a robust solution and moderate flow rates.
EV220B 15–50 is a universal indirect servo-operated 2/2-way solenoid valve program. Valve body in brass, dezincification resistant brass and stainless steel ensures that a broad variety of application can be covered.
Built-in pilot filter as standard, adjustable closing time and enclosures up to IP67 ensures optimal performance even under critical working conditions.
EV220B 65 - 100 is a 2/2-way solenoid valve program for use in robust industrial applications, demanding high flow rates. The valve is designed with cast iron valve body and flanged connection. Water-hammer damped design and built-in pilot filter ensures a reliable operation.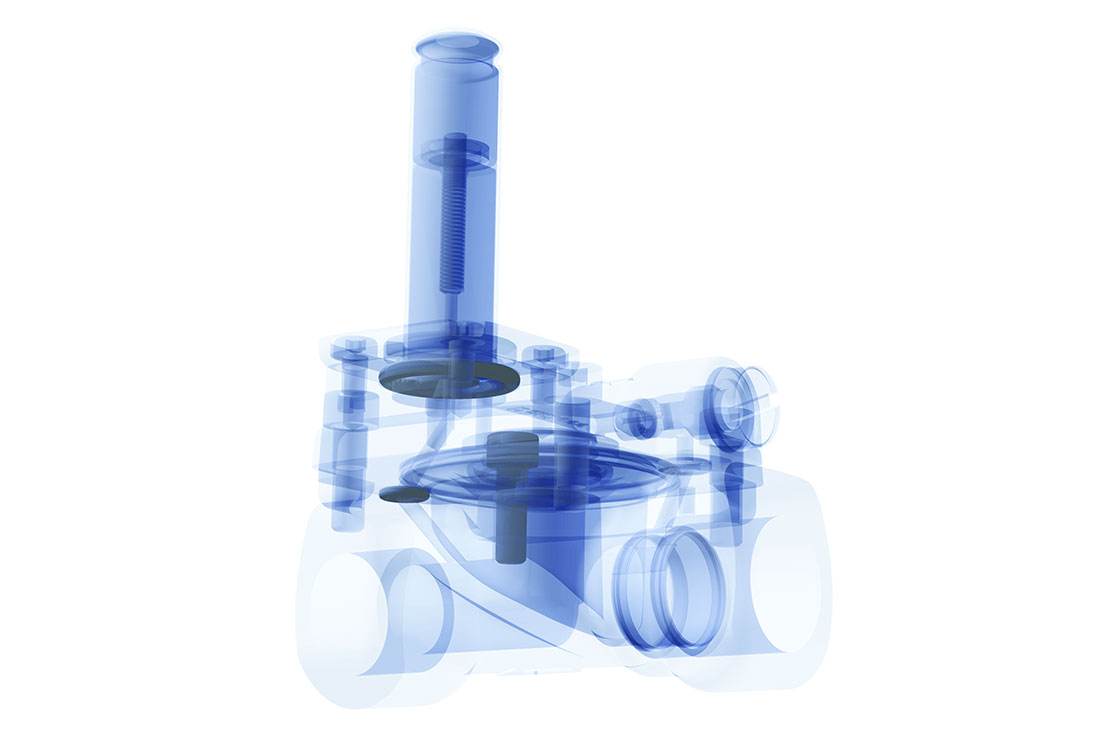 Find the right valves
The tool is intended to make it easy for installers and end-users to specify the correct industrial solenoid valves for a range of standard applications.
| Type | Name | Language | Updated | Download | File type |
| --- | --- | --- | --- | --- | --- |
| Data sheet - AI | Servo-operated 2/2-way solenoid valves EV220B 6 - 22 | German | 11 Sep, 2018 | 1.8 MB | .pdf |
| Data sheet - AI | Servo-operated 2/2-way solenoid valves EV220B 6 - 22 | Spanish, Castilian | 11 Sep, 2018 | 1.7 MB | .pdf |
| Data sheet - AI | Servo-operated 2/2-way solenoid valves EV220B 6 - 22 | Russian | 11 Sep, 2018 | 1.7 MB | .pdf |
| Data sheet - AI | Servo-operated 2/2-way solenoid valves EV220B 6 - 22 | Czech | 11 Sep, 2018 | 1.7 MB | .pdf |
| Data sheet - AI | Servo-operated 2/2-way solenoid valves EV220B 6 - 22 | Polish | 11 Sep, 2018 | 1.7 MB | .pdf |
| Data sheet - AI | Servo-operated 2/2-way solenoid valves EV220B 6 - 22 | Chinese (CN) | 11 Sep, 2018 | 2.0 MB | .pdf |
| Data sheet - AI | Servo-operated 2/2-way solenoid valves EV220B 6 - 22 | French | 11 Sep, 2018 | 1.7 MB | .pdf |
| Data sheet - AI | Servo-operated 2/2-way solenoid valves EV220B 6 - 22 | Italian | 11 Sep, 2018 | 1.7 MB | .pdf |
| Data sheet - AI | Servo-operated 2/2-way solenoid valves EV220B 6 - 22 | Portuguese | 11 Sep, 2018 | 1.7 MB | .pdf |
| Data sheet - AI | Servo-operated 2/2-way solenoid valves EV220B 6 - EV220B 22 | English | 11 Sep, 2018 | 1.7 MB | .pdf |
| Data sheet - AI | Servo-operated 2/2-way solenoid valves Type EV220B 15 - EV220B 50 | Chinese (CN) | 24 Aug, 2018 | 2.5 MB | .pdf |
| Data sheet - AI | Servo-operated 2/2-way solenoid valves Type EV220B 15 - EV220B 50 | Czech | 24 Aug, 2018 | 2.4 MB | .pdf |
| Data sheet - AI | Servo-operated 2/2-way solenoid valves Type EV220B 15 - EV220B 50 | Polish | 24 Aug, 2018 | 2.4 MB | .pdf |
| Data sheet - AI | Servo-operated 2/2-way solenoid valves Type EV220B 15 - EV220B 50 | German | 24 Aug, 2018 | 2.4 MB | .pdf |
| Data sheet - AI | Servo-operated 2/2-way solenoid valves Type EV220B 15 - EV220B 50 | Spanish, Castilian | 24 Aug, 2018 | 2.4 MB | .pdf |
| Data sheet - AI | Servo-operated 2/2-way solenoid valves Type EV220B 15 - EV220B 50 | Russian | 24 Aug, 2018 | 2.4 MB | .pdf |
| Data sheet - AI | Servo-operated 2/2-way solenoid valves Type EV220B 15 - EV220B 50 | Romanian, Moldavian, Moldovan | 24 Aug, 2018 | 2.4 MB | .pdf |
| Data sheet - AI | Servo-operated 2/2-way solenoid valves Type EV220B 15 - EV220B 50 | French | 24 Aug, 2018 | 2.4 MB | .pdf |
| Data sheet - AI | Servo-operated 2/2-way solenoid valves Type EV220B 15 - EV220B 50 | Italian | 24 Aug, 2018 | 2.4 MB | .pdf |
| Data sheet - AI | Servo-operated 2/2-way solenoid valves Type EV220B 15 - EV220B 50 | Portuguese | 24 Aug, 2018 | 2.4 MB | .pdf |
| Data sheet - AI | Solenoid valve - Types EV220B 15-50 and EV220BW 40-50 | English | 24 Aug, 2018 | 3.8 MB | .pdf |
Learn more about our valve range in the Danfoss Learning eLessons