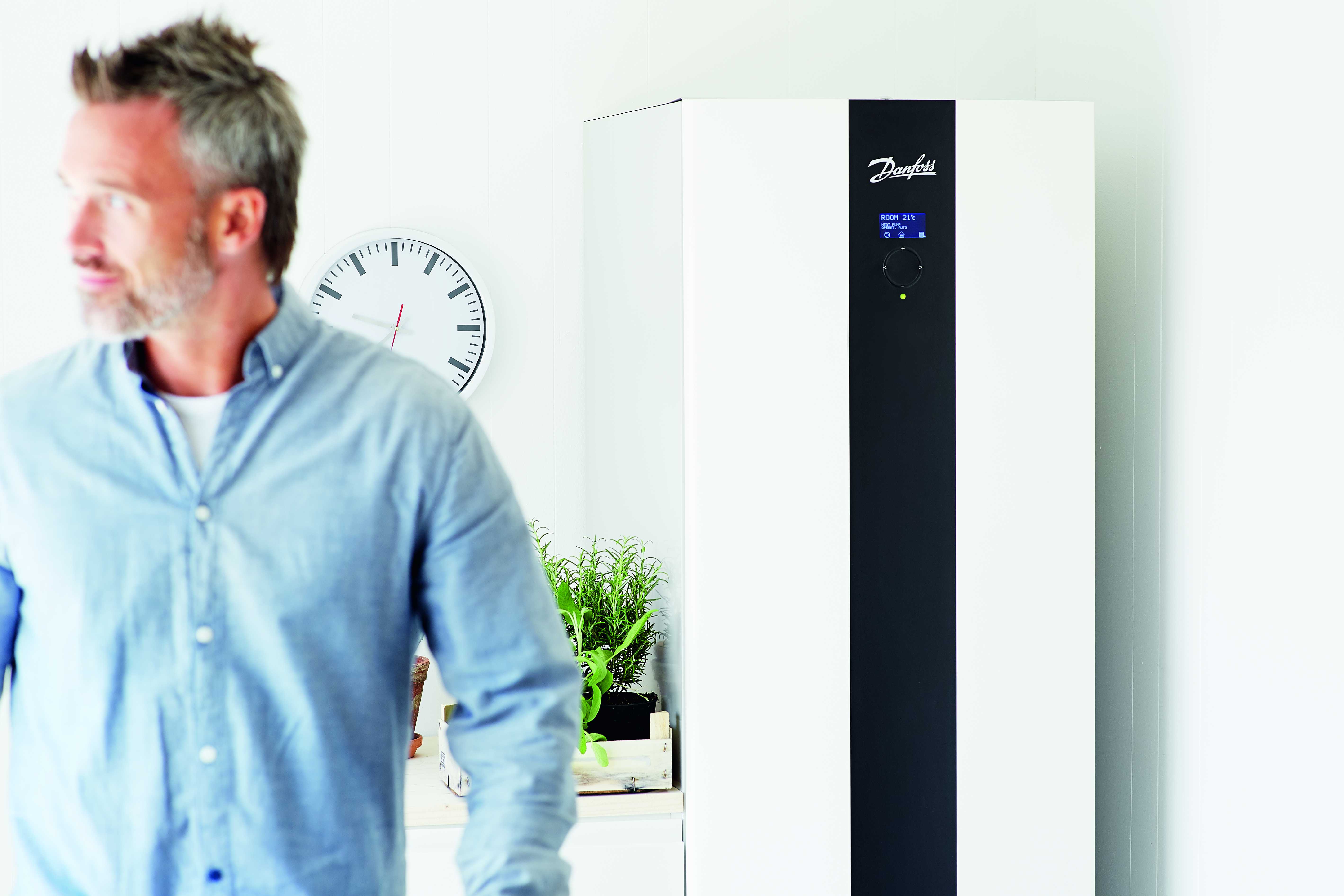 VARIUSPRO+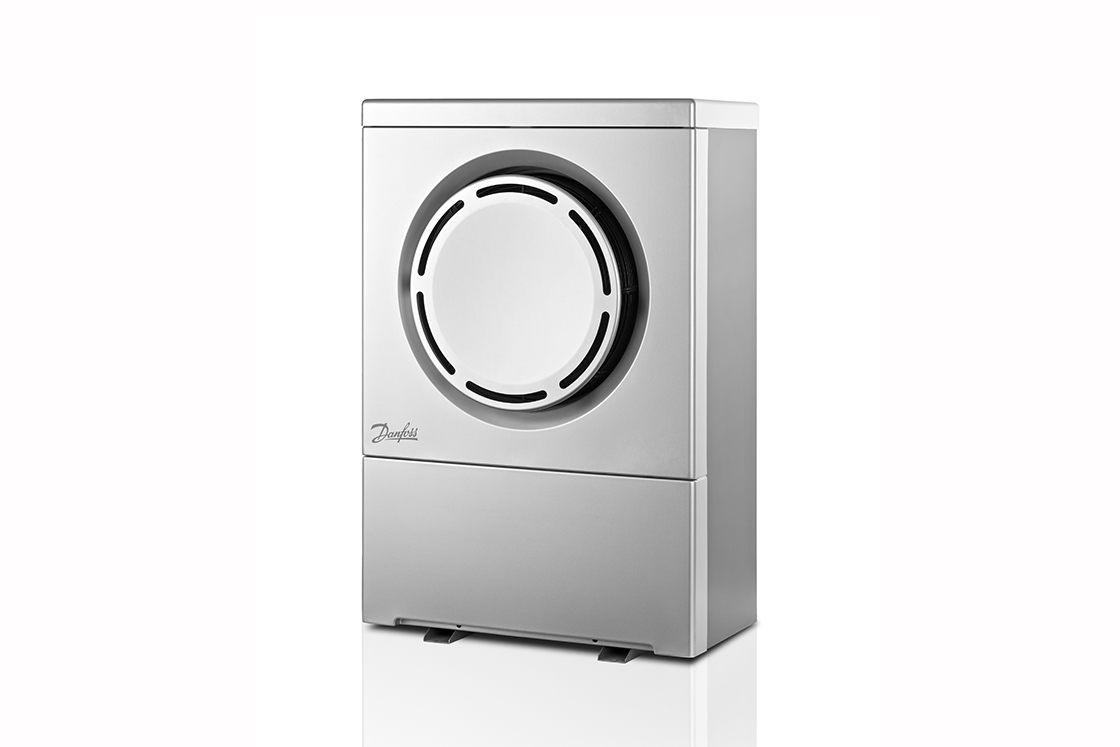 DHP-AQ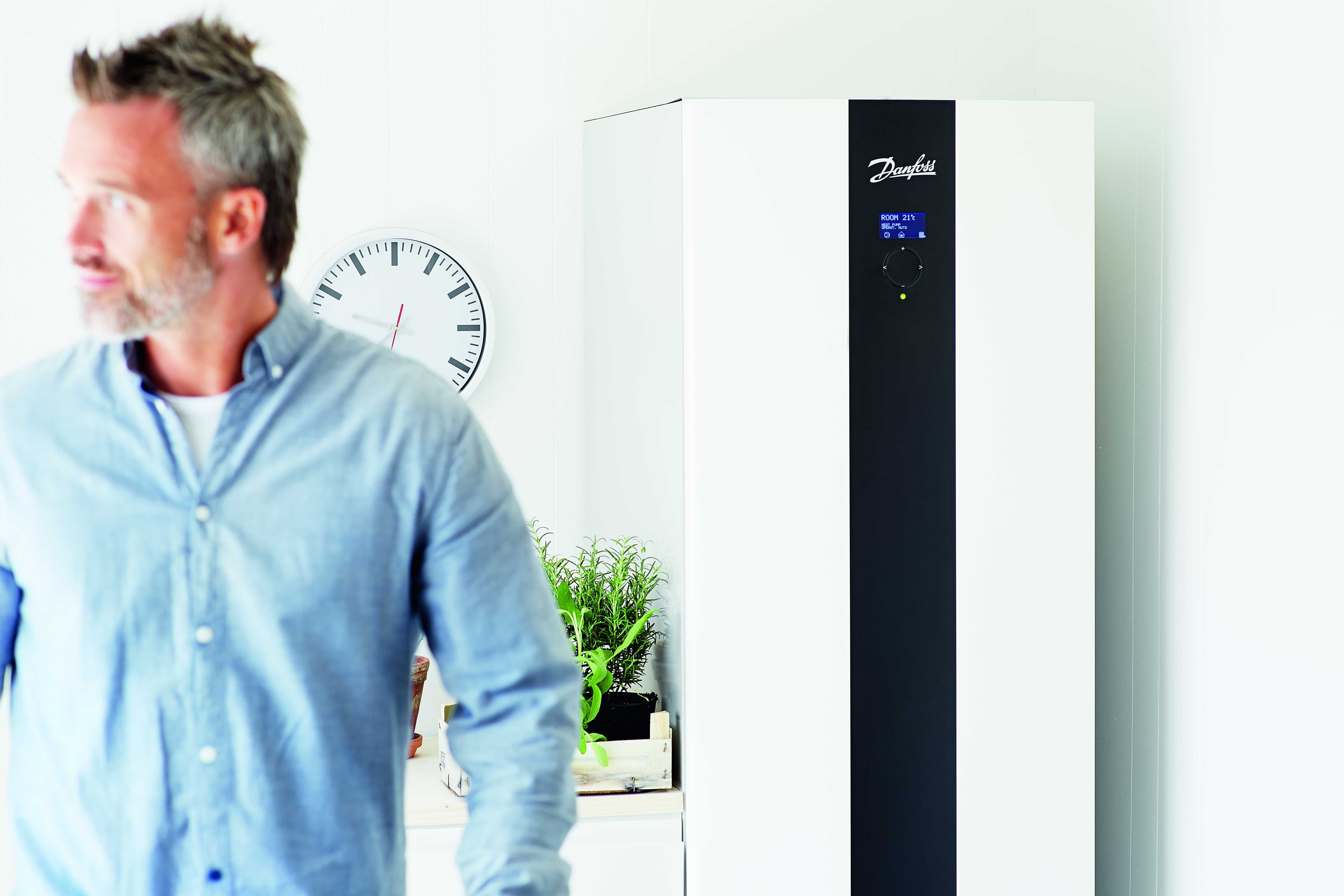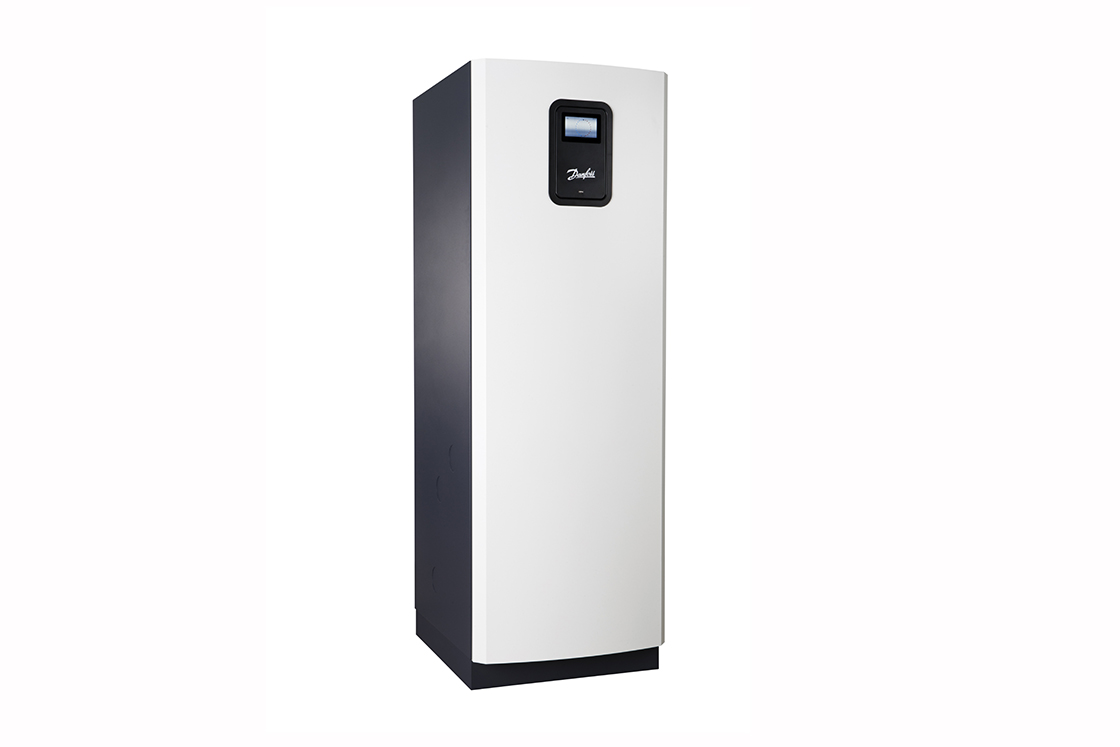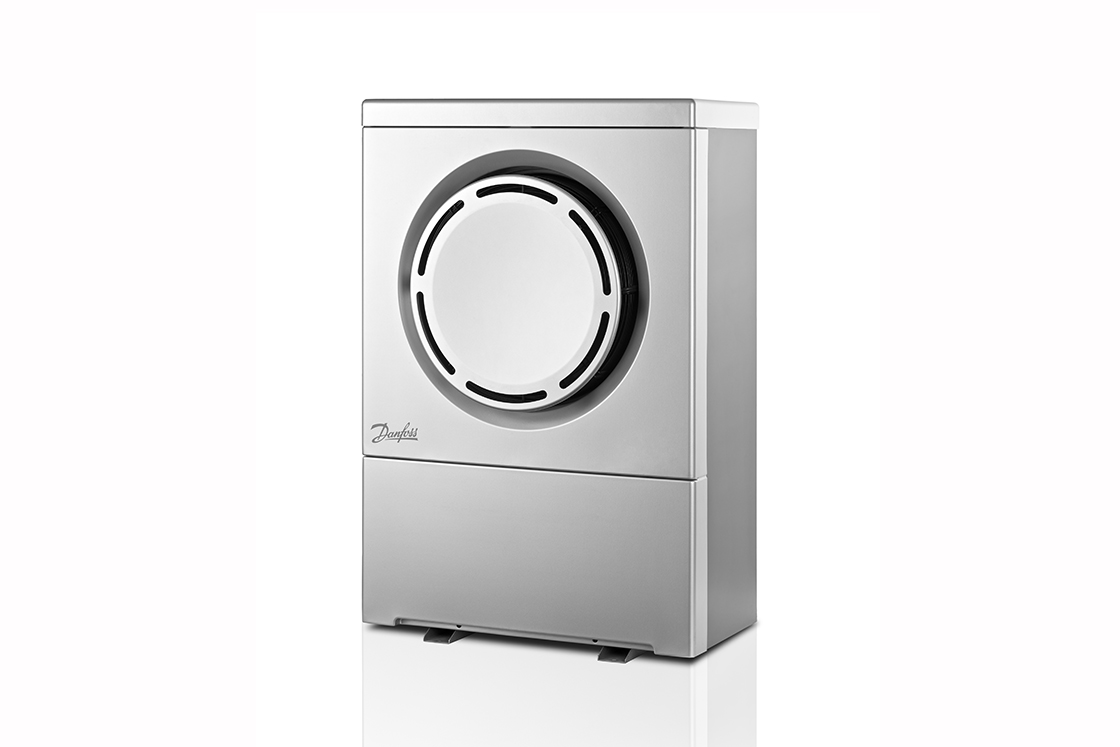 Air and ground source heat pumps utilize energy in the air and in the earth surrounding a property to provide a heating and cooling solutions. Highly efficient compared to traditional energy sources, heat pumps can help achieve massive savings.
Danfoss heat pumps can be used for heating or cooling down your home. They provide primary heating and deliver domestic hot water. Our technology ensures optimum indoor comfort, no matter what the temperature is outside; -25 or +35 Celsius. Besides that, it also contributes to increased annual efficiency, comfort and reliability. Danfoss heat pumps can be integrated with various complementary heat sources such as solar or gas systems.
Features and benefits
Optimum indoor comfort regardless of outdoor conditions, no matter what the temperature is outside; -25 or +35 Celsius
50-75% energy savings: heating for domestic and commercial use with minimum energy consumption
High annual efficiency: heat pumps as part of an integrated system can be rated as an A+++
Easy installation and space-saving design: prefabricated kits and heat pumps delivered already refrigerant-charged considerably reduces installation labor and costs, satisfying both installers and customers.
Best performance and durability: heat pumps are designed to endure a product life expectation of min. 20 years
Low noise level ensures the flexibility to place the heat pump wherever feasible

How does a heat pump work
Heat pump is able to produce more energy than it consumes by using the conventional refrigeration cycle to absorb heat from the environment and raise it to a suitable level for heating.
| Type | Name | Language | Valid for | Updated | Download | File type |
| --- | --- | --- | --- | --- | --- | --- |
| Brochure - AD | Danfoss Heat Pumps Brochure | Danish | Denmark | 14 Dec, 2018 | 1.8 MB | .pdf |
| Brochure - AD | Danfoss Heat Pumps Brochure | Swedish | Sweden | 24 Aug, 2018 | 1.8 MB | .pdf |
| Brochure - AD | Danfoss Heat Pumps Brochure | English | Multiple | 24 Aug, 2018 | 1.5 MB | .pdf |
Danfoss OnLine - control the heat pump remotely
With the Danfoss OnLine accessory you can control and monitor your heat pump from any mobile phone, computer or tablet, wherever you are in the world.
For example, you can lower the temperature in your home whilst you are on holiday, and increase it again for when you come back. If you come home earlier than expected; no problem – using OnLine, you can easily ensure that your house is warm and comfortable whenever you need it to be.
At any time of day, you can use OnLine to check that your heating system is working and what temperature your home is at. If anything unexpected comes up and needs to be fixed, you – or your installation engineer, where agreed – will immediately receive this information via OnLine. You can also control and monitor several locations if you need to; for example, if you have a summer cottage with a heat pump or have relatives who need assistance. OnLine is, of course, available for both Android and iPhone.
New OnLine can be connected directly to your existing broadband at no additional cost
With New OnLine customer/installer is always updated that heat pump works properly, can check the status of the heat pump and change settings (mode, temperature, calendar) via the smartphone application or PC – wherever, at anytime 
Alert function for maximum safety: Heat Pump alert function via apps or e-mail sent to customer and/or installer 
Quick and easy installation: Simply connect the DCM Device to your internet using an Ethernet cable from the heat pump to the homes router for minimal hassle and maximum results 
New OnLine works with all our current domestic heat pumps and can be offered to new and old customers regardless of what type of heat pump they have
iTunes app store
Google Play app store
Are there any differences in the annual performance of an air source heat pump with a frequency controlled compressor and a standard compressor?
No, there is no scientific proof of positive seasonal performance improvements from frequency controlled compressors
Is R407C an old-fashioned refrigerant?
No, R407C is considered to be the best refrigerant by the heat pump sector for delivering optimum seasonal performance
Is R407C bad for the environment compared to R410A?
No, the global warming potential (GWP) of R407C is 1,610 and for R410A 1,890, making R407C less damaging for the environment
What is seasonal performance?
Seasonal performance express the performance of a heat pump over a full year given the heating distribution system, hot water system and the actual customer demand. Proper dimensioning, installation and commissioning is needed to obtain highest possible seasonal performance. Seasonal performance is the standard measure for Danfoss heat pumps when designing and building heat pumps, as seasonal performance is the real measure of efficiency.
The Swedish Energy Agency has conducted a large test of air/water heat pumps. Of the eleven heat pump models in the test, DHP-AQ from Danfoss yields the biggest savings. It also has top results when it comes to hot water temperature, low noise levels and low energy losses.
Is performance at rating points (COP) a proper denominator for seasonal performance?
No, performance at rating points merely expresses the efficiency in a number of points typically measured in a laboratory, and has no direct relation to the seasonal performance of a heat pump
Are systems build on direct expansion (DX) more efficient than indirect BW systems?
In theory yes, but in practice no. DX systems needs to be refrigerant-charged on site, hence no possibility to do factory tests or factory performance optimisation. Similarly the copper collector can easily be damaged during installation, which will lead to serious reduction and loss of efficiency
Will the Danfoss heat pump work in combination with single room controls?
Yes, Danfoss control system properly commissioned will work perfectly alright with single room controls
Is it better to over-dimension than under-dimension the heat pump?
No, neither is good, the heat pump must be adequately sized for the specific heating distribution system and the end-user requirements, dimensioning done via the HPC program will ensure that you select the right sized HP
Can you dimension a HP only to the size of the house and occupants?
No merely considering these dimensions will not lead to choosing a right sized heat pump, proper dimensioning need to be done by considering climate data, insulation level or present energy consumption, heating distribution system, hot water and heating demands etc. This needs to be done in advanced programs like the HPC dimensioning software
Heat pump in residential house, Denmark

"It was an easy decision to choose a Danfoss heat pump. Our heating engineer promised us it would deliver the best performance on the market – and it certainly has proved its worth so far! We are now saving half on our yearly heating expenses and we are quite amazed about how easy the installation was and how silent the pump runs." - Ingrid Jensen

Heat pumps in retirement home, Northampton, UK

Bridgewater House operated by South Northants Homes, consists of 29 individual dwellings for retired people. The not-for-profit housing association manages around 2,900 homes, took the opportunity to upgrade a retirement home with Danfoss heat pumps heating system. By installing heat pumps, the housing association was looking to significantly reduce its energy bills and carbon footprint.

Heat pumps in social housing, West Midlands, UK

Social housing tenants in the West Midlands are celebrating savings on their heating bills following the installation of Danfoss ground source heat pumps.
''Since the heat pump has been in, it is always lovely and warm even through the coldest days of the winter. Our average heating and hot water bill has dropped by more than half from £130 a month to just £60.''- Tenants Sharon and Leslie Minshull

Heat pumps for two cottages, UK

Chris Dale, Director at Danfoss, said: 'Heat pumps are becoming increasingly common for holiday cottages, as it means they are warm and comfortable but offer reduced running costs for the owners. The DHP-L Opti Pro is a very popular ground source heat pump as it offers a high level of energy efficiency.'
Energy Efficiency of Heat pumps
The entire range of our domestic Danfoss air and ground source heat pumps comes with the highest possible rating from A+ up to A+++ depending on the model, heat receivers and integrated system.
ErP Ready
The Energy Related Products Directive (ErP) is a piece of European legislation setting minimum efficiency standards for energy using equipment. As of September 26th 2015 this was extended to heat pumps and other heating sources.
A+ to A+++
The rating system for heat pumps classifies them into nine efficiency categories. The best category is A++ and A+++. The labels are applied to heat pumps as single source of heating, and combined with domestic hot water preparation as well as the whole integrated system, including solar thermal power, temperature control, etc.
Domestic Danfoss air and ground source heat pumps come with the highest rating from A+ up to A+++ depending on the model,  receivers and integrated system.
Energy labels
The energy efficiency categories for heating heat pumps are based on a seasonal coefficient of performance (SCOP). This depends firstly on the climatic region and secondly on the potential heating system. Europe is divided for this purpose into three climatic regions. For radiators and underfloor heating systems, the different flow temperatures and possible energy efficiency categories are shown on the Energy Labels.
Did you know?
Stand-alone heat pumps are rated a maximum of A++ and as part of integrated system can be rated as an A+++. Heating boilers (oil, gas, bio-mass) on the other hand are rated A at best, and in some cases as low as C or D. If the end-user is interested in top efficiency that is A+++ energy class rating they should look at heat pump as part of an integrated system.