Our SONDEX® all-welded plate heat exchangers (SAW) are designed to handle extremely aggressive and demanding media and achieve very close temperature approaches with true counter-current design. Very small and compact, they are the perfect solution for applications and duties that require a fully welded product, such as a plate and shell or block-type heat exchanger, but do not need their substantial capacities. A product that perfectly matches the specifications of the task will always be the optimal solution. In their class, our all-welded series outperforms shell and tube heat exchangers in every aspect and offers all the benefits of a gasketed heat exchanger as well as increased durability.
What does that mean for you?
Our SONDEX® all-welded plate heat exchangers retain the efficient plate design and optimized flow of gasketed plate heat exchangers. We have removed the vulnerable gasket that often succumbs when exposed to extreme working conditions for a 100% gasket-free solution. Instead, we TIG-weld the plate pack, creating a hermetic seal and eliminating any risk of leakage.
This makes this type of heat exchanger perfect for applications that involve extremely aggressive media that may pose a threat to the environment, very pressures and/or temperatures, or even cyclic duties with large fluctuations in pressure or temperature and very resistant to thermal shocks.
All the benefits of a plate heat exchanger
Furthermore, you gain the same benefits that you would get from any plate heat exchanger. Compared to a shell and tube heat exchanger, the space required for installation are minimal. Additionally, the materials needed for construction are heavily reduced, and the hold-up volume in the heat exchanger is significantly lower.
If your application calls for treatment of fouling media that might contain fibers or particles, our Free Flow option provides the perfect solution with a plate pattern that is made specifically for handling such media, with a plate gap large enough to compensate for the accumulated fouling any very few contact points for an unimpeded flow.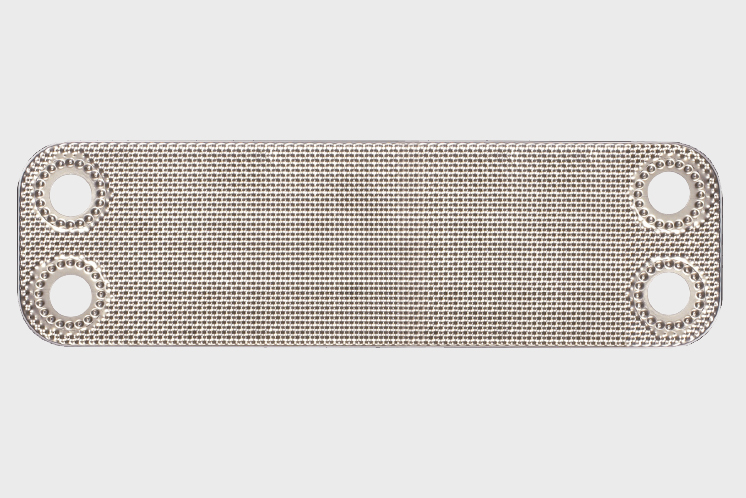 Micro plate technology
Our heat exchangers with the new state-of-the art Micro Plate™ technology feature next-generation efficiency and performance – giving you more from your district heating and cooling applications.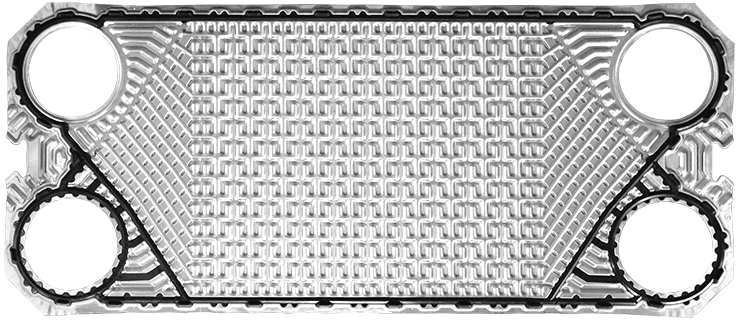 SONDEX® Free flow patterns
The SONDEX® Free Flow pattern is designed to treat media that is unsuitable for regular heat exchangers due to high viscosity, fiber and particle contents, or considerable risk of fouling.
Applications
HVAC industry
Refrigeration industry
Pulp and paper industry
Heavy industry
Mining industry
Petrochemical industry
Chemical industry
Technical specifications
Connections from DN32 to DN50
(Frames designed according to FEA and PED 2014/68/EU (EN13445) and ASME sec VIII, Div. 1 construction standards)
Plate materials: AISI 304/316, SMO, titanium. Other materials available upon request
Working pressure up to 25 bar (363 psi)
Working temperature -10 °C up to 300 °C (14 °F to 572 °F)
Features and benefits
Very compact, cost-effective units that take up minimal floor space are light in weight, while providing very efficient heat transfer, through the courtesy of a true counter-current flow.
The gasket-free solutions feature a fully welded plate pack that enable them to work with very high pressure and temperatures. The risks of leaks are severely diminished with a completely welded heat exchanger.
The plates in the completely welded plate pack are made from highly resistant materials guaranteed to withstand even the most extreme working conditions.
What kind of heat exchanger is right for me?
The choice of heat exchanger depends on many factors. Our skilled sales engineers design the heat exchanger with the appropriate dimensions and correct specifications based on your input and requirements, to ensure that you receive a quality solution that performs optimally.
Which certificates are available for the heat exchangers?
Our heat exchangers are approved and certified according to industry standards and requirements. For specific details, please reach out to your local SONDEX® brand sales representative.
Where can I get a price list?
Please contact your local SONDEX® brand sales responsible.
How can I get a quotation?
Please contact your local SONDEX® brand sales office. For the most accurate quotation, please prepare the following data:
Duty,
Type of media,
Pressure drop,
Flow rate,
Working pressure,
Thermodynamic properties, Temperature,
Working temperature.